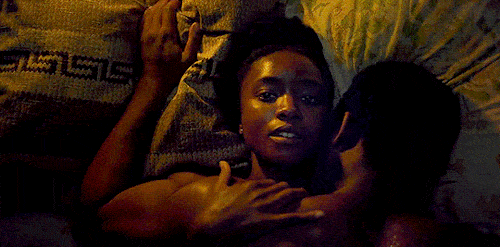 Early look review: If Beale Street Could Talk intimately portrays grace in the face of oppression

---
Director Barry Jenkins' follow-up to the critically acclaimed Moonlight is a beautiful drama full of rich and interesting performances, says critic Blake Howard. 
Set in 1970s Harlem, director Barry Jenkins' If Beale Street Could Talk is a disorientating and beautiful rendition of James Baldwin's novel (Baldwin is arguably the most important American novelist and social critic of the last 50 years and was also the subject of the powerful 2016 documentary I Am Not Your Negro). Much like Jeff Buckley did with Leonard Cohen's Hallelujah, Jenkins elevates the novel in his adaptation by fashioning a deeply intimate portrayal of grace in the face of oppression, told in a series of entrancing close-ups from Moonlight cinematographer James Laxton. As you stare deeply into the souls of this incredible ensemble they convey the nuances of race/social/class divide.
Lifelong friends Tish (Kiki Layne) and Fonny (Stephan James) find themselves uncontrollably and unexpectedly falling for each other. From the dizzying haze of new love, reality strikes. Kiki falls pregnant and Fonny is falsely imprisoned for a crime he didn't commit. While their families come to terms with a newfound relationship and baby on the way, they must contend with oppressive forces of institutional racism to set him free.
Jenkins' follow-up to the Oscar winning Moonlight makes one thing very clear: his talents, both as a writer for the screen, a formal technician and great director of actors, is no fucking joke. Jenkins shows reverence for Baldwin in the same way a theatre director approaches Shakespeare. Beale Street treads the novel's non-linear path but in its own way, folding and digressing through time like its inexperienced story-teller subject Tish.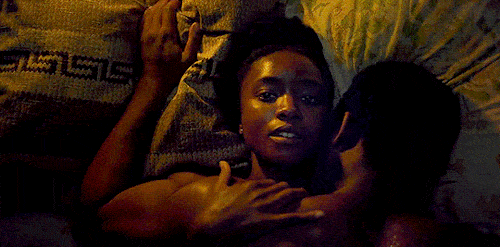 Mark Friedberg's production design honours the period by carefully restricting the edges of Tish and Fonny's existence to beautifully crafted sparse interiors and deliberately confined essential exterior locations. Nicholas Britell, Jenkins composer on Moonlight, provides an incredible versatile classical score that is as at ease on languid strings as it is on delicately struck keys. It creates an aura of pure romance and slowly enveloping despair.
Layne, and co-star Stephan James as Fonny, pour themselves through the lens. Layne is remarkable in her feature film debut as Tish. The film rests squarely on her ability to balance encroaching feelings of hopelessness with blooming internal warmth. James has a swagger and confidence that is crushed by the realisation that now that he's been swallowed by the system; he's not a candidate for justice. Regina King's Mama Sharon and Colman Domingo's father Joseph Rivers are indispensable support, especially when faced with Fonny's terrifying mother Mrs. Hunt (played by Aunjanue Ellis).
Sign up for Flicks updates
Ellis is rigid with the belief that her piety has earned her ranking above her station, until news of an impending grandchild loosens her inner beast. King delivers a performance that outwardly projects the strength, decorum and civility to role model how she wants Tish to approach the overwhelming circumstances and charged confrontations. In private glimpses, including a spellbinding moment in front of a mirror preparing for an incredible international witness retrieval, you glimpse a fracture of that shield into her hidden emotional turmoil.
Domingo's charm is best suited to tempering the sophistication of Baldwin's character's dialogue into something that feels more lived in. As he talks about the 'hustle' that he and Michael Beach's Frank Hunt must undertake to provide for their growing family, the line between petty crime and survival blurs into the indistinguishable. Brian Tyree Henry has this gregarious magnetism, and the perfect profile for the cinema canvas to unexpectedly deliver some of the most potent indictments of the characters' experience.
If Beale Street Could Talk it may not arrest you quite like Jenkins' Moonlight, but it will haunt you.