Dungeons & Dragons: Honour Among Thieves feels like a throwback—and not in a good way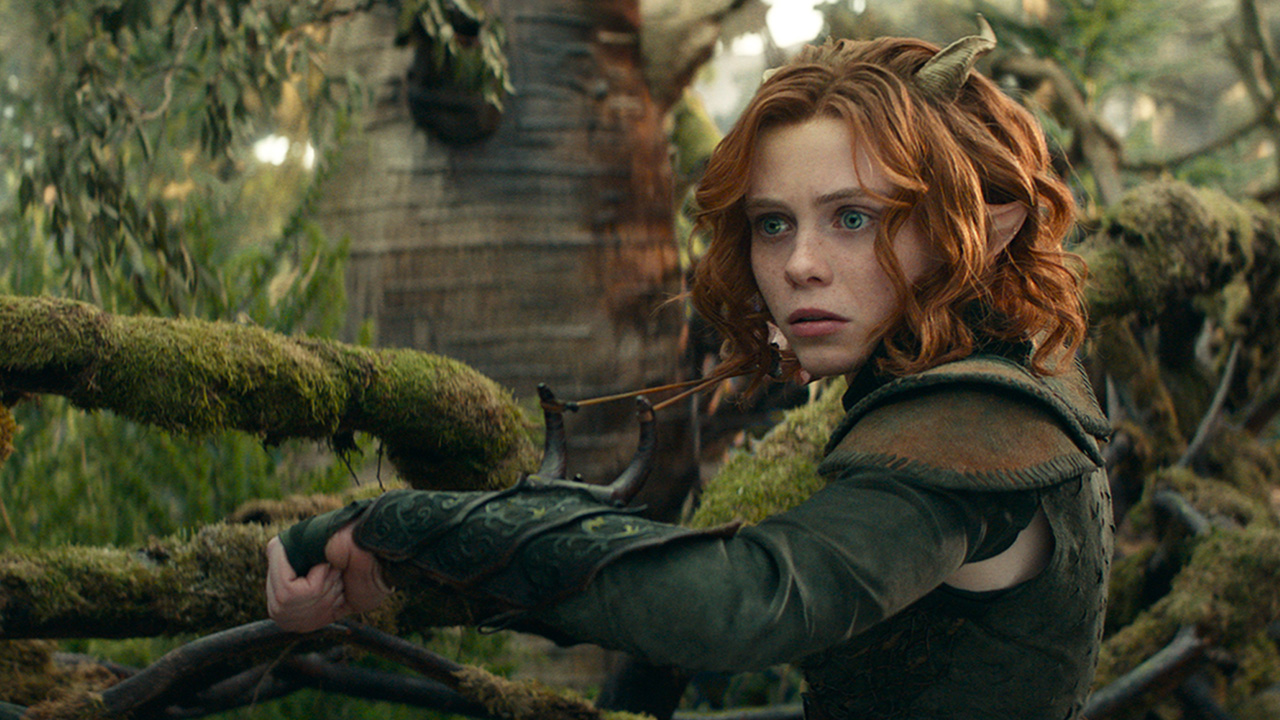 The directors of Game Night adapt the timeless fantasy tabletop RPG into a blockbuster movie with Dungeons & Dragons: Honour Among Thieves. While it's not terrible, this campaign feels dramatically disengaging with comedy that doesn't quite go for broke, Travis Johnson writes.
Back in the day when the world was young and fantasy as a genre wasn't particularly well-respected, fans took what they could get.
Certainly, you'd see the occasional gem like Conan the Barbarian or Ladyhawke, but most big-screen fantasy epics had to be viewed with a forgiving eye. We're talking movies like The Beastmaster, The Sword and the Sorcerer, and Hawk the Slayer: enthusiastic adventure tales that reliably swashed their buckles but tended to scrimp on things like consistent worldbuilding, compelling characterisation, and narrative.
Then the genre got respectable with the advent of Peter Jackson's The Lord of the Rings movies, and while not every fantasy flick since then has been a stone-cold banger, the public perception of fantasy had certainly shifted. Fantasy films could be awards season contenders—or at least reliable multiplex fodder. The field had matured.
And now along comes the long-awaited tabletop RPG adaptation Dungeons & Dragons: Honour Among Thieves, which sits more comfortably alongside those video store perennials of yore. It's not terrible, mind you; it's just a little too ironic and self-conscious to be dramatically engaging, and yet too mindful of its source material (and mooted IP value) to really go for broke in the laughs department.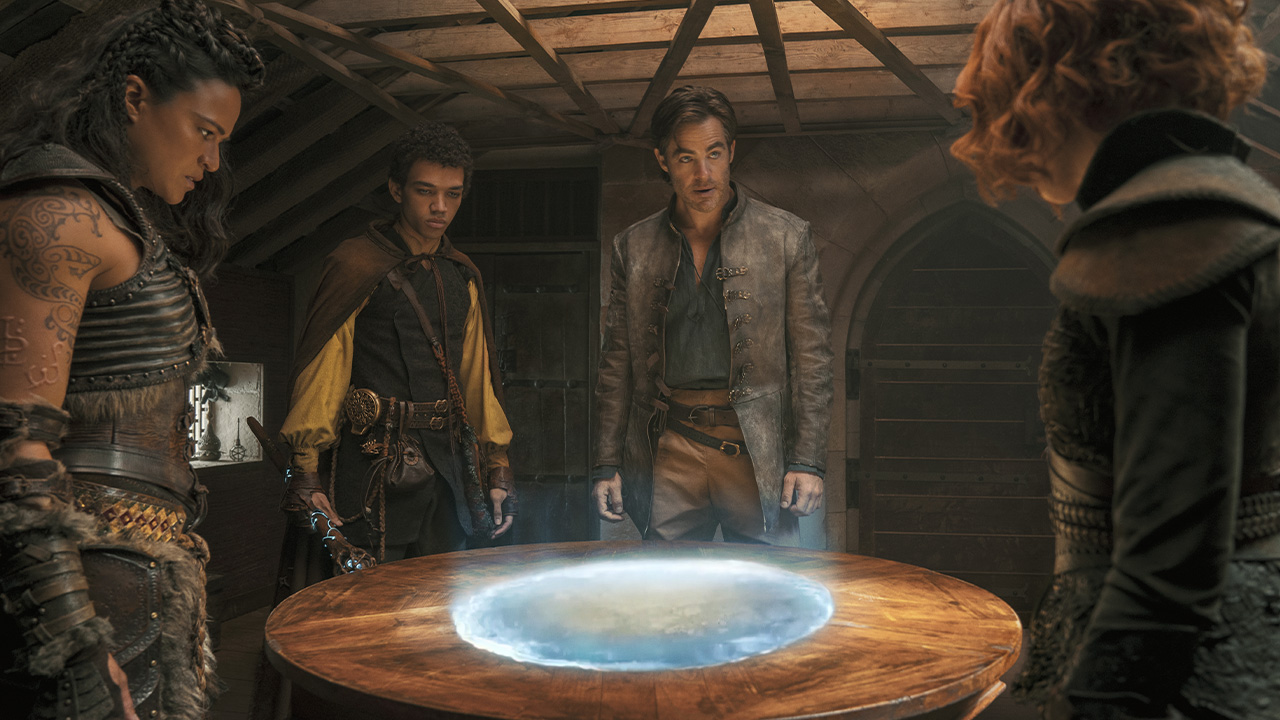 The obvious design model is Marvel's Guardians of the Galaxy movies, which manage to serve the twin masters of comedy and pathos, and present us with a mixed bag of outcasts, rebels, and stuff-ups for our heroes. Here, our ragtag gang accrete around bard Edgin Darvis (a game Chris Pine), who turned to thievery to support his daughter Kira (Chloe Coleman). Recently escaped with his BFF Holga the Barbarian (Michelle Rodriguez) after two years in prison, his plans to reunite with his kid hit a snag when it turns out his old partner in crime, Forge (Hugh Grant doing what Hugh Grant does), is a) a dyed-in-the-wool bastard, b) now lord of the city of Neverwinter, and c) in league with the evil Red Wizards of Thay, in particular Daisy Head's Sofina, who is, of course, planning something unpleasant and apocalyptic. Can our ne'er-do-well heroes save the day, and in the process heal the rift between father and child?
Sign up for Flicks updates
Well, yes, of course—that was never in any doubt. But it's the way you save the world that counts, and Honour Among Thieves fumbles the ball trying to split the difference between telling a decent story and replicating elements of the Dungeons & Dragons gaming experience. To that end, the film is set in the popular D&D fantasy world of The Forgotten Realms, and we get cameo appearances by and references to various elements familiar to old tabletop gamers (like me): a Displacer Beast here, a Gelatinous Cube there, a voracious Mimic, and so on.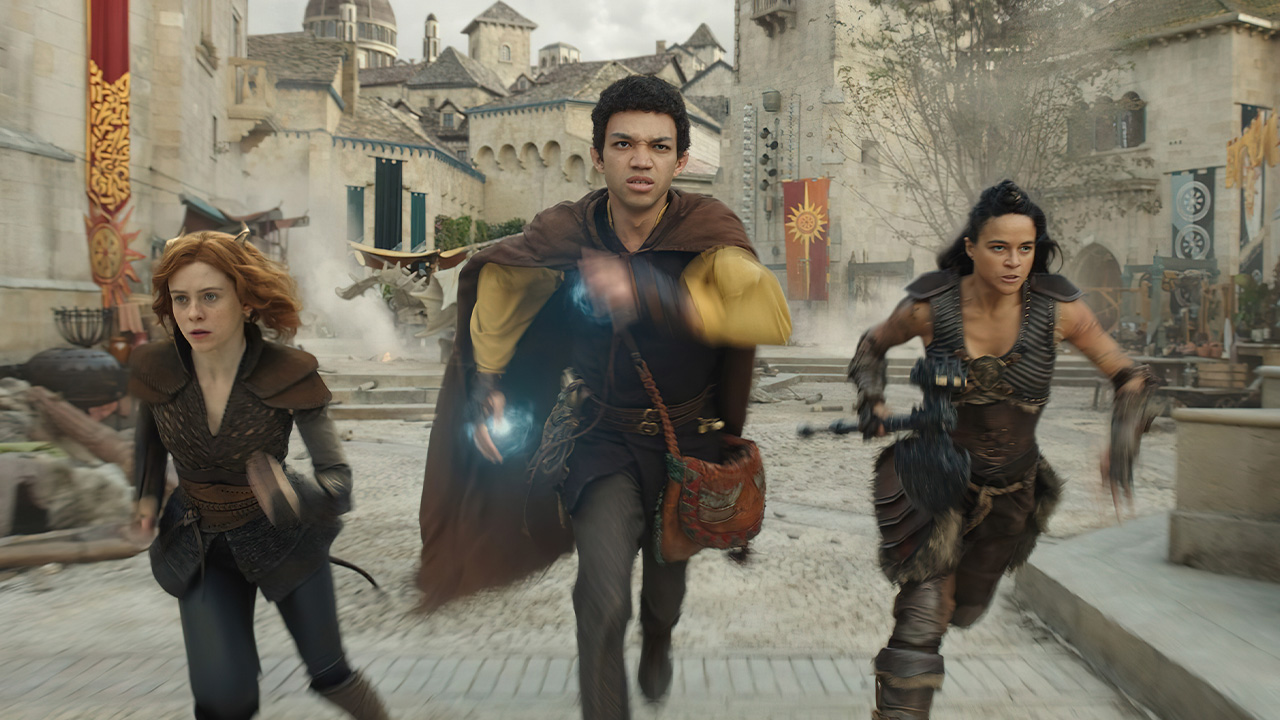 But it doesn't add up to much, really, although the cast do what they can. Justice Smith as the wizard Simon and Sophia Lillis as the druid Doric are fine (although the latter's weird gauntlet/slingshot thing is distractingly dumb) while Bridgerton's Regé-Jean Page as paladin Xenk Yendar is the clear standout in a surprisingly small role.
The problem is that the whole thing feels weightless and consequence-free. It's not so much low stakes as no stakes; Sofina's evil plan never feels particularly world-threatening, and the world it's supposed to be threatening never feels real—just a hodgepodge of medieval set-dressing and renaissance faire costumes, and the flat lighting and rote visual composition makes The Forgotten Realms look more like school photo day than any far-flung magical kingdom.
Dungeons & Dragons is the most popular role-playing game in the world, and if you keep an eye on that industry you know that rightsholder Hasbro has been desperately trying to find a way to effectively monetise what they feel should be more of a cash cow than it currently is. Honour Among Thieves is, at the end of the day, simply an attempt to connect the brand to a potentially more lucrative audience. Sadly, for extant fans and newcomers alike, it's not a very good one.