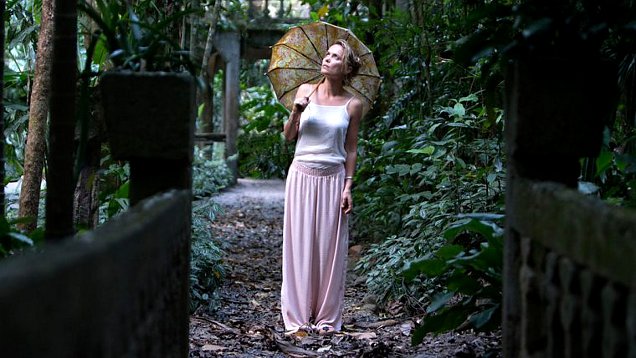 Celeste is a beautiful looking drama that elevates the problems of bored wealthy people

---
Featuring a vivid central setting located in Tropical North Queensland, this drama about a former opera star is part steamy murder mystery and part Greek tragedy. It's also a frustrating viewing experience, says Blake Howard.
In the closing stages of director Ben Hackworth's Australian drama Celeste, Jack (Thomas Cocquerel) confronts the titular character (Radha Mitchell) with a frustrating exclamation: "what the fuck are you talking about?!??" Finally, something I could relate to.
Celeste is set in the stunning Paronella Park estate in Tropical North Queensland. Co-writer/director Ben Hackworth and Bille Brown craft a tale of personal archaeology, forcing the leading characters to exhume and confront past trauma. From the Australian wilderness, in the bourgeois bohemian estate of her late husband, lives Celeste. The once rising opera star dipped out of the spotlight and embraced decadent obscurity. On the eve of her comeback the stars align to reunite her with Jack, her estranged step-son, who is in desperate need of sanctuary.
Director Ben Hackworth is enraptured with the setting; the hard lines of the architecture have softened with their moss coating and deterioration. The dense foliage and thick tropical humidity seems to alter the fabric of reality. In the haze, past memories hover like clouds swelling with lingering trauma. This world is intoxicated, rather than intoxicating. The peripheral compliant helpers dress this crumbling retreat and veil dilapidated spaces – extending to the characters – masking the fragility of the eponymous lead. There is speculation about whether this matriarch can overcome her trauma to make some money during an exclusive comeback performance.
Hackworth and co-writer Brown play coy with dramatic moments, trying to zig when you expect them to zag. They omit moments of passion and deflate moments of potential conflict. Most recently Jacques Audiard's The Sisters Brothers relished subverting the expectations of the western genre by playing casual with the horrific realities of frontier life. The remaining sparks were the emotional posturing rather than gun fights. Unfortunately, all that remains in Hackworth and Brown's attempts is masticated melodrama.
Celeste is damaged by her husband's demise, which I won't spoil. Mitchell is clearly attracted to the requirements of bringing Celeste to life: shedding armour to see the husk beneath, and being able to flex her undiminished sex appeal. But tonally Celeste is schizophrenic, tap dancing between charming, commanding, coy, demanding, alluring and inebriated.
Sign up for Flicks updates
Jack is the male honey trap with a sketchy past. He's a gambling addict and ladies' man whose torment manifests in self-destruction that is not only cringeworthy, but petulant. Nadine Garner's character Grace is problematic. Garner portrays Grace with shrewdness and care and yet there's something so dunderheaded about complying with a repeatedly self-destructive and possessive individual. Grace has been essentially operating this Celeste meat puppet since her debilitating grief took hold.
It's not a Weekend at Bernie's; it's a decade. Odessa Young's Rita is delightfully assured in her place on the fringe of this existence. She's both outsider and beneficiary of the lavish consumerist customers, maintaining her family's antique store and providing a platform for her fashion aspirations. Young is fresh, vibrant and magnetic; so much so that the frame almost performs digital correction to draw you to her every moment she's present. She's the real person in this Athenian tragedy.
Celeste creates a part steamy Southern U.S murder mystery, part Greek tragedy in a space suited for a silent retreat. It's an immersion into the fear associated with course-correcting the nightmare that your life has become; a retreat into a retreat. It's ultimately undone by elevating the problems of bored wealthy people into opera.