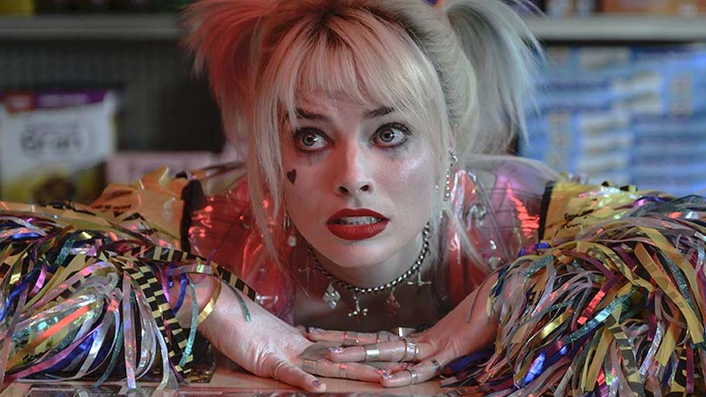 Birds of Prey is chock-full of female solidarity and bananas action scenes

---
First seen in Suicide Squad, Margot Robbie's gleeful performance as Harley Quinn takes centre stage in a comic book movie infused with female solidarity, bananas action scenes, and invigorating design, writes critic Craig Mathieson.
A hooligan in hot pants who wields a baseball bat with Looney Tunes abandon, Harley Quinn (Margot Robbie) is a corrective bolt of energy for comic book movie convention. Given her own movie after playing peek-a-boo with the audience in the increasingly dull Suicide Squad, Harley gets reconfigured in Cathy Yan's boldly charged if intermittent action-comedy. On a break-up bender from the thankfully unseen Joker, the love of her life who turned psychiatrist Harleen Quinzel to a life of crime, Harley wrestles with responsibility, toys with self-destruction, and gets backed into female solidarity. Antics lead to agency.
Robbie gives Harley screwball moxie and the movie falls into line with her performance. Gotham City grit keeps taking a left run into four-colour fantasia: when a drunken Harley blows up the factory where she once bonded with "Mr J," the billowing flames become candy-coloured fireworks. The tone goes high voltage even as Harley's status update alerts the underworld that she's no longer with the feared Joker. That's a come hither call to Roman Sionis (Ewan McGregor), a nightclub sleaze and sadist who dons the costume of Black Mask to corner the city's organised crime rackets, and his sadistic offsider Zsasz (Chris Messina).
Sign up for Flicks updates
In Suicide Squad, a maximum security jailer played by Ike Barinholtz describes Harley as "a whole lot of pretty and a whole lot of crazy." Birds of Prey (And the Fantabulous Emancipation of One Harley Quinn) tries to move past those headlines. Harley is one of several characters here diminished by a domineering male. The film isn't always subtle – Roman's conflicted employee Dinah Lance (Jurnee Smollett-Bell) literally sings It's a Man's Man's Man's World – but it makes patriarchal oppression a vicious kink, personified by the misogynistic stench that McGregor gives off. At first his Roman is a riff on a Sam Rockwell villain, complete with pastel suits and dance moves, but he hits malignant notes that ring true.
With an infamous diamond to be had and a larcenous kid everyone wants to catch, the spindly plot holds on even as Harley gleefully proves that she rarely thinks before she acts. The mood can spike and dip, although that's partially because it's willing to give establishing scenes to the likes of Mary Elizabeth Winstead's terrific Huntress character, a crossbow-carrying vigilante with poor social skills.
The action scenes are the movie's glue, and have a dynamic range that grows stronger as the story unfolds. Yan and her cinematographer, long-time Darren Aronofsky collaborator Matthew Libatique, acknowledge the genre's demands and then play with them. I believe the technical name for the colour palette they use is Take That, Zack Snyder!
As with Deadpool, another superhero outlier who breaks the fourth wall, Harley Quinn is halfway between being rehabilitated and running wild. Guns, murder and blood are mostly squared away even though she has little self-control. The wilder the movie is, the wilier it gets.
At one point a cornered Harley dives into a convenient slide, entering both a funhouse where she fights her adversaries and a representation of her subconscious, complete with trampoline combat. The great scenes don't make for a great film, but there's an unapologetic pleasure to this embrace of empowerment fuelled by Robbie's committed performance. As Harley blithely notes, "nothing gets a guy's attention like violence."