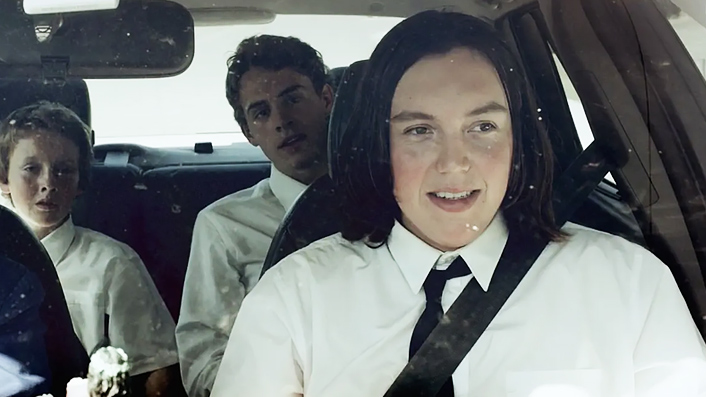 Bilched is a brisk and fun Sydney-set stoner comedy

---
Superbad is the obvious inspiration for this Sydney-set coming-of-age film. It's a bit shapeless but punchy and zippy, writes critic Travis Johnson.
"Bilched", according to this new Australian film's marketing material, means "a crazy, spontaneous, life-altering adventure that defies logic…". It also means I'm officially old, because that's a new one to me, and I can yeet with the best of them. But then, I am not the target audience for this raw and (very mildly) raunchy coming-of-age tale set in Sydney's eastern suburbs. Writer and star Hal Cumpston, who is all of 19 (dad Jeremy directs) is speaking to his tribe – and pretty articulately.
Cumpston stars as Hal, a wannabe actor who muffs an audition piece in the film's opening scene (the play he's reading for is James Gaddas' Shadow Boxing, Aussie theatre fans) before focusing on more pressing matters: navigating the last days of high school and scoring some drugs, or some booze, or ideally some drugs and some booze. Then hitting up the party that schoolyard sparring partner Ella (Holly White) is throwing while her parents are absent. Hal's sharp tongue has earned him and his mates a disinvitation, but that's hardly going to stop them from attending the social event of the season. And we're off.
Sign up for Flicks updates
Superbad is the obvious touchstone here, and Bilched makes no bones about that – in point of fact Cumpston junior has said that he wrote the film in reaction to the perceived lack of fun, teen-centric films in the Australian screen landscape (and he's not wrong…). The result is episodic and a bit shapeless, but punchy and zippy. The dialogue crackles in a very "early Kevin Smith" kind of way, the barbs fly freely, and there's a palpable sense of authenticity to the whole affair.
True, nothing too earth-shattering happens, apart from a lesson or two about believing in yourself (Shadow Boxing comes 'round again, with different if obvious results), a nascent crush being resolved, and the knuckle-scraping climax of a running feud with the local posh private school. But that's only if you measure the events from the outside looking in. To the tender soul of a 17-year-old, trying to get a sympathetic adult to buy a slab of beer, convincing the object of your affection that you know how to smoke a joint, or circumspectly figuring out if said object reciprocates your affections are matters of towering import and impact.
Bilched falters ever so slightly when it cants towards the dramatic, with the odd speech ringing false in the mouths of its otherwise absolutely on-point young cast. And while it's consistently amusing there's not too many outright belly laughs to be had; more wry smiles and knowing nods of recognition. At the end of the day, it's a brisk, fun teen stoner comedy with a belter of an Aussie rock soundtrack (Violent Soho, Dune Rats, Hockey Dad, City Come Down and more pull song duties) and a firm grasp of its own strengths and limitations. What's remarkable is that we don't make more of these – hopefully the box office will indicate that there's an audience hungry for it.