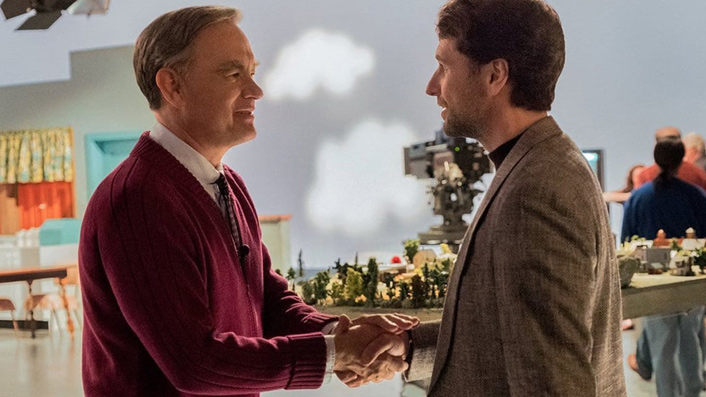 A Beautiful Day in the Neighborhood is an inspiring drama about empathy and understanding

---
Tom Hanks and Matthew Rhys complement each other as a beloved children's television host and an anger-laden journalist in this portrait of empathy and understanding. It could have been overly sentimental, but instead it's sharply drawn and affecting, writes critic Craig Mathieson.
A study of compassion's prevailing strength, A Beautiful Day in the Neighbourhood is that rare film where the best of intentions result in neither cloying compromise nor aggressive simplification. In telling the fictionalised story of a bitter magazine journalist receiving the corrective faith of a beloved children's television host, director Marielle Heller's quiet, nuanced drama shows each step – forward and back – that is required to heal emotionally.
This is genuinely sympathetic filmmaking: it takes the time to understand the characters, to allow for what motivates them, but also questions why it's worth doing that. The film's emotive spikes rarely feel contrived. Instead, they're earnt.
As played by Tom Hanks with a soft voice and a reservoir of patience, Fred Rogers is an American icon. Successive generations of American children have watched Mister Rogers' Neighborhood, which aired nationally between 1968 and 2001. You don't have to know the series, where Rogers gently coaxed out childhood difficulties, to enjoy the movie.
One of the narrative's many subtle successes is to make clear not the affection with which he's held, but how that might be a heavy burden. One of the few who's unimpressed is New Yorker Lloyd Vogel (Matthew Rhys), a hard-nosed Esquire journalist who's assigned a brief profile of Mister Rogers for a 1998 issue on heroes. "Lloyd," protectively asks his wife, Andrea (Susan Kelechi Watson), "please don't ruin my childhood."
Sign up for Flicks updates
A new father still angry at his own dad, an ageing hound named Jerry (Chris Cooper) who abandoned his family at a time of need, Lloyd arrives in Pittsburgh to interview Fred still bruised from a brawl at a family wedding. Listed chronologically, what transpires isn't surprising. There is a gentle clash of philosophies, a bending of beliefs, and an embrace of forgiveness. But that doesn't take into account Heller's significant talents. As in 2018's terrific Can You Ever Forgive Me? she candidly shows how the space two people intimately share can describe their lives. There are shots here, simple in design, such as Lloyd in tight profile, which encapsulate a myriad of ignored needs and long held regrets.
The film dips into the handmade aesthetic of Mister Rogers' Neighborhood, which is both a meta-commentary and a reminder of how we carry the best and worst of childhood within us. These flourishes never unfold as flights of fantasy, but rather a continuation of the dialogue between Fred and Lloyd.
Hanks and Rhys, who was a revelation on television's The Americans, are well matched as performers. Neither sees the need to overwhelm the other, even when Lloyd's issues are bluntly presented. A Cat Stevens song on the soundtrack is a rare misstep, but this film about empathy and understanding takes few other shortcuts. It's why the lessons here don't apply solely to Lloyd.