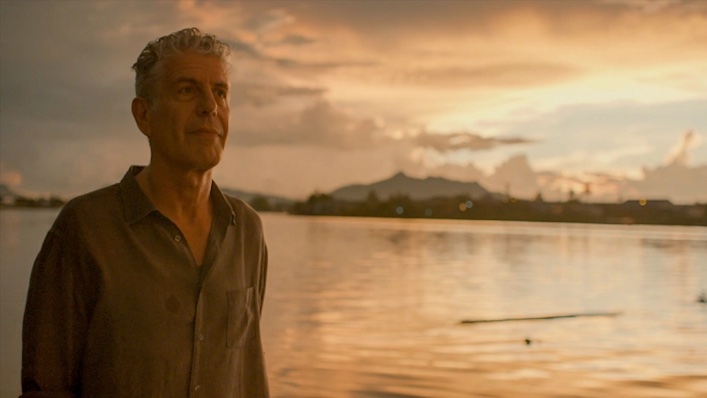 Why the new Anthony Bourdain documentary is causing controversy

---
Anthony Bourdain's death by suicide in 2018 hit hard for foodies around the globe. With his travelogue cooking series Parts Unknown and A Cook's Tour, Bourdain became an icon, introducing western viewers to underrepresented cuisines with rebellious flair.
For his devoted audience, it was devastating to realise that they would never hear from Bourdain again. Controversially, a new documentary on the chef's life seeks to change that, drawing criticism for its use of AI to synthetically recreate Bourdain's voice. Roadrunner: A Film About Anthony Bourdain premieres at the Melbourne International Film Festival for Australian audiences; here's everything you need to know about the documentary ethics scandal in which the film has become mired.
Roadrunner: A Film About Anthony Bourdain premiered at Tribeca Film Festival, quickly raising some curiosity and confusion in viewers for sequences in which Bourdain seemingly narrates aloud highly personal emails and diary entries about his mental health.
Even considering the intimate 'renegade' image of his travel cooking shows, it seemed unlikely that Bourdain would ever have reason to record himself speaking these insights, such as this excerpt from a melancholy email to close friend David Choe: "My life is sort of shit now. You are successful, and I am successful, and I'm wondering: Are you happy?"
Suspicion turned to outrage after director Morgan Neville was interviewed in The New Yorker, confirming that around a dozen hours of existing footage had been used to stitch together new audio—sentences which Bourdain may have never intended to be heard by a wider audience.
The filmmaker explained that about three lines of dialogue were constructed through this AI software, without disclosing which audio comes from Bourdain in life and which is reconstituted posthumously: "If you watch the film…you probably don't know what the other lines are that were spoken by the AI, and you're not going to know."
anthony bourdain was very intentional about the words he chose and very particular about how he said them so for a documentary to artificially use his voice is deeply fucked

— no (@afroelven) July 16, 2021
With such a beloved subject, Roadrunner was already buzzed-about. Sessions quickly sold out at MIFF, with only a few tickets remaining for a gourmet dinner event accompanied by food from upscale Melbourne restaurant Supernormal.
Now, the film is the centre of a fierce ethical debate, with critics and Bourdain fans lambasting Neville for not disclosing the unannounced use of AI, and for allegedly doing so without the permission of Bourdain's surviving relatives, including his widow Ottavia Bourdain who appears as a talking head in the film.
I certainly was NOT the one who said Tony would have been cool with that. https://t.co/CypDvc1sBP

— Ottavia (@OttaviaBourdain) July 16, 2021
Arguably, Neville is merely employing clever contemporary technology to bring his subject matter to life, in the same way that many historical documentaries feature re-enactments or actors narrating private and personal texts. But for the audio's synthetic nature to go undisclosed? That's tricky, calling into question the line between artistic license to interpret, and the potential for disrespectful fabrication of persons who aren't alive to defend their portrayal.
An established documentarian with Oscar-nominated features such as 20 Feet From Stardom and Won't You Be My Neighbour, Neville is experienced in depicting popular characters with complex and tragic personal lives. But in resurrecting Bourdain's voice, he may have bitten off more than he can chew. For now, Neville has laughed off the accusations of amoral filmmaking, postponing the discussion by saying "we can have a documentary-ethics panel about it later."
hacking the anthony bourdain AI to get a recording of him saying he always thought i was a pretty cool guy

— dylan (@spiritnght2) July 16, 2021