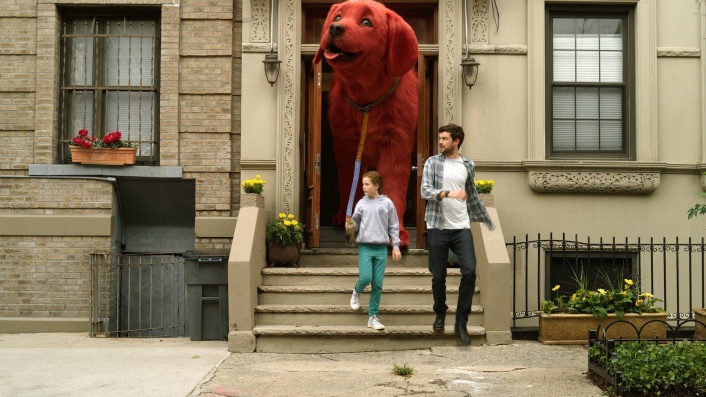 Who let the gargantuan dogs out? Trailer and release date for Clifford the Big Red Dog

---
You've gotta love a movie that does precisely what it says on the tin. Kung Fu Panda? Lesbian Vampire Killers? Hot Tub Time Machine? I think I have some rudimentary inkling as to what the plot of those movies may be.
Clifford the Big Red Dog, bounding into Australian cinemas this December 30, follows in that helpful tradition, adapting Norman Bridwell's delightfully simple children's books into a live-action feature film.
Set in the Big Apple, the upcoming family movie stars Darby Camp and Jack Whitehall as a lonely little girl and her bumbling uncle, who get way more than they bargained for when they take in a lost canine from a 'magical animal rescuer' (John Cleese).
A heartfelt wish causes the puppy to grow to the size of an elephant, grabbing the attention of an evil genetics company and causing all kinds of G-rated slapstick shenanigans around New York City. But is anyone equally disturbed by just how red the dog is? Like, Clifford isn't 'ginger' or a coppery-chocolate colour like some movie dogs we know—he is tomato red. Cruella DeVil would have a field day.
The trailer above suggests a sweet and silly caper for the whole family to enjoy, whether you're aware of the 'beloved book series' or not. It's unclear why Jack Whitehall couldn't just keep his normal UK accent. Or why it was necessary to add a Wilhelm Scream into a scene of Clifford chasing after a poor person inside a Zorb ball.
Although it's being released on Paramount+ for viewers in the US, Australian dog-lovers will have to wait until December to meet Clifford and his human pals: cinemas across the country will begin screening Clifford The Big Red Dog from December 30.