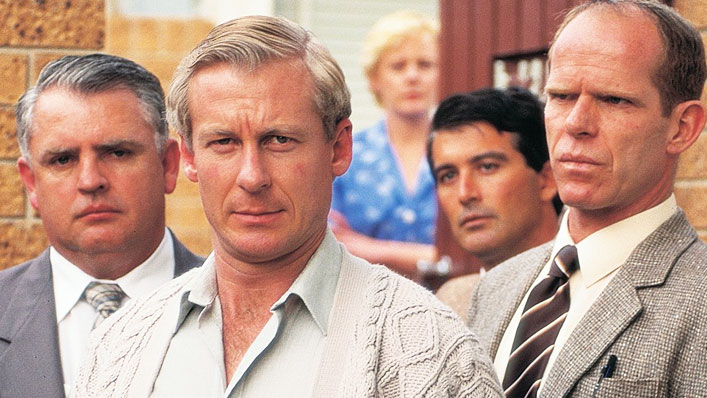 The stone-cold Aussie gangster classic Blue Murder is now on Netflix

---
Before Underbelly and Animal Kingdom, another Australian crime saga raked in acclaim for its gritty story of corrupt cops and scheming crooks. Based on real events, the 1995 two-part broadcast was even banned in New South Wales until 2001, leaving Australian TV fans at the time to scream blue murder.
In fact, that's the name of the series: Blue Murder, starring Richard Roxburgh, Tony Martin, Steve Bastoni, Bill Hunter and Gary Sweet amongst its extremely blokey all-Aussie cast. The celebrated series is finally available for viewers to stream from home, and here's why we couldn't be more stoked to rewatch.
Roxburgh stars as Detective Sergeant Roger Rogerson, surprisingly not a fake name. The role was even reprised in the 2017 TV sequel Blue Murder: Killer Cop, and for good reason: Roxburgh is at once magnetically watchable and despicable, playing a real-life notoriously corrupt figure who is still imprisoned for murder.
Blue Murder focuses on the relationship between Rogerson and thwarted bank robber Neddy Smith (Martin), who is seemingly given a 'green light' to get away with crime just as long as the NSW cops can use him as an informant.
watched 'Blue Murder' for the first time last might and holy hell imagine if Australia and the ABC was still able to produce art like that. It's tragic that we can't.

— Patrick Marlborough (@Cormac_McCafe) June 9, 2021
Our own Luke Buckmaster has written on the show's "Scorsesean" gangster storytelling, celebrating its "gritty texture and street-side verisimilitude, and the way the escalating force of its drama hits you like a slap on the face."
Perhaps that verisimilitude was a bit too strong for its own good, with the two-parter initially kept from release in the very state it was depicting. Until 2001, the New South Wales Supreme court granted an injunction to stop Blue Murder from broadcast so as not to prejudice Neddy Smith's ongoing criminal trial.
At the time, the ABC's killer cop drama could only be seen through dodgy bootleg copies, so it's definitely exciting that Netflix has made both parts of the show available as part of their streaming library.
The finest piece of art produced in Australia

— ANDREW PASKIN (@AndyPaskinComic) June 7, 2021
With so many great stories of true crime and corruption throughout Australian history, Blue Murder stands out as one the best adaptations, picking up Logies and AFIs in 1996 but perhaps not getting the proper release and recognition it deserves since then. Now's your chance to check it out, un-bootlegged and simple to watch for Netflix subscribers: about 200 minutes of cops-and-robbers grit, with a bleak true story backing it all up.