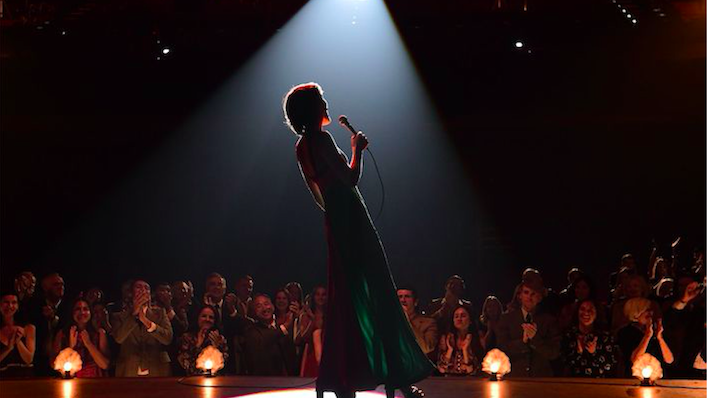 The inspiring Helen Reddy biopic I Am Woman is coming to Stan

---
In 1966, Melbourne songwriter Helen Reddy arrived in New York City with her three-year-old daughter, a single suitcase, and $230 to her name. Within five years of showbiz struggle and opposition, Reddy was one of the biggest superstars of her time, all thanks to her topical feminist ballad 'I Am Woman', which galvanised the ongoing fight for gender equality.
It's the kind of uplifting true story that's just begging to be made into a biopic. And the producers behind hits like The Sapphires and The Invisible Man have gone ahead and done just that with I Am Woman, a Stan Original Film set to premiere on the streaming service on August 28.
Sign up for Flicks updates
The movie had its official premiere at the Toronto Film Festival, where it opened the prestigious Special Presentations section. Starring Tilda Cobham-Hervey as the singer-songwriter, as well as Dumplin's Danielle Macdonald and American Horror Story alum Evan Peters, the film is directed by Unjoo Moon.
Moon spoke on her excitement at the film's broad national release on Stan.
"During these tough times it's deeply meaningful to me that the release of Helen Reddy's inspirational story I Am Woman will kick off with Stan in Australia," she said. "Not only did Helen's story begin in Australia but so did our journey of making this movie."
In the above trailer, I Am Woman's 1970s setting may seem misogynistic in a quaint way for younger viewers; as a disapproving record exec, Chris Parnell calls Reddy's breakout hit song 'man-hating', a critique that feels like it comes from a hundred years ago rather than a mere 30 or 40 years.
But this biopic's glance at second-wave feminism, from where we are now in the midst of vicious third-wave debate, could be a terrific conversation starter between young feminists and their mums, who may have rocked out to 'I Am Woman' back in the day.