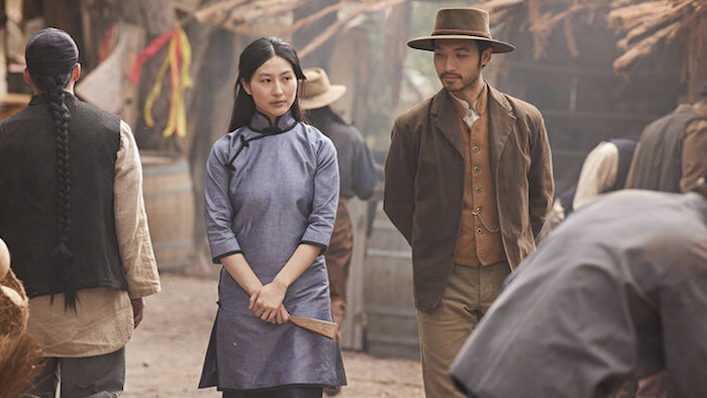 Epic Australian western New Gold Mountain arrives soon on SBS on Demand

---
When it comes to Australia's turbulent history of colonialism and plunder, there's gold in them thar hills—storytelling gold, that is, with the fascinating truth story of our migrant pioneers still relatively untold on big and small screens.
SBS's blockbuster original series New Gold Mountain seeks to change all that. It's an epic western TV show set in the 1850s Victorian goldfields, a time when miners arrived from all over the world seeking to make it rich on the promise of sweet yellow gold. New Gold Mountains looks to be one of Aussie TV's biggest events of the year: the four-part series begins on October 13.
The characters are all inspired by true historical figures from Victoria's past: Yoson An plays Wei Shing, the goldfield's "charismatic leader of the Chinese operation", who is left reeling by the discovery of a murdered white woman. Considering that the bigoted segregation of colonised Australia could place the blame on Shing and his fellow Chinese miners, he must work with a widowed newspaper owner (Alyssa Sutherland) and a young Aboriginal woman (Leonie Whyman) to uncover the truth.
In the trailer below, the only thing higher than SBS's production values is the dramatic tension. "There's blood coming", Whyman warns, as we sweep across frontier towns and foreboding outback landscapes. As the wealthy Cheung Lei, Mabel Li raises one finger to cover her mouth like people always do in these kinda tense, secretive stories.
It brings to mind Fargo's complicated fourth season, which examined the many different mobster factions fighting for supremacy in Kansas City: there's the same fascinating true history of segregation, power, and otherness, leading to all-out turf war.
An epic four-part western saga, New Gold Mountain will premiere on October 13 at 9.30pm on SBS and the online streaming platform SBS On Demand, with its remaining three episodes released on the 14th, 20th, and 21st of October. SBS has also put together a behind-the-scenes program New Gold Mountain Unwrapped, which you can dig into following the series finale. Solid TV gold.