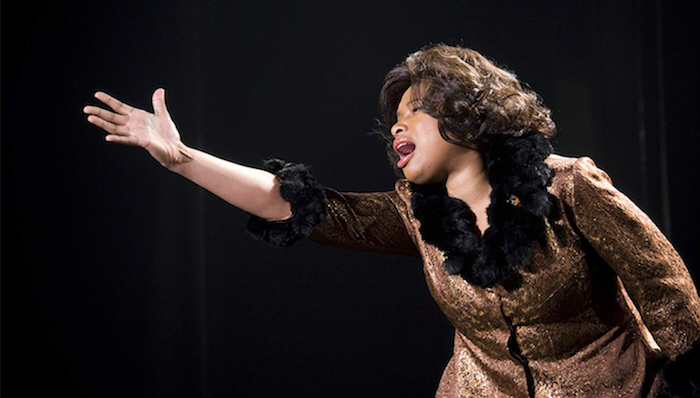 Jennifer Hudson announced as Aretha in the Franklin-approved biopic Respect

---
Before Aretha Franklin's 2018 death from a pancreatic tumour at the age of 76, the legendary Queen of Soul was careful to select a suitable artist to portray her in a film telling the complicated story of her life. According to Billboard, Franklin hand-picked Academy Award winner Jennifer Hudson to play her, after seeing the Dreamgirls star perform a medley of Franklin's biggest hits at a pre-Grammys party early last year.
Sign up for Flicks updates
News on that musical biopic has been relatively quiet – until now, with the official announcement of Hudson and a glittery supporting cast, set to appear in a film titled Respect (to be released in August 2020).
Directed by Tony-nominee Liesl Tommy and Emmy-nominee Tracey Scott Wilson, Respect will tell the story of Franklin's rise through the ranks of gospel music onto the soul and pop charts, all told through hits like I Say A Little Prayer, Chain Of Fools, (You Make Me Feel Like A) Natural Woman, and, of course, the titular Respect. Since the huge success of Bohemian Rhapsody and Rocketman, musical biopics are currently a white-hot trend. If Respect is quick enough to capitalise on the fad, Hudson could potentially find herself in the running for a second Best Actress statue.
Forest Whitaker is set to appear as Franklin's father, the Reverend CL Franklin, with Broadway stalwart Audra McDonald as Franklin's mother, Barbara Franklin. Marlon Wayans and Unbreakable Kimmy Schmidt's Titus Burgess round out the cast as Franklin's first husband Ted White and 'King of Gospel' Dr. James Cleveland respectively. And for a little additional RnB magic, Mary J Blige will portray soul legend Dinah Washington.
For a glimpse into the real Franklin at the height of her powers, we highly recommend Amazing Grace, a concert doco of recently remastered footage from two nights of gospel music performances Aretha knocked out of the park in 1972. Until we get a look at Hudson's interpretation of Franklin, the 2018 documentary is an absolutely staggering insight into the singer's spiritual core and miraculous talent, in all its sweat-drenched, God-given glory.