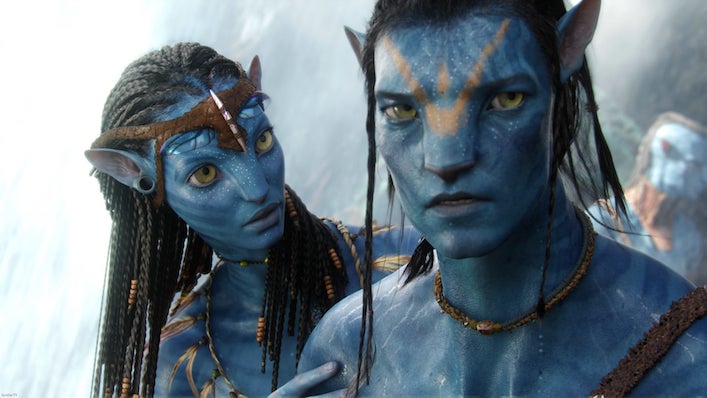 James Cameron shares a set photo from the first of four Avatar sequels

---
James Cameron's epic sci-fi fantasy blockbuster Avatar came out in 2009 – exactly ten years ago. Since then, the world has changed drastically. The Black Eyed Peas and Flo Rida are but a distant memory, and the only time I've watched Avatar since its release is when it was used in electronics shops to demonstrate the picture quality of high definition TVs.
Even though Avatar was a phenomenon at the time of its release (and the highest grossing film of all time), the movie doesn't really have a fanbase or any ongoing cultural buzz today, as mega-franchises like Star Wars and Marvel do.
Sign up for Flicks updates
But if there's one thing James Cameron does better than any other filmmaker, it's sequels – think Aliens and Terminator 2 – so he's doggedly working on Avatar 2, the first of four sequels set in the Na'vi world.
The below picture was shared to Avatar's Twitter account, trumpeting that the "last day of live-action filming in 2019" had been completed. Not that shooting has wrapped – just that it's done for this year. Perhaps the team wanted to publicise some sign of life before 2020 rolls around, an optimistic distraction from the fact that the sequel is coming out literally a decade later than the original.
That's a wrap, Na'vi Nation! 💙

It's our last day of live-action filming in 2019, and we're celebrating with a sneak peek. 👀

Check out this photo of the aft well deck section of the Sea Dragon, a massive mothership that carries an array of other sea-going craft in the sequels. pic.twitter.com/AXgAve6aTG

— Avatar (@officialavatar) November 29, 2019
The upcoming sequel faced some amusing backlash when Cameron revealed the franchise's flowery new titles; sequels one through four are as of this moment titled Avatar: The Way of Water, Avatar: The Seed Bearer, Avatar: The Tulkun Rider, and Avatar: The Quest For Eywa. Okay. This would mean Avatar: The Way of Water is set to come out in 2020, with each subsequent film released every few years until 2027. Will we even be able to visit cinemas to watch Avatar 5: The Quest for Eywa in 2027, or will sea levels have risen and engulfed the land by then?
It's clear from the set photo above that Cameron is sparing no expense to bring his kooky vision to life. And despite all our good-natured ribbing, Cameron has pulled off this kind of operatic, sci-fi bombast many times in the past, to astounding financial success. Hopefully the "Na'vi Nation" the tweet cheerily addresses will see their patience rewarded.