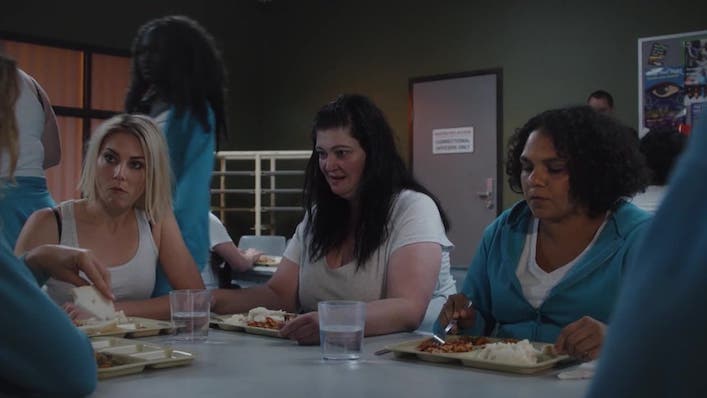 How to watch every season of gritty prison drama Wentworth in Australia

---
There is no Wentworth, really: it's a fictional women's prison in Melbourne, Victoria, meaning the only place where the sinister building really exists is in the vivid memories of the series' many obsessed viewers.
Over eight seasons, we've seen so much of Wentworth that can't be forgotten, from those shocking moments of graphic violence to heartbreaking and life-affirming character moments from a killer cast of Australian actors. In fact, Wentworth was the sole Australian scripted show to appear on our recent people's choice poll of the Greatest TV Shows Ever.
Sign up for Flicks updates
If you're a newbie to the saga of Queen Bea, the despicable Governor "Freak", and everybody else inside the walls of Wentworth, here's your chance to get initiated: every season of Wentworth has just landed on BINGE, following the premiere of the show's 100th and final episode.
Beyond racking up an international fanbase, and even foreign-language remakes in countries like Germany and Turkey, Wentworth has received a lot of love from Aussie audiences and critics, too. It's received a Logie for Most Outstanding Drama Series three times, winning a total of seven Logies across the entire series from 24 nominations.
There aren't many other prestigious shows where characters face the constant threat of their hands being violently steamed in an ironing press. Not that I can think of, at least. The hour-long reunion special below is a grand, gritty farewell to this phenomenal Australian series.
Filmed in Victoria across a series of purpose-built sets, Wentworth is a real success story for Foxtel, one of the most exciting exclusive series that you can't find on any other streaming services…until now, with BINGE scooping up the completed series for its hefty drama library.
There's no better time to lock yourself in to the gritty and dramatic world of Wentworth, and you've got a friend on the inside in the form of BINGE and Foxtel Now. These are the only ways to check out every tense episode, from Bea's very beginning to the new batch of inmates with whom we face down the show's finale.