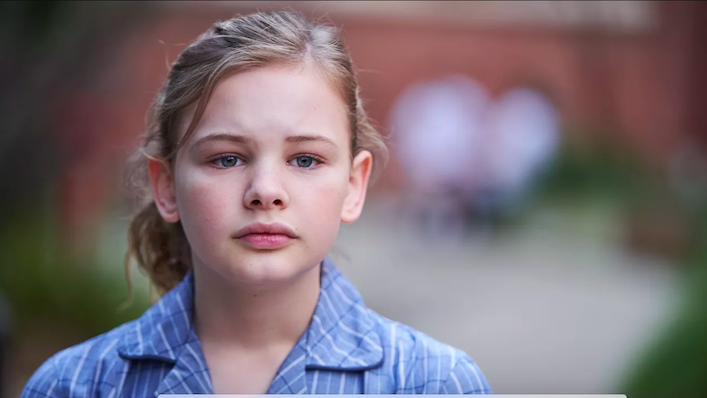 First Day is Australia's first TV show about a transgender child

---
The ABC's sweet coming-of-age drama for kids, First Day, is a great watch for quarantined families looking for something substantial during school holidays, writes Eliza Janssen.
The four-episode series First Day, a new coming-of-age series for kids, is now available on ABC's iView streaming service. While the show's surface-level drama about a 12-year-old learning the ropes at a new school is painfully familiar to every kid around Australia, there's a lot more going on behind the scenes of First Day. The show has garnered praise and criticism for starring a transgender girl as its protagonist.
Sign up for Flicks updates
Written and directed by Julie Kalceff, First Day stars Evie Macdonald as Hannah, an anxious new student getting used to high school social mores and challenges. Viewers might recognise Macdonald from her appearances on programs such as The Project in response to Scott Morrison's comments about "gender whisperers" in Australian schools. Macdonald's visibility as a trans role model carries into the fictionalised show in a meaningful way.
In an interview with Screenhub.com, Kalceff spoke to the political challenge of making a series about trans youth. She remembers "articles in papers like the Daily Telegraph and The Australian, saying things like 'taxpayers money is being spent on a story of a transgender girl'…Whereas the reality is that if you don't support your child through transition, odds are that they're going to end up committing suicide or suffering from depression because they're forced to live as someone that they're not."
We do not need 'gender whisperers' in our schools. Let kids be kids. https://t.co/POzM26PXU5

— Scott Morrison (@ScottMorrisonMP) September 4, 2018
The series' sweet, realistic storytelling and casual duration (four episodes of thirty minutes) makes it a great watch for quarantined families who are looking for a more substantial diversion while their kids are on school holidays.