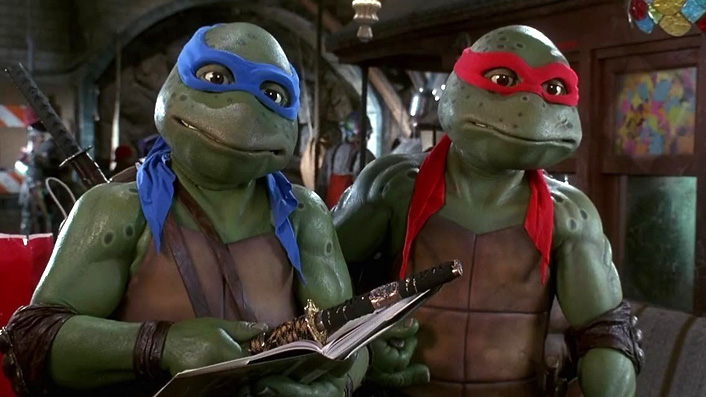 Cowabunga! A rotting costume from Teenage Mutant Ninja Turtles 3 has been rediscovered

---
Eagle-eyed Twitter scavenger Jayme K made a disturbing discovery earlier this week. When scrolling through online entertainment memorabilia auction house Prop Store, he found a screen-used, slowly rotting costume from the third entry in the nineties Teenage Mutant Ninja Turtles franchise. To be more specific, a Leonardo costume – his distinctive blue mask wilting on a ruined foam latex face.
You can buy this rotting, screen-used TMNT III Leonardo suit if you want. pic.twitter.com/f7no7LtGwl

— Jayme K (@brainexploderrr) September 30, 2019
Where the costume has been stowed away since its last appearance in the 1993 "martial arts superhero comedy film" is anybody's guess, but it's clear that the official Leonardo costume has had it pretty rough. On Prop Store's auction listing, potential buyers/victims are warned that "the body is currently filled with some stuffing and rests on an oversize clothing hangar – additional work is needed to make the piece stand."
But who would leave this thing standing around in a corner of one's home? This is a "high-quality stunt bodysuit" worn by original puppeteer Mark Caso – it's for wearing. And Halloween is, after all, right around the corner.
Equally horrified Twitter users were quick to suggest further examples of beloved bastions of movie nostalgia that have clearly been left rotting in some Hollywood basement since their childhood-defining screen appearances. Look upon Hoggle from Labyrinth, forgotten at an Alabama airport for decades, and despair:
Also, Hoggle the Goblin from 'The Labyrinth' is currently rotting away in unclaimed baggage in Scottsboro, Alabama.
No shit, google it. pic.twitter.com/4dA8AwCAWu

— Jayme K (@brainexploderrr) October 1, 2019
Or for Star Wars die-hards, photos have also surfaced of an old Tauntaun head that's definitely seen better days.
HELP – I FOUND A ROTTING TAUNTAUN FROM STAR WARS. pic.twitter.com/bU5FvnjrPe

— Jayme K (@brainexploderrr) October 1, 2019
Then again, maybe the gradual decrepitude of these creatures is a testament to the impressive practical effects that were once a gleaming industry standard in Hollywood sci-fi and fantasy cinema. Perhaps instead of cowering in fear, we should celebrate the rediscovery of the Leonardo suit, and instead consider how we ourselves have degraded since the 1990s.
Looks like how I feel as a 90s era adult. Life sucks

— gimmecat (@cruzer_87) October 1, 2019