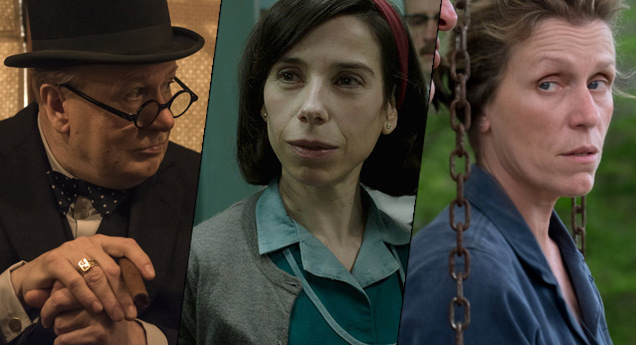 The Globes are done (full list of winners here) and the Oscars are coming (nominations announced January 24). Now, it's the BAFTA's turns.
As with the Golden Globes, The Shape of Water leads the pack with 12 nominations followed by Three Billboards Outside Ebbing, Missouri and Darkest Hour – each claiming nine.
Here are the nominations for the 2018 BAFTAs, many of whom are either out on Blu-ray/DVD/VOD, are currently playing in cinemas, or are arriving very shortly to a location near you.
---
Best Film
Call Me By Your Name, Darkest Hour, Dunkirk, The Shape of Water, Three Billboards Outside Ebbing, Missouri
Director
Denis Villeneuve (Blade Runner 2049), Luca Guadagnino (Call Me By Your Name), Christopher Nolan (Dunkirk), Guillermo del Toro (The Shape of Water), Martin McDonagh (Three Billboards Outside Ebbing, Missouri)
Leading Actress
Annette Bening (Film Stars Don't Die in Liverpool), Frances McDormand (Three Billboards Outside Ebbing, Missouri), Margot Robbie (I, Tonya), Sally Hawkins (The Shape of Water), Saoirse Ronan (Lady Bird)
Leading Actor
Daniel Day-Lewis (Phantom Thread), Daniel Kaluuya (Get Out), Gary Oldman (Darkest Hour), Jamie Bell (Film Stars Don't Die in Liverpool), Timothée Chalamet (Call Me By Your Name)
Supporting Actress
Allison Janney (I, Tonya), Kristin Scott Thomas (Darkest Hour), Laurie Metcalf (Lady Bird), Lesley Manville (Phantom Thread), Octavia Spencer (The Shape of Water)
Supporting Actor
Christopher Plummer (All the Money in the World), Hugh Grant (Paddington 2), Sam Rockwell (Three Billboards Outside Ebbing, Missouri), Willem Dafoe (The Florida Project), Woody Harrelson (Three Billboards Outside Ebbing, Missouri)
Outstanding British Film
Darkest Hour, The Death of Stalin, God's Own Country, Lady Macbeth, Paddington 2, Three Billboards Outside Ebbing, Missouri
Outstanding Debut by a British Writer, Director or Producer
The Ghoul, I am Not a Witch, Jawbone, Kingdom of Us, Lady Macbeth
Film Not in the English Language
Elle, First They Killed My Father, The Handmaiden, Loveless, The Salesman
Documentary
City of Ghosts, I am Not Your Negro, Icarus, An Inconvenient Sequel, Jane
Animated Film
Coco, Loving Vincent, My Life as a Courgette
Original Screenplay
Get Out, I, Tonya, Lady Bird, The Shape of Water, Three Billboards Outside Ebbing, Missouri
Adapted Screenplay
Call Me By Your Name, The Death of Stalin, Film Stars Don't Die in Liverpool, Molly's Game, Paddington 2
Original Music
Blade Runner 2049, Darkest Hour, Dunkirk, Phantom Thread, The Shape of Water
Cinematography
Blade Runner 2049, Darkest Hour, Dunkirk, The Shape of Water, Three Billboards Outside Ebbing, Missouri
Editing
Baby Driver, Blade Runner 2049, Dunkirk, The Shape of Water, Three Billboards Outside Ebbing, Missouri
Production Design
Beauty and the Beast, Blade Runner 2049, Darkest Hour, Dunkirk, The Shape of Water
Costume Design
Beauty and the Beast, Darkest Hour, I, Tonya, Phantom Thread, The Shape of Water
Make Up & Hair
Blade Runner 2049, Darkest Hour, I, Tonya, Victoria and Abdul, Wonder
Sound
Baby Driver, Blade Runner 2049, Dunkirk, The Shape of Water, Star Wars: The Last Jedi
Special Visual Effects
Blade Runner 2049, Dunkirk, The Shape of Water, Star Wars: The Last Jedi, War for the Planet of the Apes
British Short Animation
Have Heart, Mamoon, Poles Apart
British Short Film
Aamir, Cowboy Dave, A Drowning Man, Work, Wren Boys
EE Rising Star Award
Daniel Kaluuya, Florence Pugh, Josh O'Connor, Tessa Thompson, Timothée Chalamet