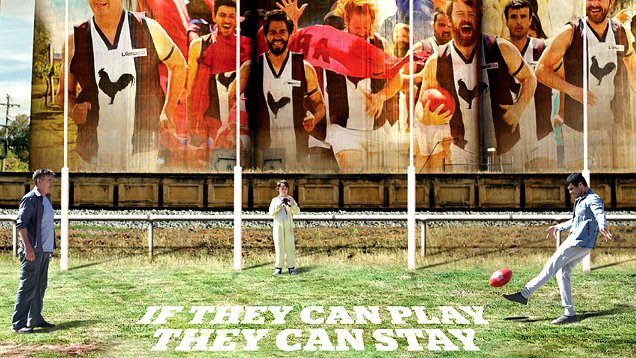 New Australian comedy The Merger adapts an award-winning stage show of the same name, combining a socially conscientious story about asylum seekers with good old fashioned footy. It is the second feature from director Mark Grentell, whose previous film was the rambunctious 2013 cricket comedy Backyard Ashes.
The first trailer for The Merger hit the net a few days ago (check it out below). We were particularly impressed with one scene in which a blunt-speaking character is asked by a young boy what a merger is. This man explains that a merger is "when one shit teams joins up with another shit team to make a slightly less shit team."
The story follows a small town country football coach who comes up with an unconventional plan to rebuild the local team, by recruiting recently settled asylum seekers. The film was adapted from a one-man live show by comedian Damian Callinan (who wrote the screenplay). He says the show "used empathy to simplify the confusion over the refugee issue."
Sign up for Flicks updates
The Merger's cast includes Callinan as well as Kate Mulvany (The Great Gatsby), Josh McConville (Down Under) and the veteran actor John Howard. The film will arrive in cinemas later this year.
Here is an excerpt from the press release:
"The message of inclusivity in The Merger isn't just limited to the story on screen. The supporting cast includes many settled refugees; director of photography Tony Luu was born on the boat as his family fled Vietnam, and David Bridie's film score includes many refugee musicians, including Farhad Bandesh, a Burundiian ex-child soldier who has been a detainee on Manus Island for six years. Many refugees in Wagga became extras in the film, including Yazidi refugee Khato Izzeldin, who went above and beyond his role and was on set almost every day to help out where he could. He became one of the featured players in the Bodgy Creek Roosters, and even got a character name of his own choosing – Iraqi Kev.
The film, which has been officially endorsed by the AFL, was shot on location in Wagga and surrounding shires with the assistance of Screen Australia, Create NSW and the City of Wagga."