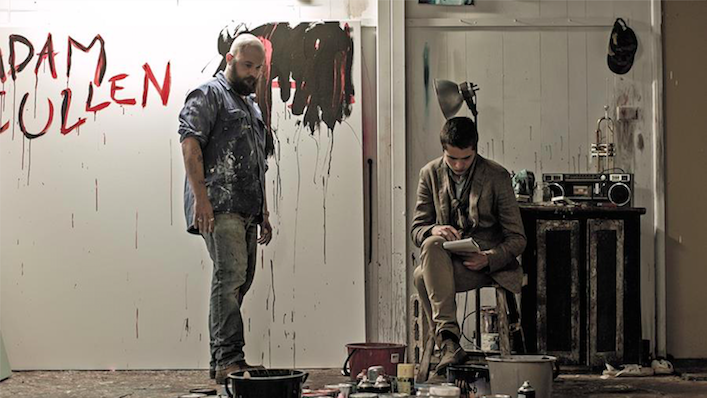 Acclaimed Australian drama Acute Misfortune is now available to stream on Stan

---
There are a bunch of great movies about journalists trying to pin down the mystique of a great artist. The End Of The Tour is a recent hit that looked at David Foster Wallace, and Citizen Kane is even technically an example of the genre. Now, festival favourite Acute Misfortune has arrived on Stan to once again question whether artists really need to go through all that angst and creative turmoil in order to be remembered.
Sign up for Flicks updates
The film tells the true story of nineteen-year-old Sydney Morning Herald journo Erik Jensen (Toby Wallace), who tailed the painter Adam Cullen (Daniel Henshall) for four years in an attempt to write his definitive biography. Before Cullen's death at the age of 46, the pair had a turbulent, sometimes violent relationship (Cullen shot Jensen, and even threw him off a motorbike), which nonetheless resulted in some terrific stories and claustrophobic scenes of broken genius.
Check out the trailer below for a sense of the bedlam in which Jensen finds himself.
Directed by first-timer Thomas M. Wright, Acute Misfortune has racked up considerable acclaim, earning The Age's Critics Prize when it screened at the Melbourne International Film Festival. The Hollywood Reporter called it "one of the year's most striking and accomplished directorial debuts." You might also recognise Daniel Henshall in the role of Adam Cullen from his previous turn as another unhinged Australian outsider in Snowtown.
An Archibald Prize winner and the youngest ever subject of a career retrospective at the Art Gallery of New South Wales, Cullen is definitely a layered enough subject for a feature drama like this. But Acute Misfortune also takes on the complex task of analysing Erik Jensen, the journalist tasked with interpreting Cullen's darkness and abrasiveness.
Whether or not Acute Misfortune hews closely to the truth of the relationship between the two men, it certainly sounds like a compelling watch; the film is available right now exclusively on Stan.