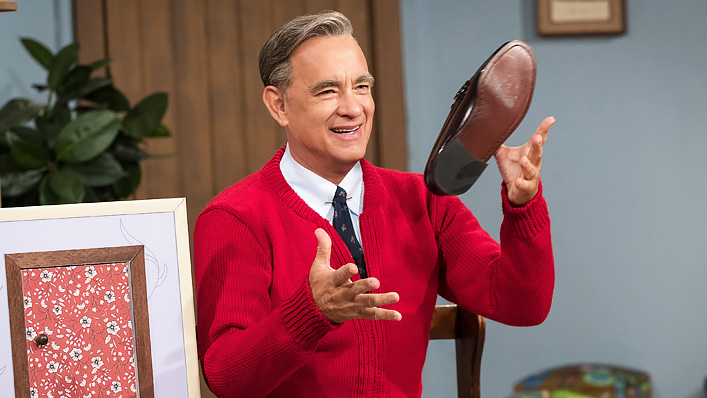 Tom Hanks' performance isn't the best thing about A Beautiful Day in the Neighborhood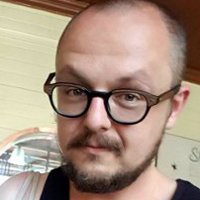 ---
A Beautiful Day in the Neighborhood is collecting rave reviews from critics. But not many people are discussing the film's best and most interesting element, writes Luke Buckmaster.

Director Marielle Heller skitters on the edge of sentimentality for the entire duration of A Beautiful Day in the Neighborhood, managing to tell a noble-minded, heartwarming story without slipping into the big vat of cheese bubbling beneath her. Her challenge of making a non-schmaltzy film was exacerbated by it being a portrait of a saint: the beloved American children's TV host Fred Rogers, who is is played by the also beloved (and equally squeaky-clean) actor Tom Hanks.
Hanks, in an Oscar-nominated performance, plays Rogers as he is remembered: pure as the virgin snow, with a big sensible smile and a gentle, persistent squint – as if struggling to see through sunshine he constantly observes radiating out of other people. There are a couple of brief mentions about how Rogers feels anger from time to time like anybody else, and on occasions plays piano reasonably loudly (gasp!) in order to help deal with it. This is not, however, a film that intends in any way to challenge assumptions about the legendary presenter, who was by all accounts a swell guy.
Sign up for Flicks updates
In fact, Noah Harpster and Micah Fitzerman-Blue's screenplay tut-tuts its journalist protagonist, Lloyd (Matthew Rhys), for having the gall to approach the task of writing about Rogers from the perspective of somebody who doesn't automatically assume his subject walks around with a halo on his head. "Please don't ruin my childhood," Lloyd's wife Andrea (Susan Kelechi Watson) begs him when he takes on the assignment; she knows he'd like to bring this saintly dude down a peg or two.
Rhys' performance is thoroughly important in unifying key strands of the drama, the core one involving Lloyd's intense relationship with his dying father Jerry (Chris Cooper). Rhys does a fine job etching out a psychological space in which forgiveness begins as a "never" for Lloyd but becomes a possibility, in a role that was always going to be overshadowed by the more famous performer playing the larger-than-life figure. Both actors contribute fine work.
The most compelling part of A Beautiful Day in the Neighborhood, however, lies elsewhere: in its construction of an alternate reality that is fantastical but rooted in emotional and thematic truth. I am not referring to Lloyd – and the film's – root reality: the one in which he exists as a journalist and Roger exists as a TV host. Nor am I referring to the fantasy world constructed in Rogers' show Mr Rogers' Neighborhood – which famously used a miniature neighbourhood to visualise a community he filled in with fictional characters.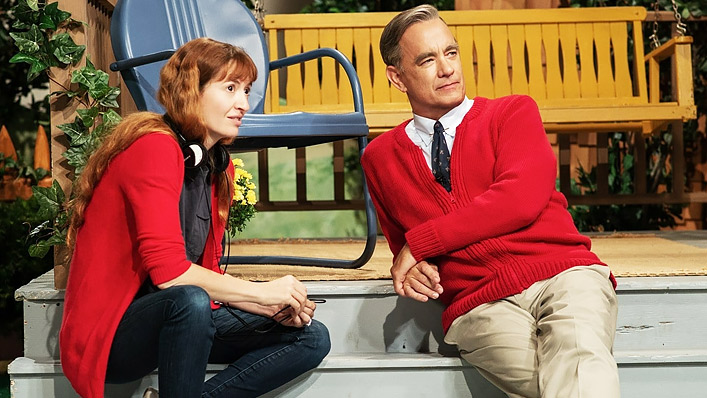 I am referring to a reality somewhere in between: sort of Lloyd's, sort of Rogers', and sort of the audience's. The easiest way to explain it is to recap how the film begins – because it begins here, in this strange and interesting meta tier. We see Rogers enter the front door of his TV home and address his audience. He puts on a red cardigan and sneakers, all the while – with that big, squinty, compassionate smile – discussing the concept of forgiveness. Particularly how it can be hardest to achieve when applied to people who are closest to you, reflecting (though we don't know this yet) the film's core themes.
Heller's visual connections take this scene to the next level, in both narrative ingenuity and the aforementioned layer of reality. Rogers sits next to a large picture board and begins to open a series of doors with small handles on them (like a big advent calendar), revealing a photograph behind each. The first two depict recurring characters from his show. The third is the important one: it shows Lloyd – who we are yet to meet – looking startled and banged-up. He has a bloody gash between his eyes, as if he has recently been in a fight.
"Someone has hurt my friend Lloyd," Rogers says, "and not just on his face. He's having a hard time forgiving the person who hurt him." The film then segues into Lloyd's narrative, which leads to a scene in which the protagonist is punched in the face by a family member at a wedding during an altercation involving his father, one shot a direct visual callback to that picture of him behind the door.
During another occasion on Rogers' set, the host opens a small window through which we see footage of a magazine headquarters, and talks about how magazines are printed. This is a way of introducing Lloyd's occupation; the director then jumps into his role as an investigative reporter for Esquire.
In these scenes Rogers is addressing the film audience (us) rather than his TV audience, taking the essence of Rogers' show and repackaging it for a world in which it never really belonged, which imbues it with meta qualities. The things he discusses are deeply personal for Lloyd – involving his life, his father, his deep-seated emotions, his personal journey – yet they exist on a higher plain of reality; Lloyd cannot be part of it. This framing device relies on the existence of two realities – Lloyd's world, and the world created in Rogers' real-life show – yet it belongs to neither of them.
Very interesting. Very clever. And, in an unprepossessing, fable-like sort of way, quite audacious. There are many things to like about this slight but rewarding film; I like this meta reality the best.