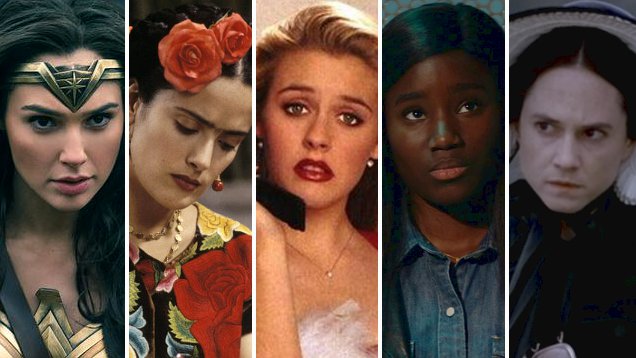 The 30 best films by female directors on Netflix, Stan and SBS on Demand

---
Cinema has long been plagued by gender disparity. Recognising that female filmmakers don't receive the chances or audiences that they deserve, however, is only one part of the picture. Raising awareness about the problem is essential.
Implementing mechanisms to support women directors is another. That said, if you're a cinephile sitting at home, the best thing that you can do is vote with your viewing choices.
Movies by female filmmakers mightn't reach our screens as frequently as those by their male counterparts, but there is plenty to watch if you know where to look. Here are the best women-directed efforts currently available in Australia on Netflix, Stan and SBS on Demand.
NETFLIX
In jumping into the mindset of a restless teen exploring his sexuality with both men and women, Eliza Hittman doesn't waste a single one of Beach Rats' affecting 95 minutes. The soulful end result aches with the pain of uncertainty while it simultaneously blossoms with the possibility of youth, with Harris Dickinson exceptional as the film's protagonist.
A documentary that's as audacious as it is astounding, Casting JonBenet doesn't merely recount the famous murder of a child beauty queen. Rather, it casts folks from JonBenet Ramsay's local area to re-enact the case, then both presents the end results and interrogates their fascination with the unsolved killing. Unsurprisingly, it's another unorthodox and revealing effort from Australian filmmaker Kitty Green, not to mention a true crime doco like no other.
It might wear its '90s setting as lovingly as its fashionable protagonist wears her entire wardrobe, but Clueless will always stand the test of time – and, it appears, so will the seemingly ageless Paul Rudd along with it. Thirteen years after Fast Times at Ridgemont High, Amy Heckerling went back to school, updated Jane Austen's Emma and helped define a decade.
Critically praised upon its 1992 release but criminally ignored in the decades since, Daughters of the Dust spins a multi-generational story against the striking backdrop of South Carolina's Saint Helena Island. Now gloriously restored, Julie Dash's drama has finally been receiving the respect it deserves – including influencing Beyonce's visual album Lemonade.
A biopic of the iconic Frida Kahlo, Frida is also a passion project for star Salma Hayek, and that affection and dedication shows. With assistance from director Julie Taymor, the film endeavours to encapsulate the Mexican artist not just in its performance or narrative, but in its visuals – a task that is far from easy, but leaves its mark on every frame.
Kathryn Bigelow made history with The Hurt Locker, becoming the first woman to win the Academy Award for best director. Even without achieving such a monumental and long-overdue feat, her dramatic thriller proves a masterclass in tension, following a bomb disposal unit in Iraq and making a star out of Jeremy Renner.
Best friends flirt with becoming something more in the deeply empathetic Lovesong, with So Yong Kim crafting a complicated study of the chasm between desire and reality. If Carol starred Jena Malone and Riley Keough, stripped away the glamour and took place in the present day, it might look something like this intimate portrait of yearning.
With Mudbound, Dee Rees made one of the best films of 2017; a film that's intricately detailed in its dissection of class and race, and evokes an emotional response as a result, yet never trades on easy sentiment. Charting the fortunes of two rural families – one white, one black – it's also a showcase for many of its stars, including Jason Mitchell and Mary J. Blige, as well as for the textured work of cinematographer Rachel Morrison.
After her potent civil rights drama Selma, Ava DuVernay keeps her focus on prejudice in America, this time honing in on matters of race and incarceration. Indeed, Emmy-winning, Oscar-nominated documentary 13th proves a powerful treatise on the oppressive nature of the country's justice system upon African-Americans.
There's more than a little formula to Wonder Woman; however that didn't stop Patty Jenkins from making the best DC comic book movie from the company's current big-screen run. Not only does the director finally give the titular character her own film, but she does so with both sincerity and plenty of spectacle, with the movie's successes spanning beyond its female-focused credentials.
STAN
A League of Their Own
Penny Marshall's baseball comedy is light, lively, sweet and nostalgic. In other words, it finds the ideal tone for a warm-hearted, amusing look at the real-life All-American Girls Professional Baseball League. Not every move it makes is a home run, but it remains a well-cast crowd-pleaser that combines laughs, history and a big heart.
It's the reason that Keira Knightley is now the star that she is, but Bend it Like Beckham is also more than that – and more than just a feel-good soccer film, too. Spinning a story of young women wanting to play a male-populated sport, it really shouldn't feel as pioneering as it does, and yet Gurinder Chadha scores every goal she needs to.
Take a real-life case involving stealing from celebrities, bring it to life with an energetic young cast and give it the Sofia Coppola treatment, and The Bling Ring is the end result. Emma Watson ably leads the charge in this satirical take on a true story, which Coppola ensures is as glossy as not only its Hollywood locations, but as the pages of the Vanity Fair article it's based upon.
To watch Mia Hansen-Løve's Eden is to feel as though you're dancing through the burgeoning Parisian club scene in the '90s and early '00s. Unsurprisingly loosely based upon reality, this finely drawn film both captures a particular place and time, and proves universal in its tale of chasing a dream – or, ultimately realising that it's all slipping away to the beat of a Daft Punk hit.
It plunges into the vagaries of life in a rough suburb outside of Paris, but Celine Sciamma's Girlhood shines bright like a diamond. While the film scores its most powerful expression of femininity to Rihanna's track, its true lustre emanates from star Karidja Touré as a 16-year-old navigating the trials of friendship, sex and drugs, as well as from Sciamma's commitment to plunging into the character's grim reality.
Gambling films might be so common that they're practically their own genre, but Mississippi Grind has one thing that none of the others can boast: the winning hand that is Ben Mendelsohn and Ryan Reynolds. Both actors are in empathetic, world-weary form as two long-time punters seeking a big payday, and they're astutely directed by Half Nelson helmers Anna Boden and Ryan Fleck.
Gillian Armstrong's excellent adaptation of Miles Franklin's popular 1901 novel is a celebration of female talent three times over. Not only does it rank among the director's best and showcase just why the author was one of the major literary talents of her time, but it features a riveting performance by Judy Davis as the free-spirited heroine who rallies against expectation.
The Cannes Film Festival's coveted Palme d'Or is just one of The Piano's many accolades, but all of that shiny silverware pales in comparison to the film's own lush allure. Passion has rarely felt so palpable as in Jane Campion's 19th century-set account of a mute piano player and her desperate efforts to regain her beloved instrument, with both Holly Hunter and Anna Paquin (in her first acting role) putting in ional performances.
Actor turned filmmaker Sarah Polley interrogates her own family history with Stories We Tell, a documentary that's as personal and revelatory as factual efforts come. More than that, in delving into her parents' story and probing the nature of truth, she also plays with the very format of documentary filmmaking. The end result is a memoir that never once confines its contents to such a conventional term.
Nearly two decades after first showing the world that Keanu Reeves knows kung fu – and that there is no spoon – The Matrix still holds its own in the sci-fi realm. Its sequels can't quite the same claim, but the Wachowski siblings' initial vision of a dystopian, machine-controlled future, and the man who just might save humanity from its dark recesses, remains a genre standout.
SBS ON DEMAND
Perhaps the biggest compliment that can be given to Andrea Arnold's body of work is also the most obvious: while clearly fashioning fictional stories, her films often feel anything but. That's the case with her intimate look at a teenager's life within an East London housing estate, which benefits from a steely performance by lead Katie Jarvis and flawless support from Michael Fassbender, as well as Arnold's trademark eye for combining desolate stories with haunting imagery.
Head On
It's with vibrancy, a no-holds-barred attitude and a willingness to push boundaries that Head On brings Christos Tsiolkas' novel Loaded to the screen – and, with an absolutely powerhouse performance from Alex Dimitriades as well. He plays a young gay man coping with the conflict between his sexuality and his Greek heritage, in what remains the highlight of Ana Kokkinos much-too-concise filmmaking resume.
Anne Fontaine steps into the bleak aftermath of the Second World War, focusing on a seemingly unlikely group: Polish nuns, who were raped by Russian soldiers during the conflict and forced to live with the life-changing consequences. Taking inspiration from reality, the heartbreaking drama is empathetically shot and impeccably acted, understandably teeming with complexity from start to finish.
With her penchant for quiet, contemplative efforts, Kelly Reichardt was always meant to direct a western, and Meek's Cutoff demonstrates exactly why. Following a wagon train of pioneers seeking a better life across the desert – and, increasingly focusing on the the women that are along for the ride – it's as thoughtful as its dusty frontier setting is breathtaking.
A deserved Oscar nominee for best foreign-language film, Deniz Gamze Ergüven's debut Mustang is a fierce look at the constrained lives of five orphaned Turkish sisters bring brought up by strict relatives. Comparisons abound with The Virgin Suicides, but this spirited effort paves its own way – and finds its own energy – as it contemplates the struggles of women growing up in a conservative society.
Julia Ducournau's Raw is one of the best horror debuts of the past decade, and one of the best cannibal films, period. It's also a savage, smart and immensely stylish interpretation of the usual coming-of-age narrative. When lifelong vegetarian Justine (Garance Marillier) follows her elder sister to college, a bout of not-so-standard freshman hazing leaves her with a hunger for more than partying.
There's more to the astonishing Sherpa than being in the right place at the right time (or, given the events the film follows, the wrong time). Harnessing the keen observational skills of documentarian Jennifer Peedom, this sky-high chronicle of Everest's darkest day, its aftermath and the local workers who routinely risk their lives for the mountain's tourist trade is both sumptuously shot and an intense watch.
Winning 13 Australian Film Institute Awards – every single category, in fact – Cate Shortland's debut marked the director as a talent to watch. That promise keeps paying off, but Somersault remains a worthy inclusion on her resume, with its intimate tale of a teenager's coming of age handled with both boldness and delicacy.
There's nothing quite like Maren Ade's ode to a unique father-daughter bond – or, for that matter, like the titular character decked out in his blonde wig and false teeth. Toni Erdmann is an alter ego adopted by the eccentric Winifred (Peter Simonischek) in attempt to get workaholic Ines' (Sandra Hüller) attention, and it works, in a film that understands the greatest love of all and joyfully sings to its own tune.
Trust inimitable English director Sally Potter to make a movie that utters its dialogue almost solely in iambic pentameter – and, more than that, usually in rhymes. Her chosen approach lends a rhythm to the film that suits this passionate romance, as brought to live with unwavering commitment by stars Joan Allen and Simon Abkarian.