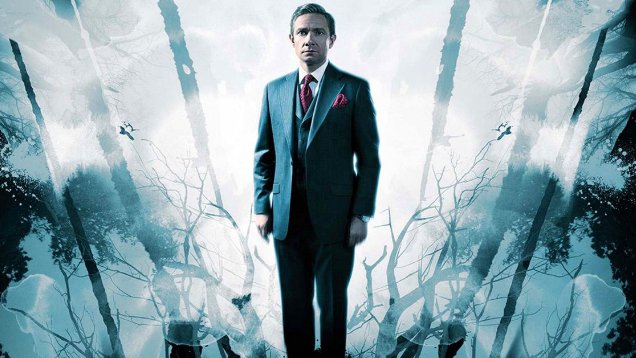 Spooky spirits and restless souls: 10 of the greatest horror anthologies

---
Divided into three stand-alone tales, Ghost Stories is the latest in a long line of horror anthology films. Author and critic Alexandra Heller-Nicholas searches the catacombs of cinema history to pick ten of the greatest horror anthologies ever made. 
The retro, spooky charm of Andy Nyman and Jeremy Dyson's British horror anthology Ghost Stories is a homage to the omnibus-styled compendium format. Starring Nyman as Professor Philip Goodman, a famous television sceptic who debunks fake psychics, he is unceremoniously tasked by his mentor Charles Cameron (Leonard Byrne) to investigate three cases the older man could not explain, setting up the film's structure and framing the individual "ghost stories" of the title.
Horror anthologies have an illustrious and international history, including big names such as Federico Fellini, Louis Malle and Roger Vadim on 1968's Spirits of the Dead through to the V/H/S and ABC's of Death series, and woman-directed anthologies like Prank and XX. Here are ten of the greatest horror anthologies that feature spooky spirits, angry apparitions, and returning, restless souls.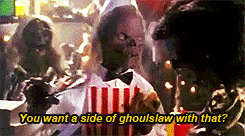 Dead of Night (1945)
The mother of all horror anthologies, Dead of Night was made by Britain's Ealing Studios who – despite being more famous for their comedy films – hit horror out of the ballpark and set a high standard for the horror portmanteau film. One of Martin Scorsese's favourite horror films, its framing story is a familiar social setting where ghost stories are shared to pass the time.
Sign up for Flicks updates
Three of the five stories that make up Dead of Night are more explicitly ghost stories: Cavalcanti's The Christmas Party, Robert Hamer's The Haunted Mirror, and Charles Chrichton's The Golfer's Story. Dark and haunting, there's truly a reason why this genre classic has endured.
Black Sabbath (1963)
Directed by Italian horror maestro Mario Bava and introduced by cult genre figure Boris Karloff, Black Sabbath (aka The Three Faces of Fear) is made up of three stories: The Telephone, The Wirdulak, and The Drop of Water. Marked by Bava's breathtaking visual style and affection for strong jewel colours, while the first two stories explore stalker and vampire horror traditions, it is the ghost story The Drop of Water that has remained the most famous of Bava's anthology. Set in early 20th century London, a nurse steals an expensive ring from a dead patient, the spirit of whom torments the thief to her own grave.
Twice Told Tales (1963)
Starring horror legend Vincent Price and based on the tales of revered 19th Century American novelist Nathaniel Hawthorne, Sidney Salkow's Twice-Told Tales consists of three stories adapted from Hawthorne's work about doomed love and the supernatural. Of these, the final story House of the Seven Gables genderswaps the ghost from Hawthorne's original novel from a woman to a man, where Price's greedy character finds a ghostly opposition when his attempt to steal his sister's inheritance goes askew.
​Kwaidan (1965)
Based on the famous 1904 collection of folkloric Japanese ghost stories of the same name, Masaki Kobayashi's Kwaidan was nominated for an Oscar for Best Foreign Language Film and won the Cannes Film Festival's Special Jury Prize. From the shocking vengeance of women betrayed to haunted hot beverages and failed attempts to hide from ghosts, the four stories that construct the film (The Black Hair, The Woman of the Snow, Hoichi the Earless and In a Cup of Tea) are presented through a striking visual style that has garnered the film such longevity.
Tales from the Crypt (1972)
So prolific were Amicus Productions in the horror anthology category that choosing just one film is itself a challenge, stories ranging from werewolves to vampires, starring everyone from Joan Collins to Charlotte Rampling. But the segment Reflection of Death from Freddie Francis's 1972 Tales from the Crypt – introduced by the same EC Comics' Cryptkeeper character that would become so famous in the 1990s US television series of the same name – is a standout. Following a man who cannot understand why he is not welcomed back into his community (and home) with open arms, the truth of his predicament finds him stuck in a supernatural loop between life and death.
Two Evil Eyes (1990)
While George A. Romero is most renowned on the horror anthology front for his 1982 cult classic Creepshow, in 1990 he joined forces with Dario Argento for Two Evil Eyes, a two-part omnibus inspired by Edgar Allan Poe. Romero's segment The Facts in the Case of M. Valdemar is inspired by Poe's 1845 short story of the same name, updating the tale of a woman and her lover who conspire to steal her wealthy dying husband's large estate but who meet a grisly end when undead spirits become involved.
BeDevil (1993)
Famously the first feature film directed by an Indigenous Australian woman, celebrated visual artist Tracey Moffatt's BeDevil is also the first feature-length horror anthology directed by a single woman director.
Inspired by ghost stories told to her when she was young by both Aboriginal and Irish-Australian relatives, her trilogy of three stories is marked by her signature visual style and was included in the Cannes Film Festival's Un Certain Regard program in the year of its release. Shot in Queensland, the three ghost stories – Mr. Chuck, Choo Choo Choo Choo, and Lovin' the Spin I'm In – each focus on returned of spirits and their intersection with family life.
Phobia (2008)
The cult 2008 Thai ghost anthology Phobia (and its 2009 sequel Phobia 2) single-handedly positioned the country as a major player in contemporary Asian horror cinema. Also released under the name 4bia, the first film consists of four separate stories, directed by Youngyooth Thongkonthun, Banjong Pisanthanakun, Parkpoom Wongpoom, and Paween Purijitpanya respectively. While the film's stories intersect in often small ways, its bookending tales Loneliness and Flight 244 are stand-outs that cleverly weave the story of doomed Princess Sophia in unsettling ways.
Tales of Halloween (2015)
Twelve directors united for this horror-comedy anthology that runs the gamut of subgeneric possibilities in this playful exploration of Halloween and its associated rituals. Connected by a voiceover by a radio DJ (Adrienne Barbeau, revising her role from John Carpenter's The Fog), of the many eponymous "tales" Axelle Carolyn's Grim Grinning Ghost remains a highlight. Starring Alex Essoe of Starry Eyes fame, her character discovers her long-held fear of ghosts could be grounded in reality. This segment is a Who's Who of horror, co-starring genre icons such as Lin Shaye, Barbara Crampton, Mick Garris, and Stuart Gordon.
Tales from the Hood 2 (2018)
From Stacy Title's 2006 Snoop Dogg vehicle Hood of Horror, to Rusty Cundieff's 1995's Tales from the Hood and Cundieff and Darin Scott's much-anticipated recent Spike Lee-produced sequel, horror anthologies have proven fertile ground to explore American racial politics. While all these films incorporate ghost stories in some ways, the most recent brings an explicit "Black Lives Matter" manifesto to the fore, ready to speak through horror to Trump's America. Both The Medium and the film's undeniable highlight The Sacrifice in particular are effective ghost stories, the latter based around the ghost of real-life 14-year-old lynching victim Emmett Till. The Sacrifice especially brings the ghosts of the past to life in a powerful, profound and unambiguously political way.