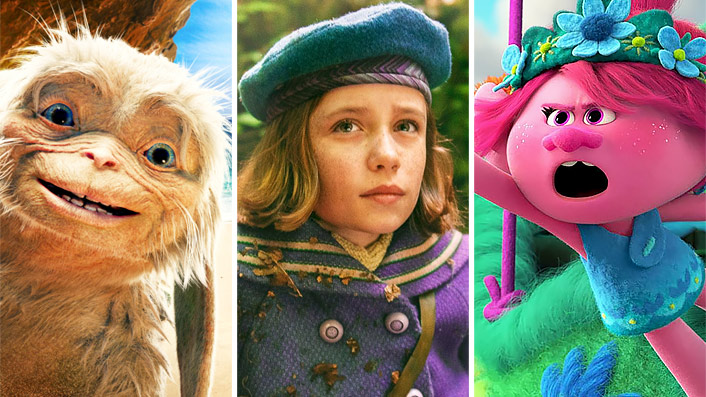 School holiday movie guide: best and worst family films now in cinemas

---
When school holidays roll around throughout each year, they usually deliver a new batch of family friendly movies. But, thanks to the COVID-19 pandemic, that hasn't proven the case in 2020—until now.
With cinemas back up and running in all Australian states other than Victoria, the September and October school holidays are actually jam-packed with all-ages fare. From bright and bouncy animated sequels to adaptations of century-old favourites, here's our guide to the current school holiday slate.
Sign up for Flicks updates
The good

For the first time in 27 years, The Secret Garden returns to the big screen, bringing its classic tale to a new generation of cinemagoers. Notable in this instance, at least for older viewers, is the film's willingness to skew a little darker. As a story penned just after the turn of the 20th century about a girl trying to overcome trauma in a sprawling mansion, the narrative has always felt a little gothic—but that particularly comes through here.
Dixie Egerickx plays the suitably precocious Mary, the pre-teen whisked from British India to a Yorkshire estate after her parents' death—and, of course, the curious child who stumbles across the eponymous leafy haven. The talented young actor is in good company, with Colin Firth playing her uncle and Julie Walters as the manor's housekeeper; however director Marc Munden makes as much use of his lush visuals as his cast, as you'd expect given the tale at hand.
One community of music-loving trolls might've been enough in 2016, but in 2020, it apparently won't do. So Trolls World Tour expands its universe by introducing other groups of fluffy-locked critters with different tastes in tunes, and different aesthetics as well. In addition to the perky pop trolls led by Queen Poppy (Anna Kendrick), viewers now meet the techno trolls, funk trolls, country trolls, classical trolls and hard rock trolls.
From the latter group, Queen Barb (Rachel Bloom) has a dastardly plan: to force all trolls to solely worship her preferred style of music. Cue a broad, obvious, lesson-imparting quest by Poppy and her offsider Branch (Justin Timberlake) to stop this assimilation scheme, as rendered with textured animation, set to a jukebox musical-style soundtrack and using stereotypes to attempt to dispel stereotypes.
Following pre-teen Willy (Landen Beattie) when he's stranded on a distant unexplored planet—after being separated from his astronaut parents when their ship is destroyed during a space mission—this brightly animated adventure hails from France. But Astro Kid is still visually smooth and glossy in the way that anyone familiar with Hollywood's family friendly output will instantly recognise.
It takes more than a few cues from a range of well-known features, story-wise, too, and feels instantly familiar as a result. Thankfully, while Willy's lonely wandering around an uninhabited planet with a robot brings Wall-E to mind, and the desert chase scenes prove reminiscent of the Star Wars prequels, this is still an endearing survivalist story.
In 2017's Rip Tide, Disney star Debby Ryan played an American sent to Australia, thrust out of her comfort zone and soon filling much of her time with a water-based activity. Her Jessie co-star Peyton List now takes the same path with Swimming for Gold, a Queensland-shot film that couldn't be more generic—including as a cheesy underdog sports movie—but doesn't ever try to pretend otherwise.
List plays swimming champion Claire Carpenter. After her career in the pool is derailed, she moves to Brisbane to help coach a struggling boys' team. Naturally, she's initially far from thrilled, especially when she discovers that her rival Mikayla (Lauren Esposito) is part of the girls squad. There are zero surprises from there, but Swimming for Gold still proves likeable enough—although, the less said at its attempts at comedy via a new-age senior coach, the better.
The bad
Over his seven decade career, Michael Caine has played all manner of characters, from charming womanisers and cockney criminals to whichever source of wisdom Christopher Nolan needs him to. But, until Four Kids and It, he hasn't voiced a magical wish-granting creature called Psammead.
In this big-screen adaptation of the novel of the same name—which, in turn, is based on the 1902 book Five Children and It—the furry E.T.-like creature befriends a quartet of kids (Teddie Malleson-Allen, Billy Jenkins, Ashley Aufderheide and Ellie-Mae Siame). They're on holidays in Cornwall with their dating parents (Matthew Goode and Paula Patton), and they're soon trying to thwart a sinister scheme by their uncle (Russell Brand), all in a film that never manages to leave an impression even when it's dabbles with time travel.
It didn't particularly work for this year's new version of Dolittle. It definitely didn't work in the abysmal Show Dogs, either. But cinema just won't grow tired of talking animals, with the Cats & Dogs franchise revived for its third film following 2001's original spy pet comedy and 2010's lacklustre sequel The Revenge of Kitty Galore.
In a case of diminishing returns, Cats & Dogs 3: Paws Unite feels like it's flogging a dead horse—while focusing on secret agents Gwen the Cat (Melissa Rauch) and Roger the Dog (Max Greenfield). They're working together to save the world as part of a truce between felines and canines, which comes under threat. The result is bland and by-the-numbers, and you'd no longer guess that this series initially stemmed from a script by John Requa and Glen Ficarra (directors of I Love You Phillip Morris and Crazy, Stupid, Love).
Unreviewed (translation: this one could go either way)
In 2021, an official Paw Patrol movie is set to hit cinemas—called, unsurprisingly, The Paw Patrol Movie. But in Australia, this Canadian animated series is no stranger to theatres, with its TV specials often reaching the big screen here.
Paw Patrol: Jet to the Rescue is the latest, with the television show's pups building a race track. For those new to the franchise, its eponymous crew are all canine search and rescue workers (including a dog fireman, dog police officer and dog pilot) who live in dog houses that double as vehicles.