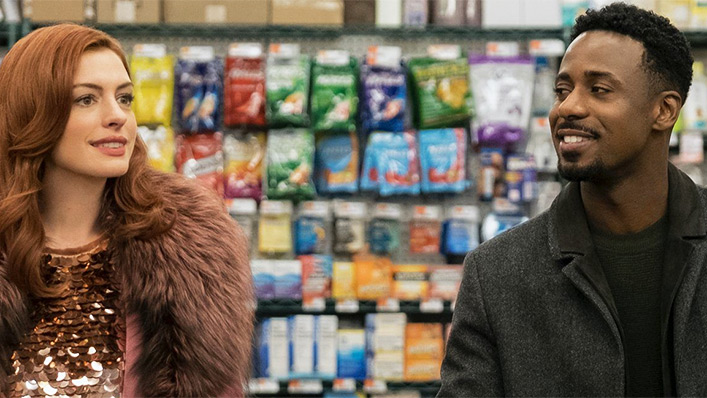 Modern Love reaches for profound, but settles for pleasant enough

---
Already renewed for a second season, the New York-set drama Modern Life (starring Anne Hathaway, Tina Fey, Andy Garcia, Dev Patel and others) is one of Amazon Prime's pedigree TV offerings. It's nice enough: the equivalent of a slow and patient ballad, writes critic Sarah Ward.
For fans of David Bowie, it's impossible to read Modern Love's title without getting his 1983 single stuck in your head. Amazon's affection-focused anthology series takes its name from another well-known use of those titular words — the New York Times column that has chronicled real-life affairs of the heart in first-person essays since 2004, and also inspired a podcast — but if only it had the spark of that sublimely upbeat song from nearly four decades ago.
Modern Love, the series, is the audio-visual equivalent of a slow, patient ballad rather than catchy pop tune. It's perhaps unfair to compare the eight-part first season of a television show to a track that doesn't even clock in at four minutes, but in musing on life and love, one unfurls a flurry of beats while the other maintains the same note from start to finish. Overseen by Once, Begin Again and Sing Street's John Carney — but without the overt mix of fondness and music seen in his three features — Modern Love hits a nice-enough note. However it's also one that wears thin and proves empty as each star-studded tale of love-inspired life lessons begets another, and so on.
Despite the variety in the series' source material, the premise for each episode is simple: a neat, New York-set story about an amorous affair (often romantic, sometimes platonic or familial) floats gently across the screen, with a lengthy list of familiar faces on-hand to give flesh to Modern Love's stand-alone true tales.
Dev Patel plays a dating app developer, for example. Naturally, his character is unlucky in love — and, because that's how these tales go, he relays his woes to a journalist (Catherine Keener) who has her own romantic regrets (involving Andy Garcia). In her installment, Anne Hathaway earns on-screen comparisons to Rita Hayworth for her vivacious attitude and, in the episode's manic opening third, acts as if her life is a musical. But her character is really an entertainment lawyer who's hiding a battle with mental illness from those around her. Naturally, again, her dating life suffers.
Elsewhere, dream team Tina Fey and John Slattery feature as an unhappily married couple who start playing tennis as a way to stave off divorce. Julia Garner develops a platonic crush on an office father figure (Shea Wigham), while Sofia Boutella and John Gallagher, Jr roll with the punches when a second date takes a drastic turn. Andrew Scott and Brandon Kyle Goodman find their world turned upside down when the pregnant, homeless-by-choice mother (Olivia Cooke) of their future adoptive child enters their lives.
For Cristin Milioti, she's closer to her doorman (Laurentiu Possa) than the men she brings home. With Jane Alexander and James Saito's elderly couple, an interest in running sparks a new chance at romance. There's slightly more to each story – Ed Sheeran pops up in one, for instance, because he just seems to keep popping up on screens – but they each generally exhibit about as much nuance as their one-line description intimates.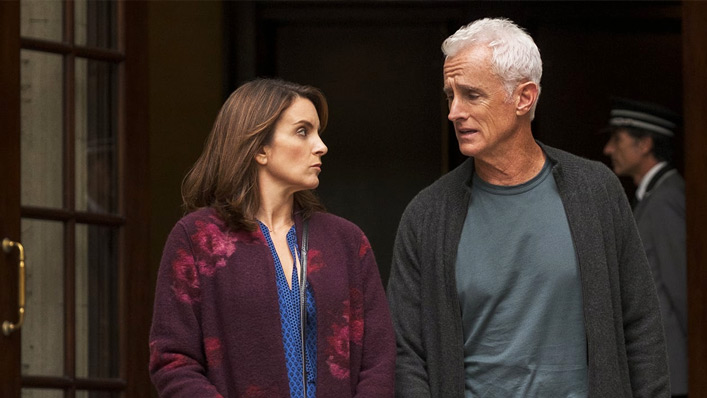 As a telling piece of text reminds viewers in each episode's opening credits, "certain elements have been fictionalised." Elements have fallen by the wayside when it comes to subtlety and depth, too. It's the simplicity and obviousness of Modern Love that dampens its portrait of romance in the Big Apple, even though each episode has its standout moments: fine performances, witty lines of dialogue, an enjoyable rapport between its main players and, expectedly, glowing images of New York.
The result is pleasant, instead of powerful or poignant – and as a wealth of rom-coms and romantic dramas have already established, no-one's ever looking for merely affable in this field. Modern Love feels like a series that its guiding forces have settled for, rather than dreamt of, and it shows.
It shows in the lack of mess, complexity and sharp edges – even when a night turns tumultuous, a long-married duo sling barbs back and forth, and two polar opposites hurl insults about the other's worldview. It shows when Modern Love tries to flirt with mess and complexity, because it frequently falls back on cliché – as the above examples demonstrate.
Sign up for Flicks updates
au
It also shows in each episode's thinly written characters; people who come to life on the page fail to do so on-screen, or to brandish more than one dimension, or to interact in any meaningful way with issues of class or race. Condensing lengthy essays that overflow with personality into Hollywood-ised 30-minute tales was always going to involve stripping away some detail, but these stories, and the people and loves within them, feel overly flattened down and smoothed out.
Whether by design or by accident, Modern Love is the opposite of Netflix's comparable anthology series, Easy, which wrapped up its three-season run earlier this year. Set in Chicago rather than New York, drawn from fiction not fact, favouring a naturalistic instead of glossy look, and created, written and directed by mumblecore filmmaker Joe Swanberg, Easy benefits from all of these differences.
Easy also connects its various dots in a laidback way. When Modern Love does the same, it's in service of a supposedly profound first season finale that plays like eyeroll-fodder overkill at best and Collateral Beauty style mawkishness at worst. Already renewed for a second season, more column-to-screen romantic missives will follow, hopefully accompanied by more personality and depth this time around. As it currently stands, Modern Love does actually recall Bowie's great song and two of its lines: "there's no sign of life; it's just the power to charm."