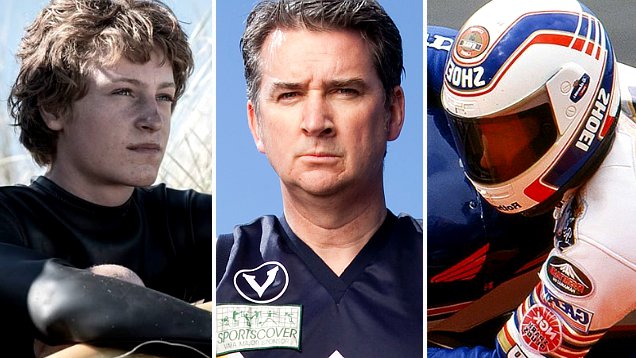 This year new Australian films about surfing, footy and motorbike racing have brought our love of sports to the big screen. Critic Sarah Ward reflects on the highs and the lows of Australian sports movies. 
One of 2018's most striking Australian movie moments stems from the blend of cinema and sport. In Breath, when Pikelet (Samson Coulter) and Loonie (Ben Spence) first set eyes upon surfers riding Western Australia's waves, the teenagers know that they've found their calling.
Simon Baker's film adaptation of Tim Winton's acclaimed novel doesn't follow a competitive storyline. It isn't concerned with the professional achievements of its protagonists, although the couple (Baker and Elizabeth Debicki) that takes the boys under their wing are both former professional athletes.
Still, as it charts the interpersonal dramas between its main quartet, this lyrical effort understands the allure of the sporting realm – of practicing and observing the skill and artistry involved, as well as the spectacle.
Breath is just one of several Australian films from 2018 with a sporting activity at its core. Where it finds drama, thrills and beauty in boards hitting the water, its recent counterparts take to the football field and the motorcycle-racing track.
Sign up for Flicks updates
The Merger tells the fictional tale of a struggling local Australian rules team, while Wayne turns the life and career of Wayne Gardner into a blow-by-blow documentary. Like the broader genre they fall into, they're united by taking the country's love of sport to the cinema.
Everybody loves an underdog
The Merger and Wayne are also united by one of the oldest narratives in the book – and a sporting staple both in reality and in fiction. There's a unique joy to an underdog story. Watching a team or a person succeed against the odds in the sporting arena hits the same notes as any fantasy or fairy tale, where the willing and the worthy can experience an adventure, defeat anything in their way and see their wildest dreams come true.
Based on the one-man stage production of the same name, but expanded to include a broader cast on the screen, The Merger leans heavily into the fantasy at its centre. Directed by Mark Grentell, it's a low-key, grass-roots effort, with its heart firmly with small-town communities like the one it's set within. But, it's also a film that places an underdog protagonist within an underdog club, and sees him recruit the town's biggest underdogs – its ostracised refugee population – in the pursuit of inclusion and glory.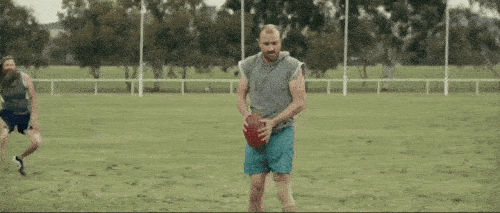 Indeed, as a local ex-hero turned outcast (played by writer Damian Callinan) is reluctantly recruited to salvage a team that hasn't won a game in three years, The Merger doubles as a lesson in tolerance and acceptance. In short, the feel-good effort showcases everything that sport is supposed to represent: hard work, team work, practice making perfect and applying the skill of the game to the rest of life (and vice-versa). All while its characters, and the town they're in, overcome adversity.
Where The Merger finds its fictional tale in Australia's favourite sporting code, Wayne wrangles its true tale out of a sport that only earned local attention thanks to its titular figure. That's one of the points that Jeremy Sims' documentary makes as it follows Wayne Gardner from a plucky Wollongong kid who preferred riding fast on two wheels to everything else in life, to parlaying his enthusiasm and skill into stints on the international motoring circuit, to becoming a star in a field that barely existed at home.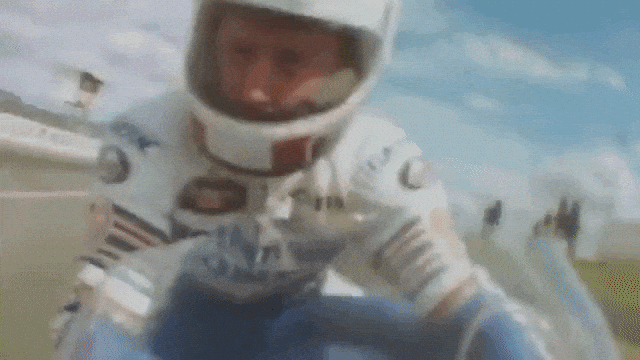 In relaying the ups and downs of Gardner's career, Sims combines a wealth of archival footage with chats with the man at the documentary's centre, his family and friends, and Donna-Lee Kahlbetzer, his partner throughout his heyday. Each contributes to a spirited, loving ode to not only the film's subject, but to everything he embodies.
Australia may be known for its tall poppy syndrome, but the nation also loves a pioneer – someone who blazed a trail and earned recognition for both themselves and their country. As Wayne shows with ample affection, Gardner easily ticks the latter boxes, as the underdog who made Australia a success in his chosen realm.
On any given cinema screen
Breath, The Merger and Wayne are just the latest examples of Australia's sports-meets-cinema history – a history that isn't as plentiful as the nation's fondness for sport should perhaps suggest, but remains filled with passion nonetheless. After a spate of early horseracing silents, many now considered lost, it's a history that's also filled with variety, sharing that love between activities.
Just as football monopolises local television screens in the winter months, it's a dominant force in the sporting film realm; The Merger has a number of teammates. Bruce Beresford's The Club remains the standout, bringing David Williamson's play to the screen with all of AFL's on- and off-field dealings, and with a powerful performance by Jack Thompson.
In The Great McCarthy, one club's recruitment efforts become a kidnapping comedy. In Australian Rules, the titular code lays bare the strained race-relations in regional Australia. In the muddled Blinder, it's the backdrop for a sex scandal. And while the Geelong-shot psychological thriller Undertow doesn't involve any sporting action, it does delve into the aftermath of a star footballer's inappropriate behaviour.
Rugby league sits at the heart of three films with diverse approaches to the code. One is an upbeat account of the catharsis of football, another a probing look at the sport's changing state and the resulting impact on one of its stars, and the last a chronicle of an ex-player fallen on hard times. What Footy Legends, The Final Winter and Broke all share is a quest for authenticity, although The Final Winter has a helping hand given that it's written by and stars ex-NRL player Matt Nable.
Cricket takes to the pitch in Save Your Legs! and Backyard Ashes, two comedies that lean heavily on laughs at the expense of character. And in the second case, as directed by The Merger's Mark Grentell, on cliché as well.
Returning to Australia's cinematic roots, horseracing rears its head again in Phar Lap, The Cup and the forthcoming Ride Like a Girl, demonstrating a clear trend for dramatisations of true tales. First a champion horse gets its time on the big screen, then jockey Damien Oliver and his 2002 Melbourne Cup win, and finally Michelle Payne, the first female jockey to win the same event.
As a nation girt by sea, it's no surprise that surfing films feature prominently in Australia's cinema history, with Breath preceded by iconic '80s effort Puberty Blues and passable 2013 drama Drift. The latter harks back to the country's surfing scene in the '70s, though a number of documentaries from the time better capture the era not just locally but internationally. Influential efforts Morning of the Earth and Crystal Voyager also paved the way for surfing docos to come, including recent AACTA winners Storm Surfers and Fighting Fear.
In other sporting endeavours, it's a mixed bag – from surf lifesaving in The Coolangatta Gold and windsurfing in Windrider, to soccer in Offside and lawn bowls in Crackerjack. Deck Dogz rides into the skateboarding world, although its dramas have nothing on documentary All This Mayhem and its searing look at brothers Tas and Ben Pappas.
Of course, if there's one Australian sports movie that jumps high above the rest, it's BMX Bandits. It mightn't be the best of the bunch, but it has become one of the most iconic. As a defining image, there's nothing that quite matches a young Nicole Kidman taking to her bike, wearning a thoroughly 80s pink and yellow ensemble, with her red curls aflutter in the wind. Indeed, it's immortalised not only in the film itself, but also in Soda_Jerk's recent Australian movie mashup Terror Nullius.