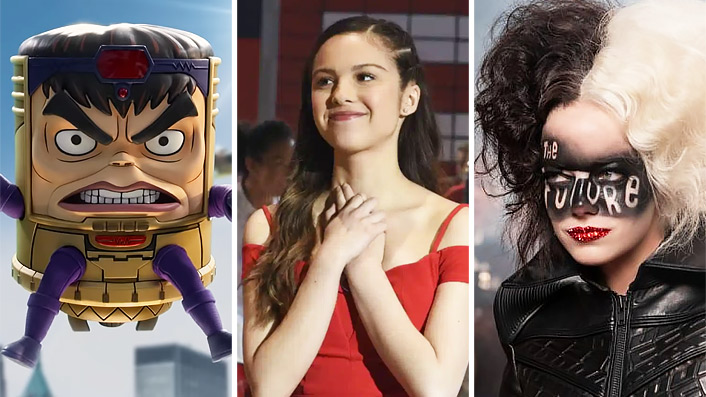 Best new movies and TV series on Disney+ Australia: May 2021

---
Each month, new films and TV shows are added to Disney+'s Australian library. Here's Eliza Janssen's recommendations for the titles most worth watching. Scroll down for the full list of everything arriving on the platform.
Top picks
Ever since the record-breaking overnight success of Olivia Rodrigo's single Drivers License, the ludicrously-titled High School Musical: The Musical: The Series has gained an even more rabid audience of Gen Z theater-kids. Rodrigo stars as Nini in the second season of meta-musical madness, set in the Utah school where the actual High School Musical films were shot.
So…in world, these teen characters love Zac Efron and Vanessa Hudgens just like we do, and they're all just as enthusiastic to land leading roles in 'Beauty and the Beast', season two's central school musical. Being a Disney original series, this zany teen sitcom has decades of show-tunes to pull from, as well as some decent original stuff. Plus it's self-aware enough to make even Broadway cynics laugh against their will.
I love the Robot Chicken-esque aesthetic of this zany supervillain series, which features Patton Oswalt as the titular big-headed hater. M.O.D.O.K. isn't really one of your top-tier Marvel baddies, earning the dubious distinction of being #100 in IGN's list of Top 100 Comic Book Villains of All Time. But this irreverent stop-motion animated series plays that pathetic quality for laughs, giving poor M.O.D.O.K. a divorce and petty office bureaucracy to deal with.
The character design is also just tactile and squeezable, making me wish I had a M.O.D.O.K. mug or something to cuddle while watching. Illustrious guest voices include Jon Hamm, Nathan Fillion, Whoopi Goldberg and Bill Hader as the annoying Angar the Screamer.
Cruella (Premiere Access – May 28)
Hello cruel world: it's time for a slightly more inventive spin on Disney's feature adaptation strategy of late. You know, the remade blockbusters they've done lately where it seems someone's just pressed a big button on the wall that says 'MAKE IT LIVE ACTION = $$$'?
Unlike Beauty and the Beast and The Lion King, where our three-dimensional realm seems to flatten and literalise, a villain origin story for the dastardly Cruella DeVil of 101 Dalmatians fame has a few things going for it. Like Oscar-winner Emma Stone in the lead role, Emma Thompson pulling off a rare villainous character, and all the trailer's luscious, black-white-and-red costume design. Even if you're a Disney+ subscriber, you'll need to fork out that extra Premiere Access fee to watch Cruella at home before everyone else, but the $34.99 will be worth it for House of Mouse die-hards. Just make sure any fuzzy family pets avert their eyes.
---
All new titles arriving on Disney+ Australia in May
May 4
The Bad Batch
May 7
High Fidelity – Season 1
Trafficked With Mariana Van Zeller
The Long Road Home – Season 1
Disney Ducktales – Season 3
May 14
High School Musical: The Musical: The Series season two
Gigantosaurus – Season 1
An Affair To Remember
The Alligator People
The Blue Bird (1976)
May 21
Bruce Almighty
Bin Laden's Hard Drive
Alaska's Deadliest – Season 1
Narco Wars – Season 1
Drugs, Inc.: Dealer Pov
To Catch A Smuggler – Season 1 & 2
When Sharks Attack – Season 1 – 6
The Amazing Race Australia – Season 1- 4
Brubaker
Black Widow (1987)
An Innocent Man
Tin Men
Patrick
Marvel's M.O.D.O.K
Deadly Instincts – Season 1
Deep State – Season 1 & 2
One Mississippi – Season 1 & 2
Pitch – Season 1
Rel – Season 1
A Wilderness Of Error – Season 1
May 28
Cruella
Mixed-Ish – Season 2
The Full Monty
---
See also
* Best new movies and TV series on Netflix
* Best new movies and TV series on Stan
* Best new movies and TV series on Prime Video
* All new streaming movies & series