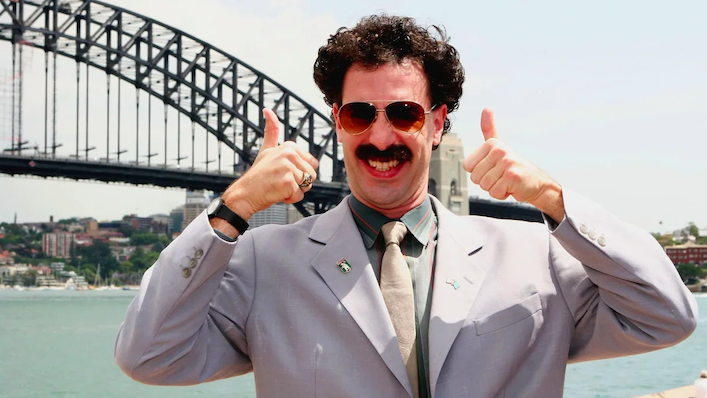 6 wild things that happened when Borat visited Australia in 2006

---
Sarah Baron Cohen has taken his most famous character on the road many times, including a 2006 visit to Australia that was…very nice!!
It's already been a decade and a half since the release of Borat: Cultural Learnings Of America For Make Benefit Glorious Nation Of Kazakhstan, so it can be easy to forget just how outrageous that original film was. When it comes to Bush-era satire, Borat certainly stands alongside South Park as the primary media that made us laugh and shake our heads, at their exposure of American idiocy and intolerance.
But what about when Borat 's creator Sacha Baron Cohen did press for the film in Australia? Entirely in character?
Sign up for Flicks updates
Across two press conferences and a bunch of offensive, gasp-inducing TV spots, Baron Cohen gave us a bunch of great Borat moments, making the character feel more disturbingly real and unhinged than ever. To mark the release of the belated Borat sequel Borat Subsequent Moviefilm, here's everything you need to know about the Kazakhstani journalist's visit down under.
'Please put another crustacean on barbecues!'
When asked what he thinks of Australia, Borat claimed to be a huge fan, rattling off some story about being roofied by a trans sex worker on Oxford Street. He also gleefully invited any Australians to visit Kazakhstan, where there are "many hunting opportunities=" for children, and comfortable cages for women.
The Australian Jewish News called out Borat's anti-Semitism
Borat as a character has always been pretty openly hateful of most minorities, but particularly Jews, as evidenced in the 2006 film's outrageously offensive 'Running of the Jew' sequence. Since Baron Cohen is himself Jewish, though, most critics and fans can acknowledge the self-aware satirical bent of the character's anti-Semitism.
At his Sydney press conference, Borat first blames the Jewish people for both the holocaust and the extinction of the dinosaurs, before answering a question about the accusations that his film is anti-Semitic:"thank you very much."
The Australian Jewish News' Dan Goldberg, who attended the press conference, later clarified to the ABC that, "The Anti Defamation League in New York has given the film its blessing, albeit with a caution, and I think Jews are imbued with humour, and this is the ultimate in humour."
Some random Bondi yobbo touched Borat's ass
"Who is touching my buttocks? I will crush you!," Baron Cohen crowed during a visit to crowded Bondi Beach. Maybe the only thing weirder than Borat himself is the perversity he inspires in other people, such as the crowd of beachgoers who seemingly took the man's short shorts as an invitation.
The revelation that Borat is apparently a grandfather
In Sydney, the Kazakhstani celebrated that his 11-year-old son 'Bilalk' was expecting a baby with his wife, and promised that the family was willing to sell the baby to Madonna if necessary.
The infamous mankini, explained
One of the comedy film's most enduring (and upsetting) images is of Baron Cohen in a neon-green mankini that looks more useful as dental floss than aquatic apparel. In his Melbourne press conference, Borat explained that the mankini is Kazakhstan's official 2004 Olympics team swimwear, describing the outfit's crotch situation as "two monkeys fighting in a hammock."
Borat criticized Sacha Baron Cohen
Also in Melbourne, Borat gave his thoughts on his creator/portrayer, swearing that he had no connection with the comedian, and that he fully supports Kazakhstan's decision to "sue this Jew." Of course, the only existing court case against Baron Cohen, filed by one of the Alabama etiquette instructors Borat visited in the original film, was thrown out of court in 2008. Very nice.