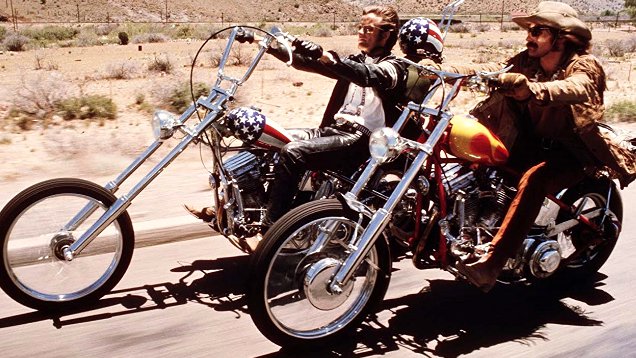 Bring on the road rash: 10 of the best motorcycle movies ever made

---
With Western Australian bikie drama 1% currently tearing up cinemas across the land, critic Travis Johnson went into the vaults to dig up a selection of the best bike films of all time. These films feature tonnes of gleaming chrome, square miles of burnished leather, and all the knives, chains, prangs and road rash you could ever hope for.
Sign up for Flicks updates
The Wild One (1953)
It's all about Brando in Stanley Kramer's lurid potboiler. The forerunner of the outlaw biker subgenre, The Wild One follows the exploits of the insouciant Johnny Strabler (Marlon Brando) and his gang, the Black Rebels Motorcycle Club, as they terrorise small town America, rumble with rival outfits, and look cool as all hell doing it. Asked by a wide-eyed teen what he's rebelling against. Strabler simply sneers, "Whaddya got?" – easily one of the coolest line deliveries in the history of cinema.
The Wild Angels (1966)
Three years before he was an Easy Rider, Peter Fonda was a Wild Angel. Thrown together quickly by exploitation auteur Roger Corman and largely written by an uncredited Peter Bogdanovich, The Wild Angels sees the titular mob on the hunt for a stolen motorcycle belonging to "The Loser" (the always welcome Bruce Dern).
Mayhem ensues, with the highlight being Fonda, in a more chatty mood than Brando's surly thug, explaining his life philosophy to a bewildered preacher: "We wanna be free! We wanna be free to do what we wanna do. We wanna be free to ride. We wanna be free to ride our machines without being hassled by The Man! … And we wanna get loaded. And we wanna have a good time. And that's what we are gonna do. We are gonna have a good time… We are gonna have a party."
If that sounds familiar, it's because Fonda's monologue has been sampled by several musical acts, notably Primal Scream, and thus found itself repurposed for Edgar Wright's The World's End.
Easy Rider (1969)
Well, we could hardly go past this one. Dennis Hopper's freewheeling hippie road movie is not just one of the great bike flicks, it was an epochal moment in the history of American Cinema, kicking off the New Hollywood era at a time when studio suits had no idea what those darn kids were into any more and gave the keys to the kingdom to a younger, hipper roster of filmmakers.
Hopper is Billy and co-writer Peter Fonda is Wyatt, both named for old west outlaws, are on a wild ride across America, funded by cocaine and fueled by, well, everything else. Episodic, oddly paced, and willfully light on plot, Easy Rider nonetheless captivated audiences with its depiction of the '60s counterculture ethos and its on-the-pulse soundtrack. And yes, Jack Nicholson's cameo as an alcoholic lawyer is great.
Nam's Angels (1970)
A film that would have rotted in obscurity were it not for one simple twist of fate: it's the movie Fabienne (Maria de Madeiros) is watching in the hotel room after Butch (Bruce Willis) refuses to throw the fight in Pulp Fiction. Ta-dah! Now It's immortal.
Shot on the cheap in the Philippines on repurposed sets from Robert Aldrich's Too Late the Hero, Nam's Angels is a tagline more than a movie, and that tagline is The Hell's Angels go to Vietnam. Roaring around on armoured, machine-gun-sporting bikes, a gang of ne'er-do-wells is tasked with rescuing a captured US diplomat. Flying in the face of all plausibility, they do so.
The whole thing is preposterous good fun, and made all the more so when you learn that it's sort of based on a true story: biker boss Sonny Barger once wrote to LBJ volunteering the Angels as a fighting force. Sadly, the Commander in Chief demurred, but the idea for Nam's Angels was born.
On Any Sunday (1971)
Bruce Brown is most famous for pioneering the surfing film with his seminal documentary feature, Endless Summer (1966). But he spread a wider net as a filmmaker than that, and among his works is this 1971 effort, an attempt to create an overview of various motorcycle sports in America at the time.
Actor and avowed motorcycle nut Steve McQueen ponied up the cash, and Brown pulled out all the stops to capture the speed, fury, and grave of the races and the racers, experimenting with kit-bashed high speed cameras and even going so far as to mount cameras on helmets to film the action – a bold move when you consider the bulky equipment of the time.
The result was worth it, though – On Any Sunday is considered the best motorcycle documentary of all time. What's more, catching the movie at a formative age inspired Aussie racing great Wayne Gardner to take up the sport, so there's that.
Stone (1974)
Australia came late to the bikie subgenre, but we made up for it with sheer, gutsy intensity. Sandy Harbutt's dirty denim epic sees undercover cop Stone (Ken Shorter) infiltrate the Gravediggers motorcycle club led by the Undertaker (Harbutt himself) in an effort to discover who is bumping them off.
There's a raw ferocity to Stone that is rarely matched by other films in the bikie paradigm. While writer and director Harbutt's style is a bit ragged around the edges, Stone's authenticity and commitment put it ahead of the pack. Seemingly half the cast (Hugh Keays-Byrne, Roger Ward, and Vincent Gil) would later show up in Mad Max.
The Mad Max Series (1979 – 2015)
While George Miller's apocalyptic action masterpieces are absolutely shameless in their love of big, muscly, four-wheeled mayhem machines, bikes get a fair workout too in the Greatest Australian Action Movies of All Time.
Consider Steve Bisley's chopper cop, Goose, in the first film; Vernon Wells' vengeful mohawk biker in the second, and the acrobatic buzzard-bikers and hardbitten Vulvalini warrior women of the fourth. In point of fact, the only Mad Max film not to feature bikes, Beyond Thunderdome, is the worst of the bunch. There's a lesson there.
Stone Cold (1991)
Former NFL player Brian "The Bo" Bosworth's career as an action star was over almost before it began, but his did manage to get one notable run on the board in the form of this enjoyable B-grade romp, which sees him as tough cop forced to go undercover in a white supremacist motorcycle club, The Brotherhood. Their leader? Genre mainstay Lance Henriksen.
Yes, the film owes a lot to Stone (Boz's undercover identity is even "John Stone"), and it was never going to trouble the Academy. Still, in the hands of veteran stuntman-turned-director Craig R. Baxley (Action Jackson, Dark Angel) it's a muscular, brutal, disposable slice of violent fun.
The Motorcycle Diaries (2004)
Adapted from Che Guevara's own journals by screenwriter José Rivera and director Walter Salles, The Motorcycle Diaries recounts the early adventures of the future revolutionary (Gael Garcia Bernal) when, as a young medical student, he undertook a motorcycle trip across South America with his friend, Alberto Serna (Rodrigo de la Serna).
A more thoughtful and meditative film than any other on the list, The Motorcycle Diaries is both a jaw-dropping travelogue and a trenchant examination of political awakening. As he witnesses more and more bleak examples of poverty and injustice on his journey, we see the spark being kindled that will one day grow into a revolutionary fire – and we all know how that turned out.
The World's Fastest Indian (2005)
Acting legend Anthony Hopkins stars as Kiwi speed demon Burt Munro in this biopic from director Roger Donaldson. Following the easygoing, eccentric Munro's journey from sleepy Invercargill to the famed Bonneville Salt Flats to try his custom bike (the eponymous Indian motorcycle) against the world land speed record.
For a film about speed, Donaldson's picture is an amiable, easygoing one, more concerned with the cast of eccentrics Munro meets on his meandering trip. However, all that changes once we hit the Flats, with The World's Fastest Indian building to an exhilarating, fist-pumping climax.