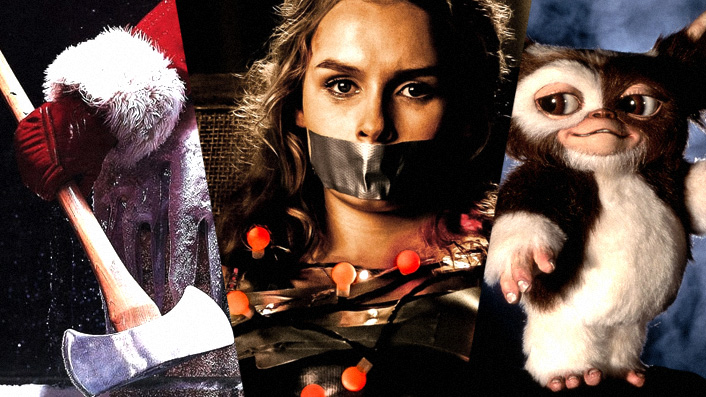 10 completely twisted holiday themed horror movies

---
Christmas is a time for violence and bedlam and running around screaming for your life, right? To get you in the festive mood, critic Travis Johnson picks 10 insane holiday-themed horror movies.

The horror remake Black Christmas is cutting its way through cinemas as we speak, injecting a modern feminist sensibility into the tale of four sorority sisters (Imogen Poots, Aleyse Shannon, Lily Donoghue, Brittany O'Grady) fending off a masked serial killer. It is set in the silly season – and it's far from the only horror movie to spatter the holly with blood.
So, if you enjoy counterpointing your Christmas carols with screams of terror and the thought of a stranger climbing down your chimney makes you reach for your shotgun, try adding some of these flicks into your yuletide mix alongside It's a Wonderful Life and Die Hard.
Sign up for Flicks updates
Well, we have to start here, don't we? Predating the original Halloween by a good four years, this Canucksploitation classic codified the slasher template that John Carpenter popularised. The plot is simple: a group of female college students (including future Lois Lane Margot Kidder and former Juliet Olivia Hussey) are menaced as a series of obscene phone calls to their sorority house escalates to murder. However, Clark's deft direction and some memorable kills mean there's a reason it's a cult classic.
Joe Dante directs and Steven Spielberg produces this anarchic slice of satire, which is way darker than nostalgic Gen Xers may recall. Young Billy Peltzer (Zach Galligan) discovers that the cute little pet mogwai his father gave him for Christmas has a dark secret, and soon his whole town is overrun with the marauding critters of the title. Gremlins is cute, and it's funny, but it's also scary as hell – especially when you're a sub-10-year-old being assured that this is a kid's movie. The fate of Billy's science teacher alone earns it a place on the list.
Years after seeing his parents killed on Christmas Eve, a young man (Robert Brian Wilson) goes on a murderous rampage while dressed as Santa Claus – and that, ladies and gentlemen, was enough to make this cheerfully cheap exploitation flick one of the most controversial films of the 1980s. Horrified at the thought of lovable old Saint Nick would be reframed as an axe-wielding maniac, concerned parents protested cinemas screening the film, and it was quickly pulled from release. However, controversy, sells, and we're now five films and a remake deep into the inevitable SNDN franchise.
A Spanish priest (Álex Angulo) attempts to sell his soul to Satan in a – frankly unfathomable – attempt to prevent the birth of the Antichrist on Christmas Eve. This orgy of gore and cheerful depravity could only come from director Alex de Iglesia, who started offending people with his 1993 debut Accion Mutante and was the first filmmaker to put Javier Bardem in a weird haircut in 1997's Perdita Durango. Like all of his films, The Day of the Beast is an absolute romp. If your Christmas viewing menu needs an extra helping of drugs, Satanism, heavy metal, and infanticide, make this one your first stop.
The kids aren't alright in this brisk, brutal British chiller. Director Tom Shankland invokes intergenerational anxieties in this tale of two families whose quiet Chrimbo getaway at a secluded cottage goes awry when their moppets turn murderous. Deliciously violent and inventive – the sled + rake kill is a ripper – The Children knows it's breaking some serious taboos and leans into it. Anyone who has ever thought their kids are monsters will find common ground with this one – which, as the days fall off the advent calendar, should be every single parent on earth.
Snowy Finland brings us this twisted take on Santa Claus, here reimagined as a bearded demon trapped in a mine for many centuries, until he's freed on Christmas Eve and the bodies begin to pile up. Rare Exports kind of feels like John Carpenter's The Thing if instead of a shapeshifting alien we got a demonic Father Christmas.
Having already tackled Halloween with the criminally underrated Trick 'r Treat (2007), director Michael Dougherty turns his attention to Christmas with Krampus. You know Krampus, of course- the evil anti-Claus who punishes wicked children in German folklore. Here he's transplanted to the States where he menaces Adam Scott and Toni Collette's Spielbergian brood, to generally fun effect. With its mix of light horror and comedy, Krampus isn't a million miles from Gremlins in terms of tone. Brew up some eggnog and make it a double feature.
A rare Australian entry into the Christmas horror pantheon, Red Christmas sees a family stalked by a killer with particularly icky grievance: Cletus is a prodigal son by way of abortion, only he survived matriarch Diane's (genre veteran Dee Wallace) procedure, and now wants to rejoin the clan on this most festive of days. Made on the cheap and steeped in Ozploitation style, you can always see the seams on Red Christmas, but it's still a bloody good time.
Although set in the U.S., this is another Australian offering. When babysitter Ashely (Olivia DeJonge) is left in charge of 13-year-old Luke (Levi Miller) and his best mate Garrett (Ed Oxenbould), it's shaping up to a quiet seasonal evening – until they find themselves under siege from an anonymous killer. Or are they? Well, that would be telling. Better Watch Out starts like a dozen other films but soon steers into more interesting and entertaining territory, with more twists than a peppermint candy cane.
Scottish student Anna's (Anna Hunt) relationship dramas and plans for leaving her tiny home town are thrown into disarray when a zombie rising occurs on the night of the school Christmas pageant. Still, a nice singalong should boost everyone's spirits. Yes, it's a Christmas-themed zombie musical comedy! Anna and the Apocalypse doesn't have the budget to compete with Shaun of the Dead or Zombieland, but it's can-do spirit and winning performances mean it consistently punches above its weight.