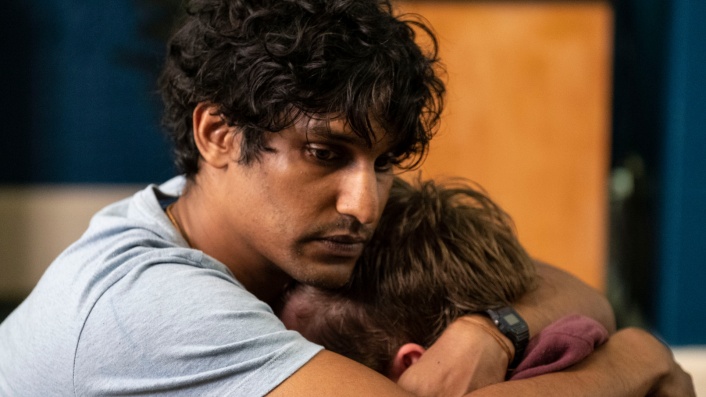 Wakefield is a stunningly powerful Australian drama based in a psychological hospital

---
Building to a moment of emotional catharsis that is simply stunning, new Australian series Wakefield (now streaming on ABC iview) is drama of a rare kind of quality. Here's critic Travis Johnson's review.
The old cliché "it's not a place, it's a state of mind" certainly applies to the ABC's new eight-part drama series Wakefield. A quiet, reflective ensemble piece, the series explores the inner landscapes of the staff and patients at the titular psychological hospital.
Our focal character is Nik (Rudi Dharmalingnam), a compassionate and resourceful nurse who does his best to care for the patients under his charge, while occasionally butting heads with more protocol-straitened powers that be, mainly in the person of Nursing Unit Manager Linda (Mandy McElhinney). What terrible irony, then, when Nik's own mental health begins to slip. At first it's just an earworm he can't get rid of (Come on Eileen by Dexys' Midnight Runners), but it soon becomes apparent that some childhood trauma is haunting him, coupled with anxiety about his sister's impending wedding.
As Nik's past and present commingle, other characters and narrative lines intersect. There's his former fiancée Kareena (Geraldine Hakewell), a doctor on the ward now in a sexually unsatisfying marriage. Comedians Sam Simmons and Felicity Ward bring deadpan humour to the roles of fellow nurses, while Harriett Dyer gets to go large as a patient suffering from hypersexuality, much to the chagrin of her husband (Ryan Corr). Dan Wyllie brings deep pathos to the part of businessman James Matos, struggling to run his company while doing a three week stretch on the ward, while veteran actor Kim Gyngell crops up as an aged musician who is now a patient.
The presence of so many comic actors in the cast might lead you expect a more fanciful—even farcical—take on mental health. But creator Kristen Dunphy and her writing team of Sam Meikle, Joan Sauers and Cathy Strickland never treat their characters with anything less than complete empathy and respect. Everyone gets their spotlight time; indeed, the early movements of the series feel more like an anthology drama than a more traditional show, with different stories anchored by a common setting.
Wakefield rewards patience; its thematic and dramatic strands cohere gradually, asking us to spend time with its people, to live in their skins and understand their foibles. It's compelling in the way great theatre is, building to a moment of emotional catharsis that is simply stunning. To reveal more would be a disservice, but it should be noted that drama of this quality, even in the so-called 'golden age' of Prestige Television, is rare indeed.
It helps that the scripts are in the hands of directors as talented as Jocelyn Moorhouse and Kim Mourdant, who balance deft character work with an excellent sense of place. Wakefield's Blue Mountains setting is carefully chosen, the misty hills receding away like memory, or looming suddenly like hidden trauma. Wakefield is about interior landscapes, the uncharted territory of our own sense of self. It's a challenging series that asks much of the viewer, but those who are up to the task will be rewarded with a simply exquisite character-driven drama.