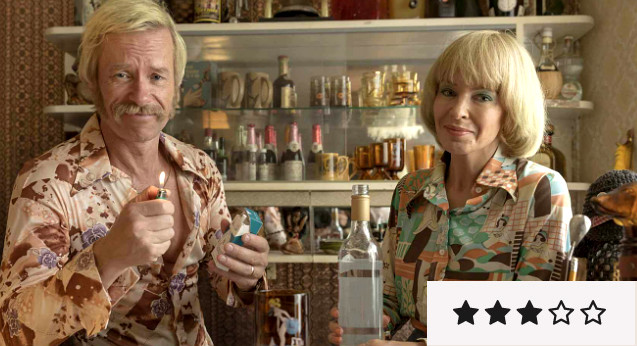 Swinging Safari review: a madcap journey through 70s 'Straya

---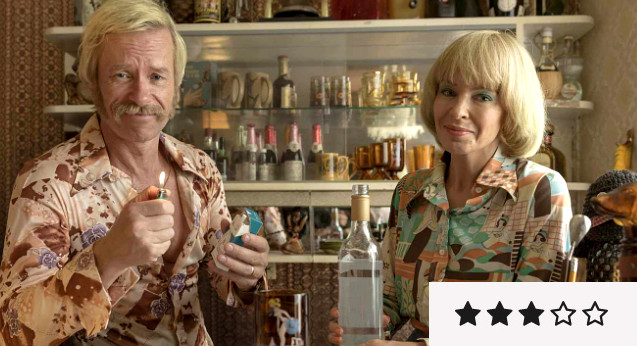 In the opening scene of director Stephan Elliott's madcap comedy Swinging Safari there's a smorgasbord of Australian 70s beach iconography. Poorly assembled beach umbrellas partially shade bodies coated with liberal application of tanning oil, rather than sunscreen (Skin Cancer hadn't been invented yet, you see). The menu consists of buckets of KFC and enough cask wine to give any sommelier nightmares.
The fashion is tiny bikinis and budgie smugglers loaded with genital-suffocating sand. The bronze bodies of yesteryear and the negligent childhoods of Generation X are used by Elliott to set his scene, taking a satirical walk down memory lane. I never knew that I needed to hear the words 'Funk and Wagnells Encyclopedia' in a movie, until now.
In a small cul de sac in beachside suburbia, three inseparable families have their friendships stretched after a 'swinging' experiment goes wrong. Meanwhile, a beached blue whale becomes the focus for budding Super8 filmmaker Jeff Marsh (Atticus Robb) and his best friend Melly Jones (Darcey Wilson). Jeff (Robb) is an avatar for Elliott himself; a lone slice of sincerity in this whirlwind world, where even the most extreme characters have flavours of truth.
While the kids are there for this reviewer and many other audience members to relive the blissful negligence of the environment of their upbringings in the 70s (and 80s…and early 90s…) it's the parents that are most memorable. The standouts are Radha Mitchell's house wife Jo Jones, who manages to sprinkle just the right amount of invective and dissatisfaction into her every interaction.
Asher Keddie's obsessive compulsive, Gale Marsh, desperately keeps up appearances with over the top enthusiasm. Keddie's got Farah Fawcett looks, wonderful indecision and fear flashing through those emotive eyes. Elliott and Guy Pearce, who worked together on The Adventures of Priscilla: Queen of the Desert, clearly enjoy collaborating again (long time between cocktails!). Pearce's hyper hetero house-husband Keith Hall is a character you might imagine our onion-eating ex-PM, Tony Abbott, to be cosplaying at dress-up parties from now on.
Kylie Minogue, in a rare acting performance, plays Kaye, an alcoholic house who rarely leaves the house. It's an unexpectedly reserved performance, spent in hiding rather than keeping up with the Jones'.
While a metaphorical and literal whale in Walleroo (the fictional suburb where the film is set) becomes a sign of the unnatural, Elliott does a great job of not hammering the deeper philosophical point hiding in plain site, involving the Baby Boomer generation. Fondue parties, backyard stunts, parents congratulating their barely legal kids for successful deflowering…Elliott is absolutely in his element when Swinging Safari is unhinged.
The decor, that luminescent warmth of tanned bodies fills cluttered kitschy homes. The energy in the script fizzes when there's beat after beat of extremity at a breakneck speed. P.J Hogan's Mental found that perfect middle ground between affronting comedy, and raw heartfelt authenticity.
Swinging Safari has its quiet moments, and they're uncomfortable. When you take a moment to reflect, it's nearly impossible to avoid the thought that all these kids are probably in therapy as adults. When Swinging Safari is in full throttle farcical, it's a lot of fun. For Aussie Gen X-ers and those on the cusp of Gen Y, there's a greater dose of nostalgia in Swinging Safari than Star Wars: The Force Awakens.
If you need a way to laugh at all the reasons you're deficient, or to examine why your white Australian friends are the hot messes they are, grab your sluggers, lather up that body in oil, spark up a dart and laugh. And, hopefully, don't cry.