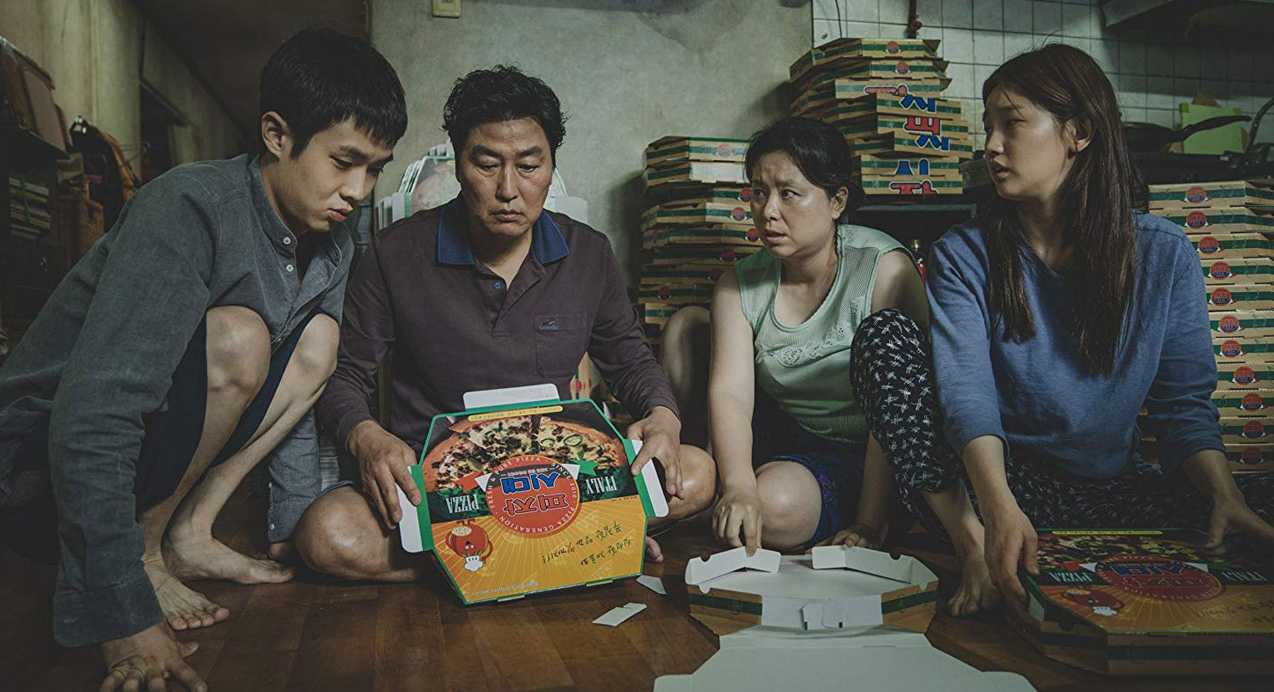 Parasite is a thrilling dissection of capitalism's flaws from a masterful filmmaker

---
Fresh from winning the Palme d'Or at the Cannes Film Festival, the audacious new blackly comic drama from Korean filmmaker Bong Joon-ho aptly dissects contemporary concerns, writes critic Craig Mathieson.
At the beginning of Parasite, the latest masterfully thrilling dissection of capitalism's flaws from South Korean filmmaker Bong Joon-ho, the twentysomething brother and sister – Ki-woo (Choi Woo-shik) and Ki-jung (Park So-dam) – of a fiscally bereft South Korean family squeeze into a nook above their family's cluttered bathroom with their phones, trying to scavenge free Wi-Fi. It is an apt introduction – cruel but everyday, more cheerful than grim – to a film that uses space, architecture, and the way it reflects circumstances and the resulting actions of people as a defining force. Bong, who used a progression of increasingly privileged train carriages as a metaphor for inequality in 2013's Snowpiercer, is a masterful 21st century filmmaker: a subversive with a taste for genre, audacious in his shared implications.
Cheered on by his father and mother, Kim Ki-taek (Song Kang-ho) and Choong-Sook (Jang Hye-jin), who promote corner cutting to keep the collective's head above water, Ki-woo accepts a friend's offer to replace him as the English tutor for the daughter of a wealthy family. Walking uphill to emerge into a walled-off garden – where the sudden calm provides a moment of pleasure but spurs jealous inducement – the apprentice grifter deceives Yeon-kyo (Jo Yeo-jeong) and then her husband, Mr Park (Lee Sun-kyun), with false qualifications and a patter that plays on their privilege's vulnerabilities. He's only had one session with high school student Da-hye (Ziso Jung) before he's placed his sibling, posing as qualified art therapist Jessica, into the household to help the family's traumatised young son Da-song (Jung Hyun-joon).
Sign up for Flicks updates
Bong presents these formative scenes with pleasurable ease, so that you cheer the crafty young con artists on, only to slowly twist your perspective around as the demands of South Korea's formal social codes and the corruption of acquisitive longing become apparent. In the same way that the sharp concrete edges that dominate the interior of the Park's mansion shelter deceivers who hide behind them, the movie makes you look uncomfortably anew at the participants. The title is a double-edge blade – the more time the Kim clan surreptitiously spend in the Park's home, the more they imagine it can be their own abode. They never think that they need a little more, and the Park's a little less – they want everything, which is the root of their downfall and an indictment of a failing system.
Bong builds the tension with sequences that could be worthy of Hitchcock, with their sharp tension and biting outcomes. But the filmmaking always exerts a moral awareness on the increasingly rushed and angry bodies; note how a macabre tone creeps into his shot compositions as the story ventures into literal new depths. The plotting is clockwork ingenious, triggering one twist after another that escalates the stakes but also uncovers shared wrongs. Delight gives way to rage, but as he's done right back to his 2000 debut Barking Dogs Never Bite, Bong shows barbed sympathy for his protagonists. The luxury home becomes a place of violence and imprisonment without changing appearance, the final transformation in a film where aspirations are delivered as tragedy.