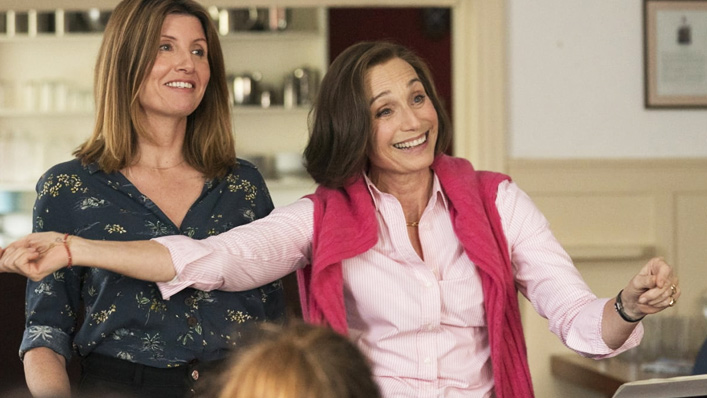 Military Wives is a typical British feel-good comedy – and an ode to the power of distraction

---
The director of The Full Monty is back with a feel-good film about a group of women who form a military wives choir. It's told in a tried-and-tested fashion, writes critic Sarah Ward, but hey – there are plenty of super enjoyable moments.

"Like Sister Act, hey?" a character asks in Military Wives. "Yes, but without the mafia hitmen and the god thing," Lisa (Sharon Horgan) answers. And in just two lines of dialogue, this British feel-good comedy sums itself up perfectly. If the script had turned meta and tasked a character with dropping another crucial detail – that this tale of a motley crew banding together over a shared new hobby, bonding over similar personal issues and working towards a big public performance is directed by the filmmaker behind The Full Monty – it would've covered all the main bases.
More than two decades after his big hit, Peter Cattaneo is well and truly back in familiar territory.  Indeed, when The Full Monty became a success, it sparked a wave of similar movies – which means he both helped start and is now jumping back onto a proven trend. It's impossible not to think of the likes of Calendar Girls and Swimming with Men while watching Military Wives, although this "inspired by true events" affair doesn't mind. It wants to evoke the same cosy feelings, and it's happy doing so in a tried-and-tested fashion.
Sign up for Flicks updates
The film's title, while self-explanatory, specifically refers to a group of women living on a military base on England's north. As BBC TV series The Choir: Military Wives also documented, when their partners are dispatched to active duty, spouses are routinely left at home worrying their days away. The aforementioned Lisa has been appointed their leader during the troop's next campaign in Afghanistan – charged with boosting morale and keeping everyone busy – but the idea to start a choir comes from uppity colonel's wife Kate (Kristin Scott Thomas).
Hardly the most popular person on the base, her suggestion is met with skepticism; however women start turning up anyway. And, although begrudging about singing hymns to begin with ("singing Onward Christian Soldiers with a pole up your arse," as Lisa puts it), they embrace their new pastime once pop songs are brought into their repertoire.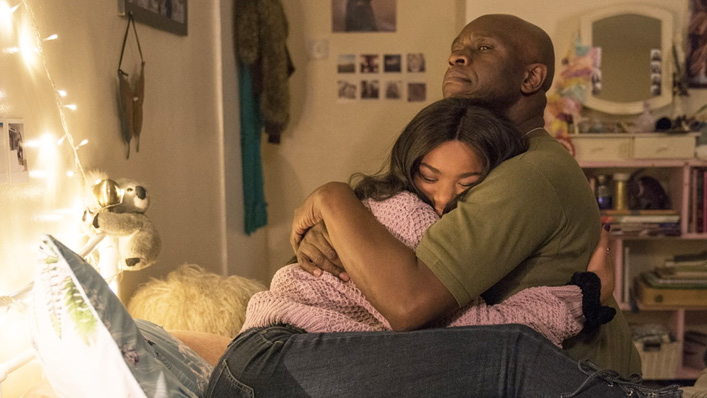 Rachel Tunnard and Rosanne Flynn's screenplay hits every beat expected from there – especially when, after the choir's renditions of Tears for Fears' Shout, Cyndi Lauper's Time After Time and Yazu's Only You start echoing far and wide, the military spouses are invited to sing at the prestigious Festival of Remembrance in the Royal Albert Hall. Unknown talents are unearthed, the chalk-and-cheese Lisa and Kate have to overcome their differences, and nerves kick in as the big show nears.
But, like The Full Monty and its superior predecessor Brassed Off, Military Wives strikes a chord because its story is steeped in real emotion and real-life situations. These women aren't simply crooning tunes for fun, but to take their mind off genuine worries, such as whether their partners will even come home.
Whether focusing on brass bands, stripping or singing, this entire genre serves up an ode to the power of distraction in coping with difficult circumstances. It also sings the praises of togetherness, of course; however finding a positive spin on the much-derided British "keep calm and carry on" mindset is no minor feet. Those words are even used as a joke in Military Wives, but they're relevant to Lisa, Kate and their friends' predicament. Being able to steal even temporary solace amidst overwhelming anxiety and grimness is a small joy that shouldn't be discounted; in fact, given the world that Military Wives is releasing into, that message is more potent and pertinent then the filmmakers could've originally realised.
Accordingly, though there affable moments aplenty in Military Wives' sing-alongs, the film hits the highest notes when it focuses on why these women are singing. Kate has a grief-fuelled backstory and, while such revelations can play like easy, lazy viewer manipulation in the wrong hands (the sob story used in Ben Affleck vehicle The Way Back to explain his character's drinking, for example), her struggles are treated with weight and sensitivity but never cliché or sentimentality. Scott's stoic yet quietly vulnerable performance helps. Horgan, in the same oft-acerbic mode seen in Catastrophe, also puts in a grounded portrayal. They're pushed centre stage, unsurprisingly, but Military Wives is filled with other meaningful glimpses of the personal toll for the rest of group as well.
Also telling: visually, thanks to its barracks setting, this isn't a honey-hued movie. Cattaneo doesn't swamp the screen with warm tones, signaling to audiences how they should feel, but lets the emotional connection come naturally. Well, as naturally as the template-like script allows; however the film has a line that describes this, too. "Great music doesn't happen when things are perfect," Lisa tells her fellow military wives. Formulaic but still enjoyable and thoughtful films don't, either.