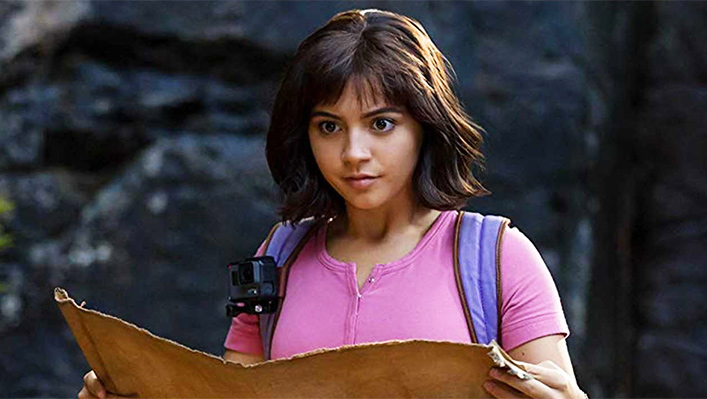 Dora and the Lost City of Gold is inventive, amusing and hallucinatory

---
Dora the Explorer's big screen adventure is part children's entertainment, part Indiana Jones and part Tomb Raider. Most of it works like a charm, says Sarah Ward. 
Cinema hasn't been kind to big-screen live-action versions of animated children's TV shows. Or, to be more accurate, most examples of the genre haven't been done themselves any favours. From the smashing, bashing and crashing that fuels the Transformers franchise, to the cheesiness pumping through the Inspector Gadget films' circuitry, to the squeakiness that sent the Alvin and the Chipmunks series soaring beyond a bearable pitch, these adaptations often do as little as they need to to capitalise upon already well-known properties – sans risks or surprises. Unless the billions of dollars thrown at Michael Bay's shape-shifting robots qualifies.
Deviating from expectations has become rare in this realm, for an obvious reason: to rake in the cash, it's safest to give kids and nostalgic adults exactly what they already know and love. But when a children's cartoon-turned-movie does dare to take chances, it can pay off.  Nearly two decades after Dora the Explorer first premiered on Nickelodeon, the preschooler-aimed series becomes the latest to make the journey to theatres.
Sign up for Flicks updates
Thankfully – perhaps astonishingly for anyone too old to have grown up watching it, and without children who devotedly adore it – the intrepid adventurer's exploits prove inventive and engaging. This is an all-ages affair that's clearly eager to entice avid Dora fans more than unacquainted newcomers, and yet it doesn't blindly assume that its regular template will automatically carry the film.
Dora and the Lost City of Gold favours a vibe that's part cheerful children's entertainment, part Indiana Jones (and The Young Indiana Jones Chronicles, too), part Jumanji and part Tomb Raider (the Alicia Vikander version, not Angelina Jolie's sultry take on the character). In other words: so far, so standard. Directed by James Bobin (Alice Through the Looking Glass), and scripted by Nicholas Stoller (Night School) and Matthew Robinson (Monster Trucks), the movie also channels its many influences into a predictable narrative.
The titular explorer is now a teenager (Isabela Moner). She is reluctantly weathering life outside the Peruvian jungle, only to be drawn back from her Los Angeles high school after her zoologist and archaeologist parents (Michael Peña and Eva Longoria) disappear on their latest quest to find a treasure-filled lost Incan city.
With the plucky adolescent's backpack stuffed with helpful objects, her monkey Boots by her side, her cousin Diego (Jeff Wahlberg) in the mix and thieving fox Swiper (voiced by Benicio Del Toro) on their trail, Dora and the Lost City of Gold nod enthusiastically at its source material. Whether she's being taunted by the school queen bee (Madeleine Madden), kidnapped by a mercenary (Temuera Morrison) or trying to ascertain the real motives of a seemingly helpful professor (Eugenio Derbez), Dora puts her puzzle and maze-solving skills to work – and, in one moment sings a helpful ditty about the importance of digging holes to poop in.
Bobin, Stoller and Robinson's tone is fond, and yet they're never afraid to either have or poke fun. Indeed, Dora's educational habit of narrating her life to-camera and breaking the fourth wall to ask questions of the audience fuels one of the movie's running in-jokes.
Brimming with self-awareness, this willingness not to take itself too seriously makes a crucial impact in Dora and the Lost City of Gold. Story-wise, the film hits foreseeable beats that even pint-sized viewers will likely anticipate; however surprises, creativity and ample absurdity all still arise. There's an inescapable zaniness to Bobin's suitably bright and bouncy approach, which feels ripped from the same playbook as his endearing work on The Muppets (and, to a lesser degree, sequel Muppets Most Wanted) – leaning heavily on a brand and characters that are household names, yet never kowtowing to them.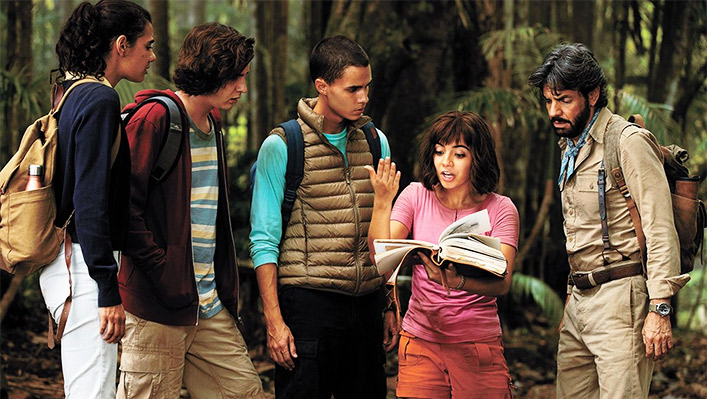 It might've seemed a risk on paper, but scaling up Dora's age and enlisting Sicario: Day of the Soldado's Moner to step into her shoes is one of the movie's best moves. Playing her comically perky part to a sunny as well as knowing extreme, the dynamic young actor may as well be winking at the audience (when she's not overtly addressing viewers, that is). In what might be the film's most difficult feat, Moner also happily wears Dora's earnestness on her pink-hued sleeves, equally embracing and satirising the usual teen flick tropes about plucky underdogs and over-eager nerds.
Cinema, and kids who watch it, need more of Dora's ilk; more smart protagonists who own their eccentricities, even when they're navigating difficulties and uncertainties; and more big-name properties that don't confuse popularity with grim importance. Both also need more scenes like Dora and the Lost City of Gold's most memorable inclusion, which wouldn't feel out of place in a drug-addled caper targeted at much, much older movie-goers.
Endeavouring to evade their captors and track down Dora's mum and dad, the high-schooler and her pals stumble into an Amazonian forest filled with oversized, over-pollinated plants. They brush against a few, not only releasing a spray of spores, but breathing them in and experiencing the hallucinatory effects. All of the sudden, the film switches to trippy animation, offering up yet another of its playful, self-referential touches. And, like the bulk of the picture it's in, it works a charm.