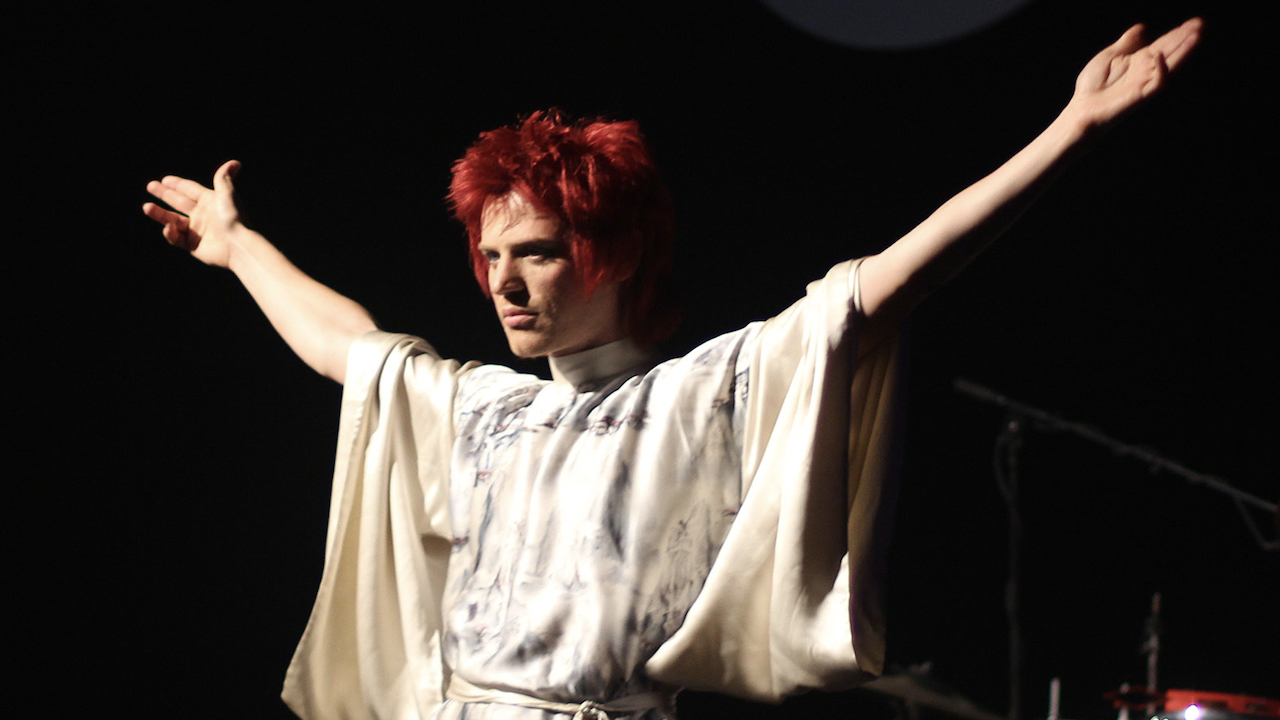 Boring Bowie biopic Stardust can't play the hits nor capture an electrifying artist

---
Is it possible to make a good David Bowie movie without any of the glam-rock icon's music? Travis Johnson says probably not, after watching the drab biopic Stardust.
You don't necessarily need permission to tell someone's life story. Sometimes it's even preferable; spend too much time trying to appease the stakeholders and you could wind up with something as sexless, toothless, and tepid as Bohemian Rhapsody, the recent Freddie Mercury screen biopic. If your film is unauthorised, you don't need to kowtow to the demands of self-serving mythology.
Better then to take the trail Todd Haynes did with 1998's Velvet Goldmine; denied access to the David Bowie song catalogue (the Thin White Duke was said to be planning his own movie) Haynes made a movie not directly about glam-era Bowie, but still unarguably so. Haynes used avatars like Jonathan Rhys-Myers' Brian Slade and Ewan McGregor's Curt Wild to tell a tale whose exact details (and soundtrack) might veer from recorded history, but whose vibe, soul, meaning is ineffably on point.
Stardust splits the difference in the worst possible ways, in that it is explicitly about David Bowie but doesn't have the song rights—and they're pretty far off the thematic mark, too, perhaps not intentionally but certainly in terms of effect. It's a weird chimera of a film and you can just about see director and co-writer (with Christopher Bell) Gabriel Range's ambition clash against—and retreat from—the limitations of the production.
Sign up for Flicks updates
Smartly, the film covers a little piece of Bowie's life, letting the micro stand in for and imply the macro. It's 1971 and having had some success in the UK, pre-glam David Bowie (Johnny Flynn letting the wigs and costumes do the heavy lifting) embarks on his first U.S. tour. However, a visa mix up and less than enthusiastic support from his record label see him playing to lacklustre crowds in third-string venues and starting to doubt his destiny as a rock star. Luckily, deathlessly loyal publicist Ron Oberman (Marc Maron cast to type) is in his corner and on hand to dispense advice and encouragement.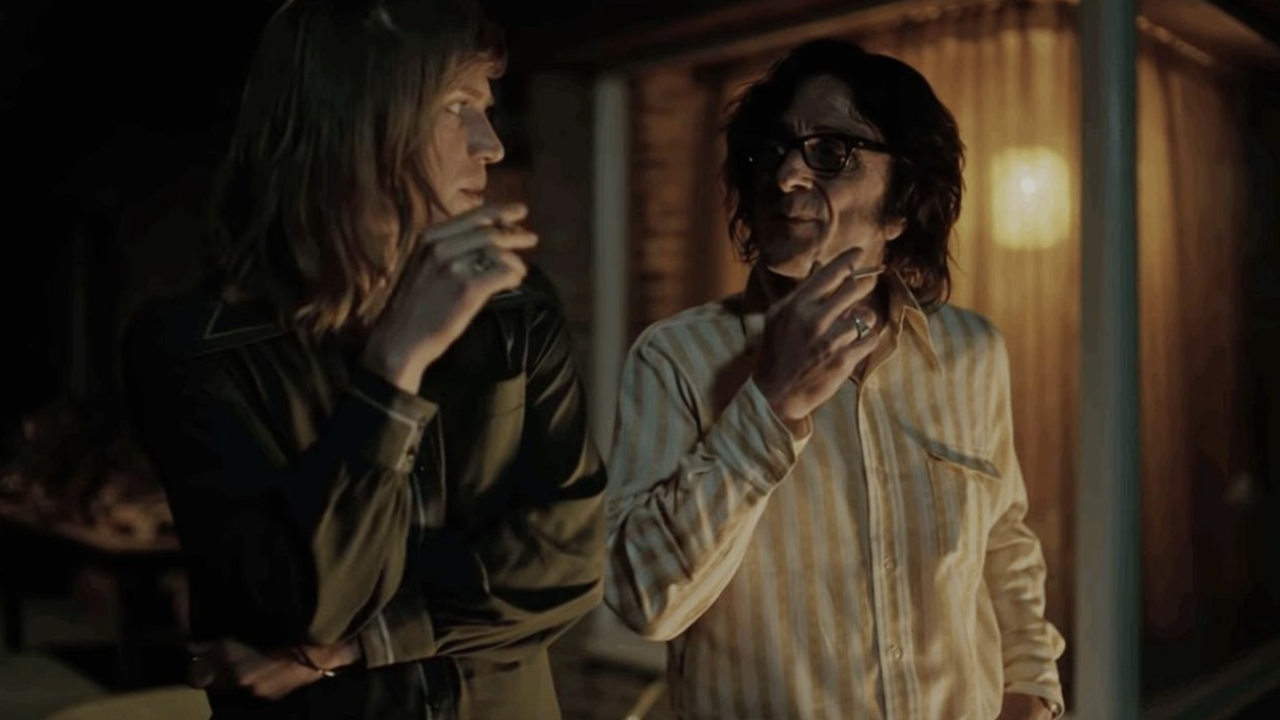 Unfortunately, Stardust fails to make much use of what was a vital moment in Bowie's life, reducing a heady cultural changepoint to a music-themed odd-couple-on-the-road dramedy—it's Green Book with a queer Brit singer rather than a queer Black pianist.
The biographically important details—this was when Bowie met Lou Reed and Andy Warhol, and first heard The Stooges—are touched upon, but the emotional weight rests on a spurious obsession with Bowie's half-brother, Terry Burns (Derek Moran). Stardust heavily suggests that Bowie's multi-faceted, ever-evolving series of stage personas are rooted in a fear of being afflicted by the schizophrenia that plagued Terry, which is a long bow to draw and reduces Bowie's considerable imaginative talent to sub-Freudian simplicity.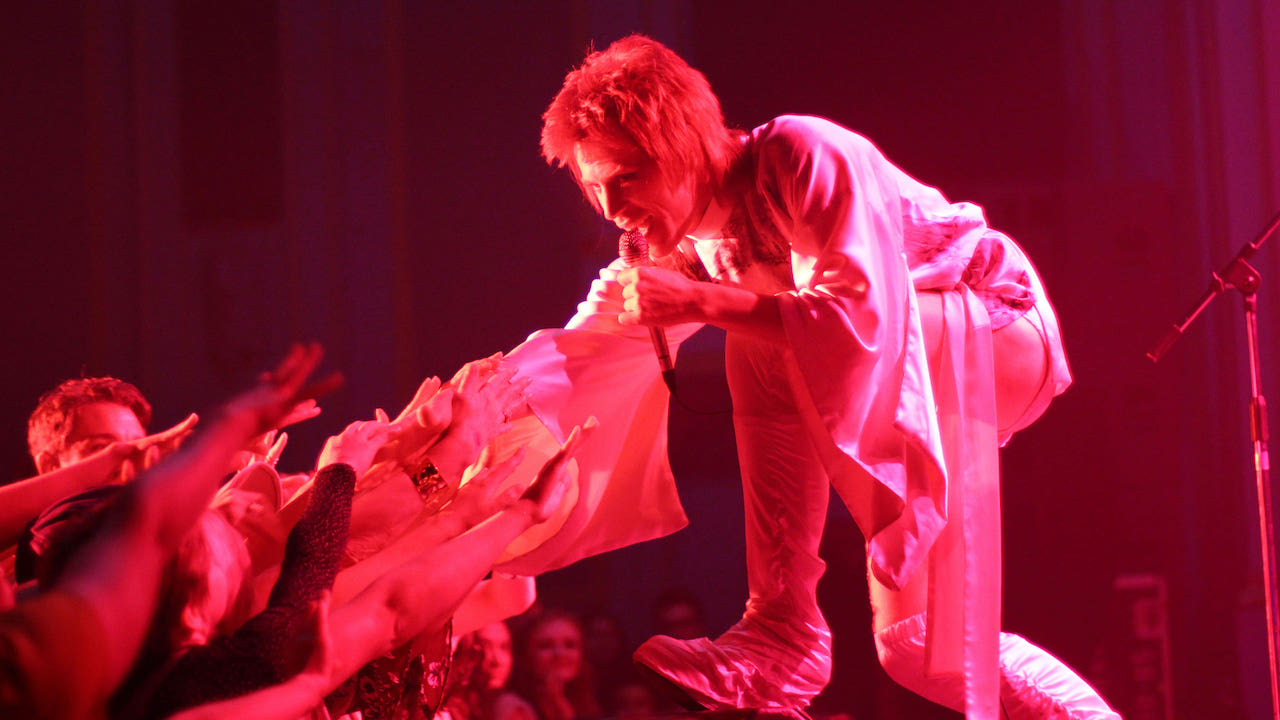 Worse, Stardust makes a big to-do about Bowie's songwriting genius, but of course can never demonstrate that genius on screen—the production simply didn't have the song rights. So we're told—mostly by Maron's Oberman—that Bowie's tunes are absolutely the next big thing, if only people could hear them…and then we never hear them. The film relies on the audience being au fait with Bowie, and that's a pretty safe bet, but it means the film absolutely fails to work artistically or dramatically when stripped of that context.
But then, Stardust is not too concerned with context, only with broad strokes. Where Velvet Goldmine captured the essence, Stardust only manages a clumsy sketch. Ultimately, the film fails to illuminate Bowie in any notable way; instead it only seeks to borrow some of his energy for its own meek purpose.