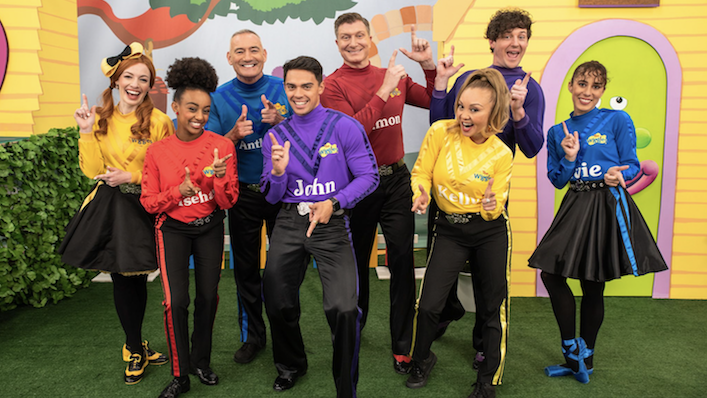 Wiggles case numbers rise dramatically, with four new Wiggles announced for Fruit Salad TV

---
No you're not experiencing double vision: there are indeed double the amount of Wiggles we normally see, with two performers wearing each colour of that distinctive skivvy.
Just in time for their new Youtube series Fruit Salad TV, The Wiggles have invited four new friends to the beloved Wiggle Town community. It might seem like a big change now, but your obsessed kids will soon be bopping along to songs and dances from Kelly, Tsehay, Evie and John right alongside Lachy, Anthony, Emma and Simon.
Premiering on The Wiggles' existing Youtube channel on September 4, Fruit Salad TV makes one of the world's most successful children's entertainment groups more accessible than ever: bringing insanely addictive old songs together with new performances, and introductions to new friends both human and otherwise.
I'm talking about puppety characters Bok the monkey puppet and Shirley Shawn the Unicorn (???), but the most exciting changes are the four new performers, each of whom brings something special to the Wiggles crew.
Tsehay Hawkins is an Ethiopian-Australian dancer with a passion for Latin American styles, whereas Evie Harris was only the second First Nations dancer to join The Australian Ballet, already showing off the different fields of dance talent among this new team. Viewers might recognise John Pierce for his dance skills, too, as a former member of pop group Justice Crew, and Kelly Hamilton has appeared in live shows for The Wiggles in the past, as well as being a keen skateboarder.
The sole remaining Wiggle from the group's original lineup, Anthony Field (better known as Anthony the Blue Wiggle), spoke on the announcement of Fruit Salad TV, and how the four new, talented Wiggles provide modern Australian kids with a sense of diverse and intersectional representation.
"It's so important that The Wiggles continue to evolve along with our society. This is the first step towards shaping The Wiggles for the next 30 years, taking us in a direction that truly represents and serves our community more inclusively."
Whip out those pointed fingers from September 4, upon which date Youtube will be your window into a whole new Wiggly world.