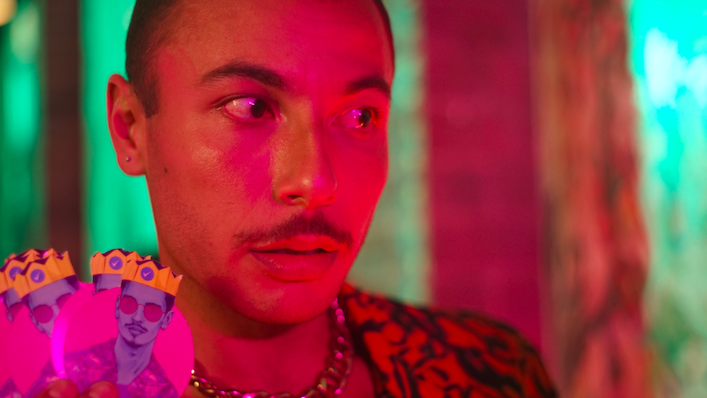 What to expect from the queer Australian webseries Ding Dong I'm Gay

---
You might not have checked out the pilot series Ding Dong I'm Gay yet, but almost three million viewers are already in love with it, judging from the impressive viewership numbers for the short Youtube clips. And now, with the support of Sydney's Wintergarden Pictures and Screen Australia, an entire six-part digital webseries will premiere over the coming months, with episodes one and two now available on the Ding Dong I'm Gay Youtube channel.
Screen Australia's Online Investment Manager Lee Naimo commented on the overwhelming success of the available episodes, celebrating the fact that Ding Dong I'm Gay "will reach a wide, global audience and contribute to the further visibility of queer stories on our screens. I can't wait for viewers to laugh and connect with the characters at a time when it is most needed, in this heart-warming and hilarious show."
Sign up for Flicks updates
A series that wears its outrageous horniness on its sleeve with pride, Ding Dong I'm Gay was created by Tim Spencer, who also stars as Cameron, a neurotic gay dude who becomes determined to guide his newly-out, naive cousin Toby through Sydney's gay community. A kind of LGBTQ+ version of the bawdy American Pie-esque sex comedies that hetero audiences have enjoyed for decades, the webseries is uniquely positioned to speak to the specific social and romantic pressures of dating the same sex, including the perils and pitfalls of gay porn, manscaping, and a seedy hook-up app delightfully named 'Boink'.
Spencer spoke about the exciting release of the anticipated series, noting that "there have been a series of crazy challenges to bring this story to life and I couldn't be prouder of the team who made it. I hope that our story of two characters finding a sense of connection and belonging in a lonely city resonates with a big audience. I'm excited to release the series, but I'm also quietly panicking about being naked on the internet."
The first two episodes of the comedy webseries are currently available on Ding Dong I'm Gay's Youtube channel, with the remaining four episodes premiering weekly. There's also a music video available for the team's catchy original bop 'Instaboy', adding to the series' already popular and hugely click-friendly appeal. You can check out the entire webseries and its additional music videos in the time it takes to watch a single episode of any dreary hour-long drama.