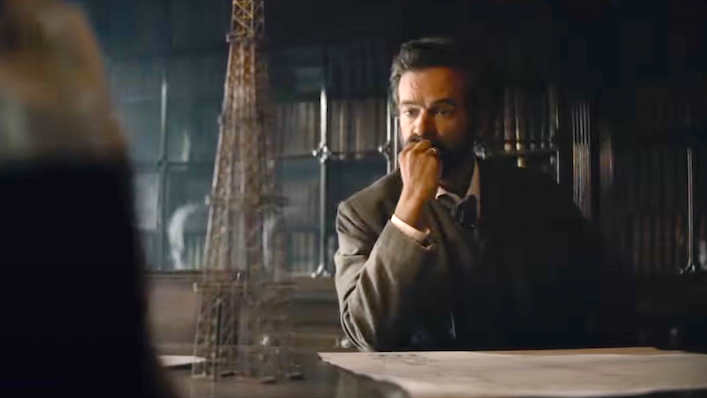 Towering historical biopic Eiffel is now playing in select Australian cinemas

---
Back in 1887, the Eiffel Tower wasn't the beloved, instantly recognisable landmark we now consider it to be. A clique of 300 critics—one for each meter of the proposed construction—banded together to pen this angry petition: "Imagine for a moment a giddy, ridiculous tower dominating Paris like a gigantic black smokestack…we shall see stretching like a blot of ink the hateful shadow of the hateful column of bolted sheet metal."
Well, we all know how that turned out. Hopefully critics these days are a bit kinder to Eiffel, a historical biopic all about engineer Gustave Eiffel and his greatest eponymous creation. This romantic drama is now screening in select Australian cinemas.

Sign up for Flicks updates
French star Romain Duris is moustachioed-up as Eiffel, a man with a lot of vision and passion who seemingly tends to rub the Parisian public the wrong way. The rousing trailer below sees him standing over masses of workers with a megaphone, promising that the construction of the tower is a win for all of France.
Then there's his controversial romance with former flame Adrienne Bourgès, played by Sex Education star Emma Mackey. Attracting sideways glances and curt warnings when they're spotted holding hands, the couple's affair could lead to Eiffel's downfall—or it could provide the inspiration he needs to change Paris forever.
History buffs and those seeking a romantic European vacay alike will get something out of this dramatic true story, set amidst the whirlwind of change and industry that surrounded the 1889 Worlds Fair.