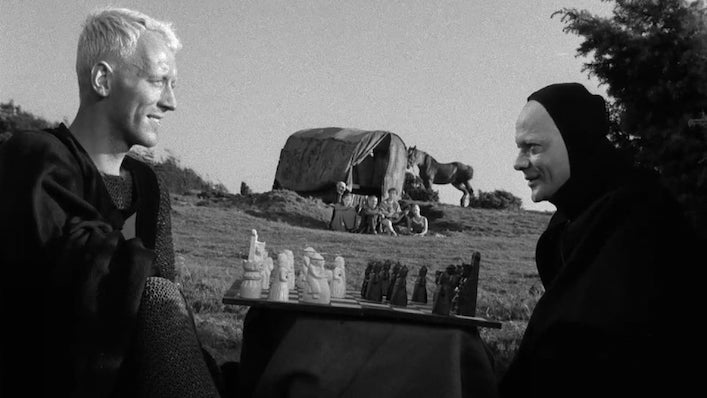 Swedish screen legend Max Von Sydow dies aged 90

---
Swedish actor Max Von Sydow's filmography is marked by constant movement between light and dark. Hell, even his name has a sinister, old-timey villanious feel to it.
Since the 1950s, Von Sydow appeared in a wide range of film and TV roles, from the cartoonishly evil Ming the Merciless in Flash Gordon, to his divine role in The Exorcist. Sadly, Von Sydow's family has confirmed that the performer passed away on Sunday at age 90.
Von Sydow first gained recognition for his collaborations with Ingmar Bergman, most notably as a jaded knight playing a chess game with Death himself in The Seventh Seal. The pair would go on to collaborate in another ten films, and Bergman's resolute camera made Von Sydow a formidable screen presence.
In 2007, the Los Angeles Times described the actor's visual appeal and compelling personality as such: "Von Sydow is an inherently imposing screen presence with distinctive chiselled features. But in person, he is a warm, unpretentious man profoundly grateful for a career that he himself refuses to consider remarkable."
In the past few decades, Von Sydow has cemented himself in the minds of new generations of fans, thanks to his sci-fi and fantasy work in franchises such as Game of Thrones and Star Wars.
Tributes for the actor are pouring in via Twitter, from fans and peers alike. A common focus in the eulogising is Von Sydow's endless consistency, a quality which allowed him to keep acting up until very recently. His final film, Echoes of the Past, is still in post-production.
Rest in peace to the brilliant Max Von Sydow, who seemed old when he was young, and youthful when he was old.

— Scott Weinberg (@scottEweinberg) March 9, 2020
Here was Max Von Sydow with his dear friend, master cinematographer, Sven Nykvist. Two great artists. Two true gentlemen. We were working on Bora Bora. I picture Max in heaven wearing his white linen suit, w Sven, Ingmar Bergman, Bibi Andersson, laughing & loving each other 💔 pic.twitter.com/ENdcB9bPKZ

— Mia Farrow (@MiaFarrow) March 9, 2020
Farewell, Max von Sydow, an actor who could bring great gravity to weightless junk, and quick, unpredictable humanity to, well, very grave films. His run of collaborations with Bergman have so much more life and electricity than the dour reputation with which people tag them.

— Guy Lodge (@GuyLodge) March 9, 2020