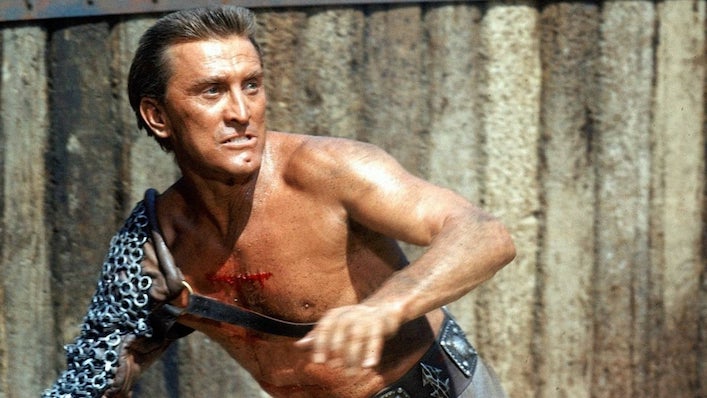 Screen legend Kirk Douglas passes away at the age of 103

---
Born on December 9, 1916, Kirk Douglas was a centenarian Hollywood icon – one of few industry legends who lived to see the rise of film as the medium of the 20th century in its entirety. At the age of 103, Douglas passed away early on the morning of February 6, as reported by his son, actor Michael Douglas.
Sign up for Flicks updates
In a statement to People, the younger Douglas confirmed that his father died surrounded by his sons, grandchildren and great-grandchildren. "Kirk's life was well lived, and he leaves a legacy in film that will endure for generations to come, and a history as a renowned philanthropist who worked to aid the public and bring peace to the planet," the veteran actor mourned. He concluded his message with "the words I told him on his last birthday and which will always remain true. Dad – I love you so much and I am so proud to be your son."
Kirk Douglas's most famous roles include the titular slave-turned-rebel-hero Spartacus for Stanley Kubrick, a callous conman in Billy Wilder's Ace In The Hole, and The Bad And The Beautiful's troubled auteur. Across more than 90 films, Douglas was renowned for his intense, disciplined style of performance, and his rugged good looks, including a distinctively dimpled chin that exemplified mid-century American heroism to many viewers.
Despite various health issues, Douglas continued to act as a Hollywood stalwart, accepting an honorary Academy Award months after suffering a debilitating stroke in 1996. His frequent appearances at awards ceremonies over the past few decades have confirmed Douglas' status as the last vestiges of Old Hollywood – an industry lifer who lived long enough to witness his impact on the medium over more than a century.
Naturally, glowing remembrances began to flood in on Twitter from Hollywood institutions such as the Academy of Motion Picture Arts and Sciences. It will definitely scramble to include Douglas in this weekend's In Memoriam segment, and those whose celebrity ancestors worked with Douglas, such as Jamie Lee Curtis.
"I wanted to be an actor ever since I was a kid in the second grade. I did a play, and my mother made a black apron, and I played a shoemaker. After the performance, [my father] gave me my first Oscar: an ice cream cone." -Kirk Douglas

Goodbye to a Hollywood legend. pic.twitter.com/vnu1Hkb2FA

— The Academy (@TheAcademy) February 5, 2020
"I love you Spartacus, like the father I never had." Antoninus
I did have a father and he LOVED you as the world loved you. Your Passion.Talent. Politics. Family. Art. Strength. I grew up with the Douglas boys. My love to Anne and all his family from mine. pic.twitter.com/nPlZIFQ7DW

— Jamie Lee Curtis (@jamieleecurtis) February 6, 2020
We are deeply saddened to hear of the passing of Kirk Douglas. His performance of Ned Land in 20,000 Leagues Under the Sea (1954) anchored the first all live-action feature film at The Walt Disney Studios. Our condolences are with his family and all who cherished his work. pic.twitter.com/Kdi9R5Y0sb

— The Walt Disney Family Museum (@WDFMuseum) February 6, 2020
Whilst Douglas' death is perhaps not a surprise, considering his impressive age, it still provides an impactful opportunity to reflect on a former world of fame and cinema, of which only a few main characters remain.
We lost another one way too young. RIP Kirk Douglas.

— marc maron (@marcmaron) February 6, 2020