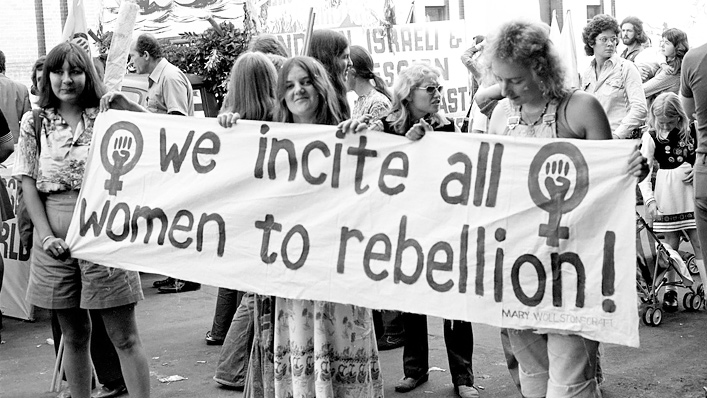 In celebration of International Women's Day, feminist doco Brazen Hussies is now on ABC iview

---
Food always tastes a little bit better when it's free, and the same deal applies with great movies. When you catch something fascinating or worthwhile for free, you gotta sit down and appreciate the opportunity.
To celebrate International Women's Day, for instance, you might come across no better way to spend 60 minutes than by watching Brazen Hussies, an all-Aussie feminist documentary cataloguing the broad and complex rise of the Women's Rights Movement of the 1960's and 70's.
The doco is currently available on ABC's iview online, totally free. And ABC TV viewers can enjoy a later live broadcast on April 5, at 8:30pm.
Made by a team of all-female documentarians and subjects, Brazen Hussies uses archival footage and present-day talking heads to barrel through second-wave feminism's turbulent history in this country, kicking off in 1965 when Merle Thornton and Rosalie Bogner chained themselves to the bar of Brisbane's Regatta Hotel to protest its 'no women' ban.
If you're not already feeling somewhat pumped by the rousing trailer above, consider that Brazen Hussies has earned plenty of positive acclaim. The Guardian praised the film for "adding depth and breadth to the second-wave stories of our popular imagination", and The Sydney Morning Herald characterised it as "lively and funny".
Our own critic Travis Johnson agreed, calling Brazen Hussies "an incendiary, exhaustive, emotive and well-researched look at…a crucial decade in the struggle for equal rights."
Does that sound like what you need to watch today, to get connected to Australia's own history of the fierce struggle for civil rights?? Then Brazen Hussies is currently available on iview.
abctv: "Women can clearly change the world, because we have." ✊

Celebrate #IWD2021 and stream #BrazenHussies now on ABC iview: https://t.co/TWlKMudWZJ pic.twitter.com/7ugTZ4IYkX

— filmvictoria (@FilmVictoria) March 8, 2021