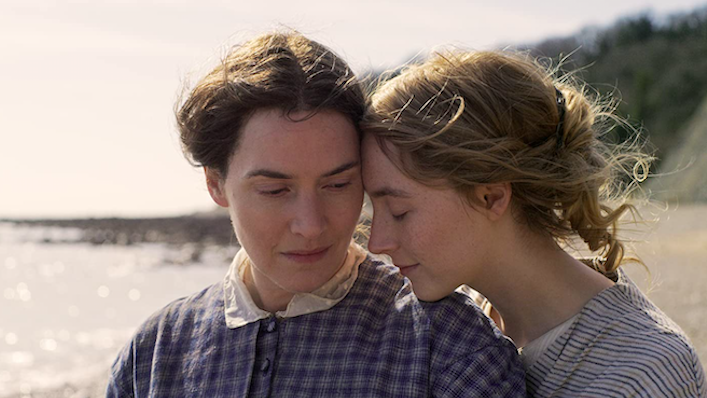 Australian trailer and release date: Ammonite, starring Kate Winslet and Saoirse Ronan

---
With eleven combined Best Actress nominations between them, Kate Winslet and Saoirse Ronan are, individually, certainly two of the best living actors in mainstream cinema. Sure, maybe Saoirse hasn't been around quite as long as Kate, but both women can seemingly master any accent and slip into any genre they please, from sci-fi to comedy to Kate's ultimate victorious Best Actress win for The Reader.
Together, though? Now that combination might just be prestige drama perfection. And in the upcoming period romance Ammonite, that's exactly what we hope we'll get.
Sign up for Flicks updates
Winslet is set to play Mary Anning, a talented but under-appreciated fossil hunter living in 1840s England. Her studious life is forever changed when she meets Charlotte Murchison (Ronan), a sickly young bride sent to convalesce by the seaside, who becomes a timid apprentice of sorts to the older woman.
Check out the trailer below to make up your own mind, but I think the characters are going to stumble upon much more than just fossils during their long, intimate walks on the beach.
Ammonite is definitely reminiscent of last year's sensational Portrait Of A Lady On Fire, with its seaside setting and yearning lesbian romance that could make a lump of igneous rock cry. And there's a bit of Little Women, too, with Ronan back in a corset and bustle.
lady bird / little women / ammonite pic.twitter.com/nzCI5drQPF

— feral (@ncrmalpeople) September 5, 2020
But, being based on a remarkable true story, Ammonite is obviously its own thing, too, and we can't wait to learn whether the movie will be released in cinemas or onto a streaming service. Keep your eyes peeled for further information about the release date!