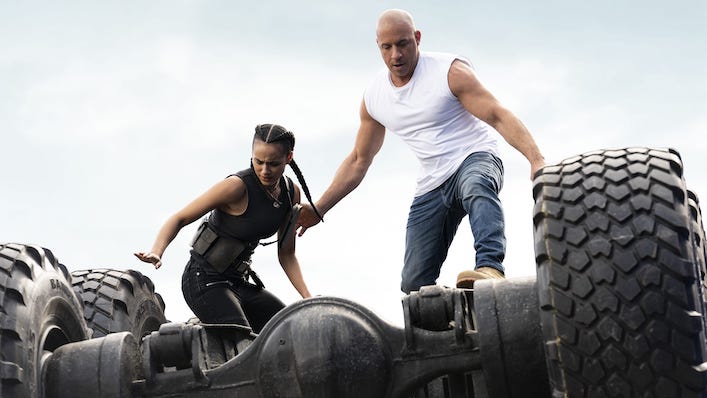 Fast & Furious 9 races to the biggest opening week in Australia since 2019

---
Over almost 20 years and nine films (plus one spin-off!), the Fast franchise has shown one consistent trend: a hunger to get bigger, bolder and more ridiculous. Seriously, the newest instalment has Tyrese and Luda finally rocketing a car towards outer space.
Audiences around Australia seem to be totally on board with this trend, revving into theatres on F9's opening week and earning the sequel the highest grossing opening week for our box office since 2019.
With the ravages of the coronavirus emptying out cinemas in 2020 and most of 2021 so far, Fast & Furious 9 hasn't faced too much competition when it comes to proven crowd-pleasing blockbusters. Last year's Wonder Woman 1984 took in $10.6 million after it opened last Boxing Day, and Godzilla Vs. Kong earned $9.03 million a few months ago.
But F9 has been confirmed by our friends at Numero—who are true gods of box office analysis—to have earned $11,063,773 from its opening week, breaking records from the past quiet couple of years. Movies are back, baby!
This gives F9 the fourth-highest opening week amongst the other films in the franchise, dwelling behind the previous four. Fast and Furious 7 had the most lucrative opening week (taking a whopping $22,272,484) and ultimately grossed $43 million over its lifetime at the Australian box office, perhaps because of the highly publicised recent death of star Paul Walker and the film's legendarily tearjerking goodbye to his character Brian.
Fast & Furious 9 opened on a comparatively larger amount of screens compared to the earlier sequels (755 next to the last film The Fate of the Furious's 641 screens), with an opening screen average of $15k. Relative to the other films in the franchise, that's not such a furiously impressive number (Fast and Furious 7 raked in an opening screen average of $44k), but we'll absolutely take it after two years of reduced blockbuster action.
I can't wait to watch Fast and furious 9 .I haven't seen my scenes yet! That's the best part about it thooo watching the movie then you see yourself coming in.I'm sooo proud of myself. GOD IS GOOD ! Can I get a ALL THE TIME ? !!!!

— iamcardib (@iamcardib) June 15, 2021
So is it worth joining the throng of Aussie speed-demons paying to see Fast & Furious 9 in cinemas? Our review from Daniel Rutledge affirmed that the latest episode in Dom and Letty's fast life is going to give fans everything they want, with "a story overstuffed with more character revelations and retcons than ever." As long as they give some decent reason for Han being alive and end everything with a family barbecque and a case of Coronas, I am there.