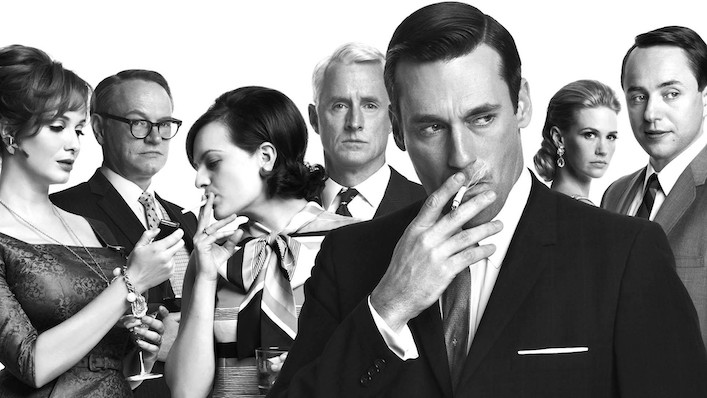 Every season of Mad Men is now available on Stan

---
Seven seasons, five Golden Globes, 16 Emmy awards and five years later, Mad Men still stands resolute as one of the most celebrated TV dramas of the 21st century. And since Aussie streaming service Stan has gone and thrown the entire series up for subscribers to check out, now is a better time than ever to step back into 1960s Manhattan.
Sign up for Flicks updates
In case you missed it, Mad Men is set in the Golden Age of advertising, following an office of high-flying Madison Avenue advertising personnel. Two-time Golden Globe winner Jon Hamm plays Don Draper, an ad exec torn between the socially turbulent world around him, and his own secretive past. Don generally copes with this ennui and dissatisfaction by sleeping with everything that moves and sculling down vintage cocktails at a superhuman rate.
His wife Betty (January Jones) and mentee/advertising ingenue Peggy (Elisabeth Moss) are among the women in his life who are trying to find their own place in a rapidly changing society, as well as sultry office manager Joan (Christina Hendricks). The dubious family values and misogyny of the era are alternately challenged and upheld by Mad Men's supporting cast, as the show casts an observational glance at retro characters like Don's skirt-chasing colleague Roger (John Slattery), or the weaselly, sycophantic Pete (Vincent Kartheiser).
Maybe you only checked out the first season or so of Mad Men back in 2012 and it wasn't your thing. If that's the case, giving the series another shot might totally change your mind; Mad Men is best watched as the long-form, character-driven story it is, each season adding new layers and complexities to the melancholy realism of these character's lives. Also, if you tapped out before the last few seasons, you missed out on this deliriously catchy musical number.
Stan subscribers can go mad over Mad Men right now, as the entire show is currently available on the Stan library.