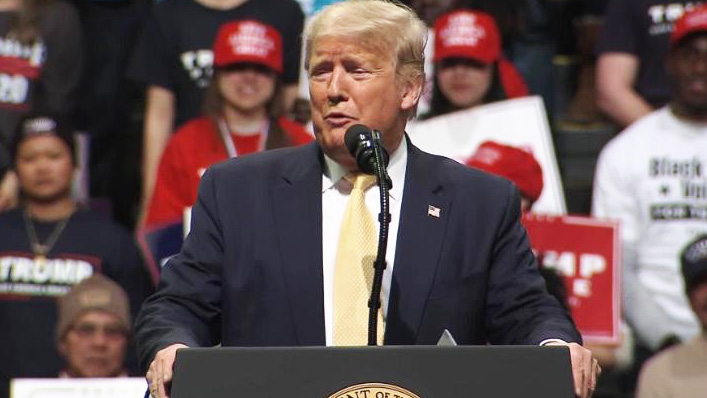 Donald Trump hasn't seen Parasite, but he's not a fan

---
When Bong Joon-Ho's twisted class thriller Parasite won Best Picture at the Academy Awards a few weeks ago, it seemed to practically unite film-fans worldwide. This isn't something that happens too often. The attending crowd at the Dolby Theatre gave the win a standing ovation, and Twitter was alight with happy responses.
Sign up for Flicks updates
One very vocal, popular detractor was the 45th President of the United States of America. While Donald Trump hasn't seen the Best Picture, Best Original Screenplay, Best Director and Best International Feature winner, he certainly made his thoughts heard about whether the film was deserving or not.
"How bad were the Academy Awards this year, did you see? 'And the winner is … a movie from South Korea'. What the hell was that all about?", Trump announced sarcastically at a campaign rally in Colorado.
"We've got enough problems with South Korea with trade, on top of it they give them the best movie of the year?"
Trump's audience laughed and applauded at the comments, cheering at his suggestions for more deserving Oscar winners.
"I'm looking for like, let's get Gone with the Wind, can we get like 'Gone with the Wind back, please? Sunset Boulevard, so many great movies."
It's interesting to get this insight into some of the President's favourite films. Gone With The Wind especially makes sense as a match for Trump's love of commercialism and bombast, still being one of the biggest blockbuster successes in film history. Its romantic look back at a period of great suffering and oppression makes for a fascinating iteration of Trump's nostalgic 'Make America Great Again' campaign slogan.
Sunset Boulevard speaks to the sense of decay and corruption underlying American values such as fame and ambition, which Trump has previously spoken out against in a series of anti-Hollywood tweets.
Liberal Hollywood is Racist at the highest level, and with great Anger and Hate! They like to call themselves "Elite," but they are not Elite. In fact, it is often the people that they so strongly oppose that are actually the Elite. The movie coming out is made in order….

— Donald J. Trump (@realDonaldTrump) August 9, 2019
At a rally later on in the same week in Las Vegas, Trump continued on to clarify his statements, backing away from his protectionist view of celebrated film by admitting: "Look, I get along great with South Korea, but I've never seen that movie before. They used to call it 'best foreign movie.' Now we do it that way."
Actually, Parasite won Best International Feature and Best Picture! Neat.
If you haven't seen Parasite yet, Trump's sarcastic criticism could be the final bit of endorsement you need: it's still out in some cinemas and is also available to stream.