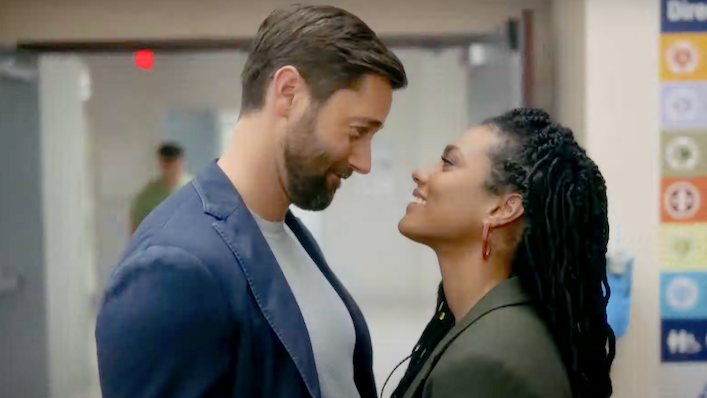 Does love heal all wounds? How to watch New Amsterdam season 4 in Australia

---
Our first look at what's going on in one of TV's hottest medical dramas just might make you exclaim "AmsterDAMN": it's thirty seconds of romantic moments between Dr Max Goodwin (Ryan Eggold) and Dr Helena Sharpe (Freema Agyeman), New Amsterdam's most exciting power couple.
A little staff romance could mean big changes are coming to New Amsterdam Medical Center—and fans of this inspiring series will be keen to see it all happen on Stan, where all the new episodes of season 4 are currently being released.
From September 22 right through to February 16, 2022, all 22 episodes of New Amsterdam season four will become available for Stan subscribers. It's quite a change from the home of the drama's first three seasons, all available to watch via Nine Now.
Although the last season had a firm focus on pandemic-centric stories and scandals, this new season will still see Max and his colleagues feeling the effects of a global medical disaster. Only now, a promising new romance between the medical director and his head of oncology could change everything. In the teaser below,
it sounds like Max is willing to put everything on the line in order to be with Helena.
Each new episode of New Amsterdam's fourth season arrives exclusively on Stan on the same day as the US, meaning Stan subscribers won't have to miss a moment of heart-stopping hospital action—or the equally intense interpersonal goings-on of the staff.
And in case you've never heard of New Amsterdam or its romantic leads—here's a little proof that viewers are very much rooting for "Sharpwin," the couples' official unofficial name (Sharpe + Goodwin, duh). Stan is the place to be if you want to become a superfan too: get into the fancams and shipping culture if you dare.
#SHARPWIN: wE cAn GeT mAtChInG jAcKeTs pic.twitter.com/0BmC7iPTqd

— mar • ONE DAY (@helcnsharpe) September 14, 2021
Guess who is rewatching the #Sharpwin show even though she has a million other shows to watch 🤡 pic.twitter.com/qAgoD8jBMB

— MsButtercluck😴 (@MsButtercluck) September 18, 2021