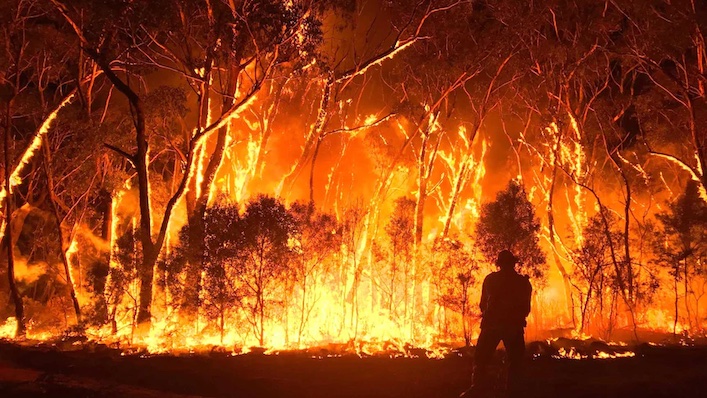 An upcoming Prime Video doco on the Black Summer bushfires isn't afraid to ask 'Burning' questions

---
Normally the words "Amazon" and "burning" bring to mind terrifying environmental devastation, but in this case? They hopefully mean that the truth behind recent climate ruin can be brought to an international platform.
Prime Video recently announced a new slate of Australian original titles, and a feature-length documentary about the Black Summer bushfires is front and centre. Produced by Cate Blanchett and directed by political documentarian Eva Orner, Burning will explore one of the most tragic and dramatic Australian chapters so far in the climate crisis.
At the streaming service's recent Sydney showcase event, Blanchett briefly appeared onscreen to announce her input in producing the doco. Since the devastating 2019-2020 bushfire season, known colloquially as the Black Summer bushfires, film production worldwide has been uncertain due to the coronavirus pandemic, but it would seem we're finally able to unpack the staggering environmental and human cost of the fires onscreen.
High hopes for @evaorner's upcoming Cate Blanchett-produced doco about the Black Summer bushfires. Eva's previous films (including Chasing Asylum) showed she has the courage to not pull any punches and hold our government to account https://t.co/uICbacR4JL

— Luke Buckmaster (@lukebuckmaster) May 19, 2021
While we don't have a release date or trailer yet for Burning, the creative team is certainly worth getting excited for, with Eva Orner's proven track record of stories about systemic failure. One of her previous films is Chasing Asylum, a critically acclaimed exposé about Australia's offshore detention camps on Manus Island and Nauru.
The team-up of one of our country's most praised acting exports and a director who's unafraid to speak truth to power can only be a good thing. Stay tuned for more details on Burning as we get closer to its release on Prime Video.