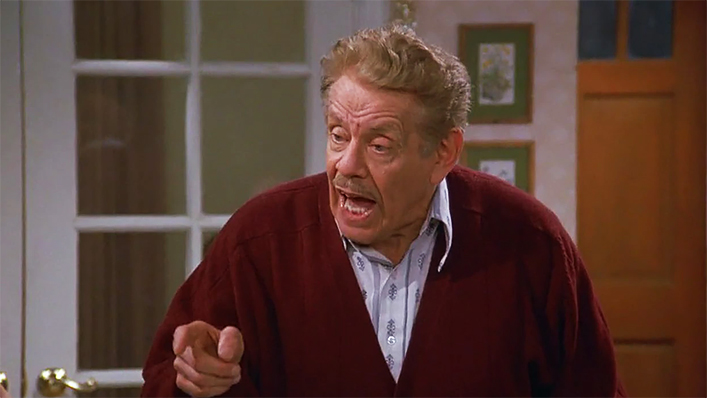 An ode to the greatness of Jerry Stiller, who passed away this week

---
Any Seinfeld fan (or human that lived during the nineties) knows that the best way to instantly relax oneself during a stressful moment is to yell at the top of ones' lungs, "Serenity…NOW!"
Okay, it's probably not actually a helpful catchphrase to scream out loud, but at the very least, it'll remind you of one of the all-time greatest sitcom supporting characters: Frank Costanza, George's short-tempered, scene-stealing dad.
Sadly, the performer behind that and many other memorable comedy roles has passed away earlier this week at age 92 of natural causes. In a mournful tweet, Ben Stiller confirmed that his father Jerry Stiller had died on May 11.
I'm sad to say that my father, Jerry Stiller, passed away from natural causes. He was a great dad and grandfather, and the most dedicated husband to Anne for about 62 years. He will be greatly missed. Love you Dad. pic.twitter.com/KyoNsJIBz5

— Ben Stiller (@RedHourBen) May 11, 2020
Stiller and his late wife Anne Meara got their start as a standup comedy duo, appearing on The Ed Sullivan Show, before embarking on separate acting careers. Stiller experienced a late-career resurgence after being cast in Seinfeld, and later in King of Queens, cementing his talent for playing curmudgeonly but loveable characters. The stars of Seinfeld posted fondly about their memories of Stiller, with a particularly hilarious outtake of Stiller performing (or trying to perform!) opposite Julia Louis-Dreyfus making the rounds on Twitter.
Jerry Stiller's comedy will live forever.

— Jerry Seinfeld (@JerrySeinfeld) May 11, 2020
Yeah. I adored this man. pic.twitter.com/4YiaTLJh4C

— jason alexander (@IJasonAlexander) May 11, 2020
The truth is that this happened all the time with Jerry Stiller. He was so funny and such a dear human being. We loved him. RIP Jerry Stiller.https://t.co/kXL14zMKeX

— Julia Louis-Dreyfus (@OfficialJLD) May 11, 2020
If you don't recognise Stiller as Frank Costanza, he's certainly made an impression in films like Zoolander and Hairspray, amongst a bevy of memorable character roles. The entirety of Seinfeld is currently on Stan, a good place to grieve and hopefully get some serenity, NOW.