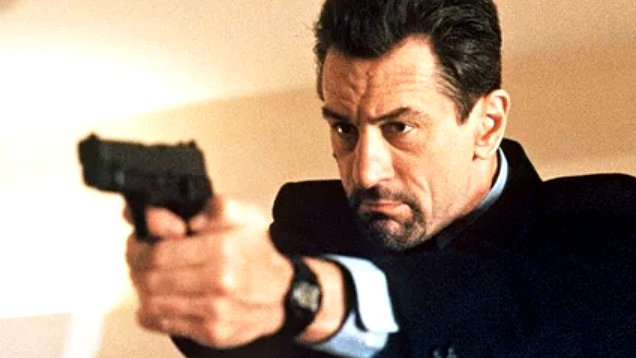 Why I became completely obsessed with Michael Mann's 1995 crime opus Heat

---
Film critic Blake Howard is obsessed with the crime drama Heat. So much so that he created a 170 hour podcast to pore over literally every minute of the running time. In this 'confession of an obsession', Howard reflects on what keeps drawing him back to Michael Mann's 1995 classic.
Michael's Mann's 1995 crime opus Heat is an undeniable masterpiece. In the year of its release, it promised spectacle, with the first and only one-on-one (or more aptly mano-a-mano) confrontation between two Hollywood legends: Robert de Niro and Al Pacino. The sprawling crime saga – with a circa 170 minute run time, 76 speaking roles and showcasing dynamic, eardrum-busting action that reset the bar for urban battle – continues to crystallise its perfection in its 24th year of existence.
After over a decade of repeat viewings, a year of university study (culminating in an Honours thesis) and embarking on a 170 hour podcast project titled One Heat Minute (OHM) – which sequentially breaks down Mann's masterwork one minute at a time – it was time to reflect on what keeps drawing me back to it.
Heat, as Bobby Roberts (producer of movie podcast 80s All Over) dubbed it during episode 45 of OHM, is a "symphony of damaged masculinity." As much as Heat features some of the most memorable and muscular action of any heist film it is, at its core, a human drama about accomplished professionals on a drastically conflicted moral spectrum.
As Heat was released, it was a complete outlier. Caught in the storm of post-Tarantino imitators, this film was an instant throwback. In most mainstream US cinemas, masculinity after the eclipse of 'New Hollywood' reverts to classical Hollywood of goodie/baddie binaries played out through a 'blockbuster' form. Rather than partaking, Mann's films continually hope to break down the barriers of 'self and the other' and, especially in the case of Heat, the director explores not only the self/other opposition of the two opposing characters but also of the men portraying those characters.
Is the action the juice? Does the sun rise and set with this film? Did I fall in love; would you buy that? Here is my confession of an obsession.
"You looking to become a penologist?" – The beginning
Despite the amount that I've talked about and written about Heat, being able to fully and succinctly articulate my obsessions is an increasingly tricky exercise. Let's take a brief flashback.
It's 1997. It's my first year of high school and deep into the VHS era. It's a Friday night. My best friend at the time and I regularly hit the video store for as many 'weekly' rentals as ten bucks would allow. Movie marathons were the order of the day, week and year. In amongst a stream of trashy horror (likely something from the Critters franchise) or Desperado for the tenth time, I stumble past my friend's older sister's room.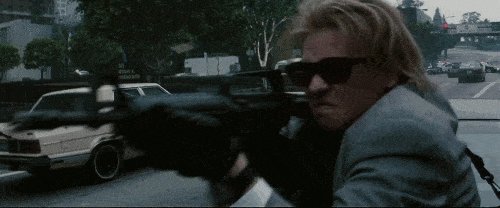 In the messy grunge cave with band t-shirts strewn on the floor and the haze of incense, were two VHS recorders, connected for the illegal (but the statute of limitations is surely expired) double taping (which for people significantly younger than me reading this means us saving a copy of a movie to revisit). On her tiny television, with the volume barely audible, I catch a glimpse of two men in hockey masks behind the wheel of an ambulance. I pause hypnotised, caught in the snare of the opening heist, silently watching as one of American cinema's most thrilling armed robberies concluded. I push the door open slightly.m "Nina, what IS this movie?!"
"That regular type life, that your life?" – Heat, Masculinity and the man in the mirror
Fast forward to latte-sipping University study years, bingeing on acclaimed international cinema. T'was all the usual suspects: Bergman, Antonioni, Kurosawa, Ozu, Godard; nothing from America was allowed unless it came from a period known as 'New Hollywood' (American independent Cinema broadly mapped between the years of 1968-1980). Filmmakers like John Cassavetes, Arthur Penn, Roman Polanski, Sydney Lumet, Mike Nichols, Martin Scorsese and Francis Ford Coppola formed this 'American New Wave.'  Filmmakers emerged in an environment when the movie industry faced economic downturn and became willing to take risks in financing riskier projects from new voices. This era was also defined by socio-political turmoil connected to events such as the Vietnam War, the Civil Rights Movement and Watergate.
Sign up for Flicks updates
With these new viewing parameters, one film continued to grow in stature; that film was (you guessed it) Heat, this 'displaced' crime epic entangled with socio-political views of an earlier era. Mann's men are re-staged 'New Hollywood' men, and their portrayals are loaded with the history of not only their previous roles but with the thematic, existential musings of and on masculinity associated with the period. Mann's perennially '70s men reject the cause of reactionary masculinity, which seeks revenge for Vietnam by reaffirming a reconstituted and newly confident machismo, and instead use the framework of professionalism to muse afresh on the crisis of identity and morality still facing US masculinity.
In Heat, Hanna (Pacino) and Neil (de Niro) are inherently fractured reflections of each other. Like Apocalypse Now's leading characters Willard and Kurtz, Hanna and Neil show the 'New Hollywood' continuity of masculine identity in a state of moral and existential crises. They share the same condition. Hanna and Neil can neglect their private desires, because their profession becomes an elevated experience of their lives and all other responsibility becomes secondary.
If they are not flawless professionals, it seems to inhibit their very existence. In this light, Mann's men ignore all social distinctions of what is right and wrong when the commitment of perfection to undertaking your vocation is the focus. The viewer cannot help but contrast Pacino and de Niro's previous on-screen incarnations because of their similar method in acting style and subconscious referencing of their baggage (their history of crucial roles). These actors were the onscreen personification of the 'New Hollywood', and they evoke the continuing crisis of American masculinity unyieldingly driven by profession. This is manifested throughout Mann's work.
The coffee-shop and runway scenes are both representative of the Mannian archetypal masculinity and the self/other parallels in its most accentuated and realised form
The coffee-shop and runway scenes are both representative of the Mannian archetypal masculinity and the self/other parallels in its most accentuated and realised form. During the coffee-shop conversation, Pacino/Hanna and de Niro/Neil both admit to the lack of normalcy that their characters and career paths illustrate. Their conversation is understanding and representative that these emphatic 'New Hollywood' men realise the futility of their attempts to claim the domestic sphere in their lives. Their final confrontation is inevitable and cathartic for both. They must finally measure their professional wits against their adversary to affirm their purpose.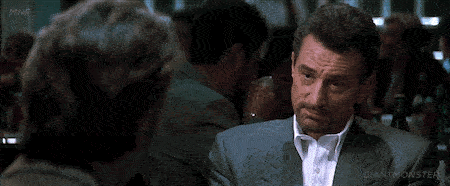 Why this is resolutely different from the self/other interaction and confrontation of Apocalypse Now is that Willard must become Kurtz to kill him. Hanna doesn't kill Neil to become him; it is a necessary truth for Hanna to kill Neil because of their profession. What is distinct about how Mann portrays their confrontation is the air of despair that follows its conclusion. Hanna knows that the bond they share is unique; their main similarities are their shared professional codes; and although Neil's isolation and absence from human interaction are intentional where Hanna tries (in vain) to incorporate the domestic sphere into his life, and both realise that they are incapable of achieving this ideal.
Their divergence is their ability to empathise. The crisis of identity is illustrated as Hannah experiences the loss of the person that he was most alike, and the moral conundrum is that all that separates him from Neil is the empathy for normality and domesticity that he cannot achieve.
"This crew is good" – ONE HEAT MINUTE and all new contemplations.
2017.
In the throes of Sydney Film Festival, talking with some creative friends about our next projects, I say to two dear friends (in jest) – "I just wanna do a podcast where I talk about Heat, EVERY DAY."
The response I got wasn't exactly what I was expecting.
"I'd listen to that."
After researching the pioneers of minute-by-minute analysis Star Wars Minute, and a few more focus group conversations (fuelled by mojitos) I embarked on an exploration of this crime opus, without realising that I typified the professional obsession of the characters in the film.
One Heat Minute explores Heat, a minute at a time with a cache of incredible guests. The guest-list includes filmmakers (Joe Lynch – Mayhem and Everly, Luke Doolan – editor Animal Kingdom and Colossal), film critics (Manohla Dargis – The New York Times, Luke Buckmaster – Flicks and The Guardian), academics (Anna Dzenis – La Trobe University) and even one of the editors of Heat: Pasquale Buba. I never would have imagined what an incredibly enriching and mind-expanding exercise this is, experiencing the film in such concentrated doses and through the lenses of the incredible and generous guests that have been a part of the show.
Staging of encounters between completely different characters are connected and elevated in ways that I never could have expected.
The most subtle of match cuts between locations to echo mood no longer escape notice. Connections between characters emerge that one never could have imagined. Staging of encounters between completely different characters are connected and elevated in ways that I never could have expected. In the third minute of the film, podcaster Stu Coote and I discovered symbolic foreshadowing for the end of the film.
Film writer Oscar Hillestrom took the nineteenth minute to discuss star Tom Sizemore's battle with substances as the shadow cast over his most iconic performance. With filmmaker and Heat obsessive Joe Lynch the 21st minute involved severe questions about manifestations of evil, represented in the voids of silence. In the 50th episode film critic Stephen Russell found post-Apocalyptic L.A imagery, so often discussed in the work of David Lynch. And in the upcoming 60th episode with film critic Manohla Dargis, we discuss Pacino as Greta Garbo, commanding scenes like a stage diva.
2018.
In a strangely 'circular' chain of events, on the 9th of June almost exactly a year since its inception, One Heat Minute recorded a live episode at Sydney Film Festival (if you weren't there, on October 11, you'll be able to hear it). This project is two years in the making and, with two episodes a week coming to a podcast provider near you, it will continue until 18 July 2019. Some might say this is madness. But just as the 59th and 60th episodes are posted I'd have to respond: "I am never going back."
Visit the One Heat Minute website to listen to the podcast.