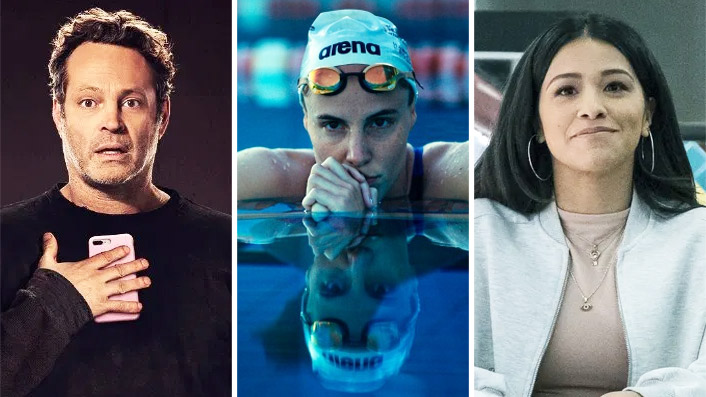 Best new movies and TV series on Amazon Prime Video Australia: June 2021

---
Each month, new films and TV shows are added to Amazon Prime Video's Australian library. Eliza Janssen presents her picks for titles worth watching. For the full list of everything arriving on the platform, scroll down.
Top picks
Old Dolio Dyne (Evan Rachel Wood) and her family live for the hustle. Yes that's the protagonist's name, in this surprisingly moving dramedy from indie auteur Miranda July. Manipulative parents Richard Jenkins and Debra Winger live with their daughter in an office attached to a soap factory, forcing her to take part in their shameless get-rich-quick schemes. It takes an ambitious new-comer to the family, a stranger played by Gina Rodriguez, to make Old Dolio realise that she deserves more from life.
The film is strange, sad, romantic and funny, with Evan Rachel Wood simultaneously breaking your heart and making you laugh with her bone-deep awkwardness.
2021 Australian swimming trials (June 12-17) and Head Above Water (June 4)
Over five days, Prime Video subscribers get live and exclusive access to our nation's most elite swimmers, as they compete for their chance to represent Australia at the Tokyo Olympic Games. And Amazon has assembled a team of commentators who really know what they're talking about: Grant Hackett, Nicole Livingstone, Annabelle Williams and Giaan Rooney will be pool-side to take us through every tense millisecond of the heats and finals.
From June 4, you can also check out the exclusive four-part docu-series Head Above Water, a more intimate opportunity to explore the lives of past and current Australian swimming Olympians. If you've ever cheered on the series' subjects Ian Thorpe, Cody Simpson, Kyle Chalmers and Bronte Campbell, water you waiting for? Prime Video is the place to be this June for all things aquatic.
Vince Vaughn and Kathryn Newton play a lonely high school outsider and a merciless serial killer in this Blumhouse horror hit. I mean, they both play both those parts, because this is one of those supernatural body-swap movies where the mystical change will become permanent if our teen protagonist doesn't fix things within 24 hours. As if that's not enough of a ticking clock, the killer is still at large, taking a chainsaw to anyone dumb enough to not look past her innocent appearance.
Our own critic Travis Johnson singled out the movie's commitment to fun, something sorely missing in the more high-end world of prestige horror: "it's a giddily, gorily enjoyable popcorner that immediately promises to entertain then spends the rest of its running time delivering over and over again."
---
All titles arriving on Prime Video Australia in June
June 1
Jurassic Park
Jurassic Park III
The Lost World: Jurassic Park
The Dish
June 3
Kajillionaire
Hope Gap
Irresistible
Crystal Palace Series
June 4
Head Above Water
Dom
June 7
Marshall
June 8
King Arthur: Legend of the Word
June 9
After We Collided
June 10
Pixels
June 11
Latin Flow
Clarkson's Farm
June 12 – June 17
Australian Swimming Trials
June 15
lmost Famous
Flatliners
Life
Obsessed
Our Friend
The 5th Wave
Ricki & The Flash
The Ugly Truth
The Wolf of Wall Street
Underworld
Underworld: Awakening
Underworld: Blood Wars
Underworld: Evolution
Underworld: Rise of the Lycans
Whiplash
June 22
The Imitation Game
June 24
Freaky
June 29
American Hustle
June 30
Antebellum
The Expendables 1, 2 & 3